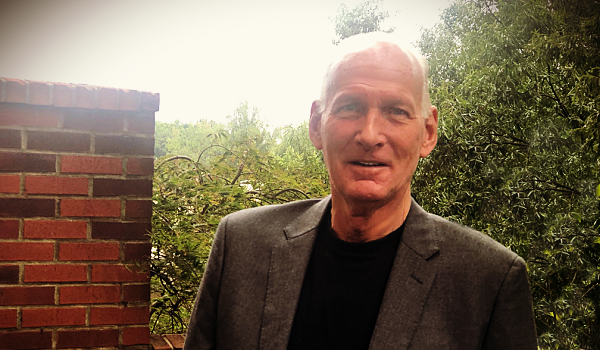 Simple Thoughts in Complex Markets
By Bill Taylor, Contributor/CIO-Entoro Wealth
---
The opinions expressed below are my own & do not necessarily represent those of Entoro Wealth or any of its affiliates
We compare the price of Bitcoin, Ethereum, Gold & the S&P 500. We use the CME Bitcoin Indexes (BRR & BRTI) and the CME Ethereum Indexes (ETH_RR_USD) & (ETH_RTI_USD) for reference as well as the London Bullion Market afternoon price settlement on the digital assets & gold.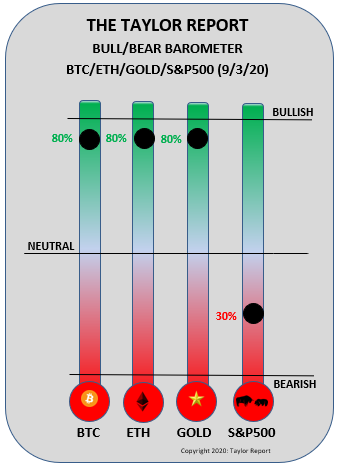 ---
10/27/20 Closing Prices:
Bitcoin: $13,486.49 (+$404.46)
Ether: $404.54 (+$5.94)
Gold: $1,900 (+$7.00)
S&P 500 3,390.68 (-10.29)
Trading Summary Notes for Tuesday, 10/27/20:
Great to be included as a regular contributor on the new Digital Wealth News platform. Thanks Publisher Cindy Taylor.
Ready For Halloween? BOO!! Ready For The U.S. Election? Which is scarier?
Without stating the obvious, the main focus of late has been COVID-19. More cases, second (third) wave, lock downs(?), stimulus packages(?) and markets reacting emotionally. Enough already. Quietly, have you noticed commodity prices? Inflation is lurking….at least for things you need. ALSO, as called for here, "safe assets" like bitcoin, ether and gold are beginning new moves higher. Just saying. Remember last week's Taylor Report called the equity markets (basically the S&P 500) INSANE? Still is but a little wind got taken out of the bulls this week. No matter, HOLD ON! The unknown is just about upon us.
What to do now? WELL, not wanting to brag, but how about stay the course on what we have been calling for? Good idea, Bill!
First off, I am going to keep posting my year end price predictions (below) since I am always transparent (right or wrong) and have total conviction. Bold huh?
Year end BTC price? $17,500.
Year end ETH price? $500.
Year end GOLD price? $2,200.
BITCOIN broke through our $12,500 short term price target and is headed for our next target of $15,000.
Last week's call; "Should, NO WHEN, the $12,500 mark is broken the next target is $15,000. "When" happened.
If you are a touch nervous, might want to "lighten up" a little around $15,000. Safety first, ya know. Might have pause for a bit.
More and more "BIG NAMES" (hey, me too) are speaking bullish.
Recently a lot of fintech companies have been allocating BITCOIN to their cash reserves. Like Square, MicroStrategy, etc. to the tune of just shy of $1B. PayPal just announced they will accept crypto transactions. HUGE!
Basic economics; increasing demand and fixed supply (BTC 21M). Nice.
Side note; JP Morgan's Global Market Strategy Group just called for BTC to double or triple from here. You know Jamie Dimon is CEO of JPM, right? A couple years ago he called BITCOIN a "fraud" and anyone trading it "stupid." Just saying….tee hee!
Several global central banks are moving toward launching digital currencies (CBDC) based on ETHEREUM blockchain.
Currently ETH is still sort of, kind of, following BITCOIN. It will soon step out on its own.
Look for ETH to move to $550 if (when) BTC cracks above the $12,500 level. ** (I'm a little off here. Be patient)
GOLD is gaining solid strength above $1,900 now.
Might see some re-positioning/re-balancing……….selling GOLD (lightening up) and buying (adding) BITCOIN. Actually not a bad idea…..but keep both.
Stay long. GOLD near upside target is $2,500……yup, $2,500. Longer term? $3,000-$3,500.
Looking ahead, after throwing money (and continuing to print $$$) to ensure a recovery, inflation may soon be on the rise and geopolitical/pandemic risks are only getting stronger. Indeed, inflation IS beginning to rear its head. Positive for GOLD.
KEEPING LAST WEEK'S COMMENTS ON THE EQUITY MARKETS (S&P 500). NO CHANGE!
Now on to the equity market (S&P 500). Its all emotion. Valuations? HA! Earnings? HA HA! Economic predictions? HA HA HA!
So let me say the scariest word to all the equity market buyers that expect (and demand) the market go up "constantly;" GRAVITY. Enough said (warned).
Keep putting some "gentle" shorts out on strength.
S&P 500 "dips" to 2,500-2,600?
Recommendation? Don't go out on Halloween with a Trump or Biden mask. I need all the readers I can get.
Current trading positions: LONG BITCOIN, LONG ETH, LONG GOLD & SHORT S&P 500
---
Bill Taylor is Managing Director/CIO at Entoro Wealth &is widely published in financial industry media throughout the world