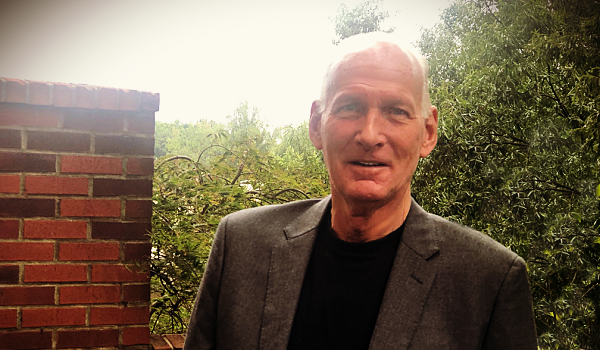 Simple Thoughts in Complex Markets
By Bill Taylor, Contributor/Entoro Wealth
---
The opinions expressed below are my own & do not necessarily represent those of Entoro Wealth or any of its affiliates
We compare the price of Bitcoin, Ethereum, Gold & the S&P500. We use the CME Bitcoin Indexes (BRR & BRTI) and the CME Ethereum Indexes (ETH_RR_USD) & (ETH_RTI_USD) for reference as well as the London Bullion Market afternoon price settlement on the digital assets & gold.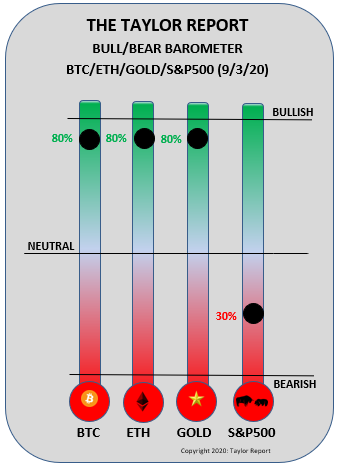 ---
9/29/20 Closing Prices:
Bitcoin: $10,767.09 (-$127.73)
Ether: $357.76 (-$5.64)
Gold: $1,890 (+$15.00)
S&P 500 3,335.47 (-16.13)
Trading Summary Notes for Tuesday, 9/29/20:
Great to be included as a regular contributor on the new Digital Wealth News digital platform. Thanks Cindy Taylor. Tomorrow (30th) will be the last day of the quarter. Ready for the final quarter?
---
Three fourths of 2020 are now officially gone (good riddance?) And, the markets are "plagued" with indecision. Covid-19 came, drifted away, coming back(?), lock-downs, massive market drops and economic collapse, giant market rallies, economic pickup and, and…????? Throw in a contentious U.S election and now a Supreme Court vacancy and…………well, you get it. It's 2020.
What to do? (hiding not allowed)
BITCOIN has backed off (a fair amount) after running up to $12,000+ and retrenched in the low $10,000 area…..actually dipping below $10K for a few seconds just as we called for in a previous Taylor Report. Once again, congrats Bill (lol)
After holding above $10,000 BTC rallied up above $11,000 and is now "resting" back in the mid to upper $10K area.
Since BTC did not break below $10,000 for any meaningful time, and now has spent some quality time in the lower $10K area, it looks like another run to $12,000+ BUT when?
The price action is BITCOIN is, well sketchy. Not to bad, not to good. Disappointing? Yeah, a little.
Should, NO WHEN, the $12,500 mark is broken the next target is $15,000.
Note; Don't usually like to do this BUT….end of 4th quarter (year end) BTC price? $17,500.
Reiterating, the acceptance of digital currencies (BTC, ETH) is constantly gathering steam. Now even central banks are clamoring to create digital currencies. Institutional interest is being bolstered by new regulations, regulated custodians and exchanges.
Now, on to ETH. After a long time of being BTC's "little sister" ETH has begun a life of its own. Cheers. More and more central banks have begun steps to create digital currencies (even the U.S….gasp) mostly based on ETHEREUM blockchain.
Expect a little more solidifying in the $330-$370 area for a bit. WOW! Its still working. Nice job again Bill (lol)
Can ETH keep it up? Yes, probably with the renewed BTC strength. Look for ETH to move to $550 if (when) BTC cracks above the $12,500 level.
Note; Again, don't usually like to do this BUT….end of 4th quarter (year end) ETH price? $500.
Damn. BIG DAMN! I had called for GOLD to dip down to the $1,825-$1,850 area. Two weeks ago I said " Looks like the lower $1,900 area is super strong. Let's move our dip-buying area to $1,925-$1,950."
WELL! I may have been a bit too aggressive. Lets now say a good entry point around $1,850-$1,875. AND, so far so good (except for the previous bullet point. Sorry)
Stay long. GOLD near upside target is $2,500……yup, $2,500. Longer term? $3,000-$3,500.
Ignore the rhetoric. Forward looking, after throwing money (and continuing to print $$$) to ensure a recovery, inflation may soon be on the rise and geopolitical/pandemic risks are only getting stronger. Positive for GOLD;
NOTE: Again again, don't usually like to do this BUT….end of 4th quarter (year end) GOLD price? $2,200.
Now on to the equity market. After going through a 4 week losing streak the last few days have seen a fast quick powerful rally. Ya know why? That is what we call window dressing to mark up positions (usually long) to "jiggle" performance. Usually knocks off a day before the last day of the month to meet clearing/settlement requirements. DON'T TRY THIS AT HOME FOLKS. THE SEC MAY NOT SEE THE OBVIOUS, BUT THEY WILL FIND YOU. ONE PERSON"S WINDOW DRESSING IS ANOTHER PERSON'S 'MANIPULATION.'
So now we have had a rather "sporty" selloff in the S&P 500 this month. Think it's over? It's not.
The recent "dip" in the S&P 500 is NOT a buying opportunity. Psychology, or Market Behavior Analysis, has changed. Keep putting some "gentle" shorts out on strength.
S&P500 "dips" to 2,500-2,600?
Buckle up. Here comes the 4th quarter
Current trading positions: LONG BITCOIN, LONG ETH, LONG GOLD & SHORT S&P 500
---
Bill Taylor is Managing Director/CIO at Entoro Wealth & is widely published in financial industry media throughout the world