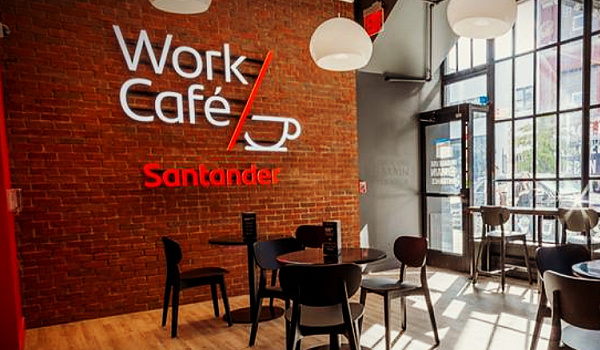 ---
Banks have recently had the door opened for them to begin offering cryptocurrency customers banking services and custody for digital assets, and these same services are already available through app-based fintechs too numerous to name. That's really good news.
So legacy banks can now begin to compete with several startup banks that are experiencing exponential growth offering cryptocurrency banking and trust/custody services for digital assets. Yet, these big traditional banks are now scrambling to get in on the action in this fast exploding financial sector. So, what do you do first? How about open a cafe? I guess its faster and easier, but…….?
So, Santander Bank just opened its first Work Cafe (at least in the U.S.) in Brooklyn to offer anyone access to free amenities such as fully equipped private meeting rooms, abundant co-working spaces, plentiful charging outlets, fast Wi-Fi and 24/7 ATMs. Obviously the bank is hoping to attract potential new customers to the bank so "financial professionals" (a/k/a bank employees) will be nearby. Santander teamed up with the Nero Roasting Company to provide coffee and food (menu looks good) with existing Santander clients getting a nice discount. A coffee shop in a bank as it were.
Now the Office of the Comptroller of the Currency (OCC) recently allowed banks to begin offering trust and custody services for digital assets which, by far and away, is the wave of the future and fastest growing financial sector globally. But I'll bet they didn't fully foresee the future in cafes and banking. The OCC saw the opportunity/need for traditional banks to take bitcoin deposits, hold other digital assets and open the door for other crypto financial products. BUT COFFEE?
One would think Santander would be aware of this company called Starbucks and possibly heard of WeWork, but ya never know.
And oh gosh, didn't Capital One do this exact same thing back in 2017 when they launched their Capital One Cafe's?
But who needs crypto custody friendly banks when you can get awesome coffee and avocado toast (which I hear is pretty good)?
---