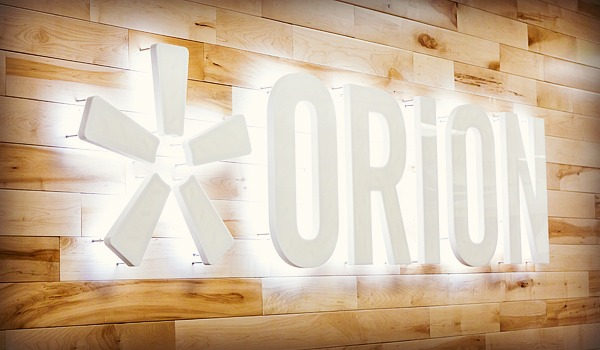 ---
OMAHA, Neb. & BERWYN, Pa. — April 22, 2021 — Following its groundbreaking merger with Brinker Capital and strategic acquisition of HiddenLevers, Orion Advisor Solutions has assembled a new team of growth and marketing executives to fuel its ongoing innovations to win new business.
Steve DeAngelis joins Orion as chief revenue officer (CRO), Brad Shepard joins as chief
strategy officer (CSO), and Kristin Petrick joins as chief marketing officer (CMO). Together, they will work to cultivate the partnerships and avenues of growth that are crucial to supporting Orion's wealthtech powerhouse and enhancing every step of the advisor-client journey.
"The caliber of talent that Steve, Brad, and Kristin bring to Orion will make us a stronger team with a clear focus on long-term success," said Noreen D. Beaman, president of Orion. "We sought out leaders who have what it takes to explore new horizons of opportunity in an industry that changes by the day."
DeAngelis comes to Orion with nearly 30 years of industry experience, most recently serving as senior managing director and head of distribution at FS Investments. DeAngelis led distribution strategy for all products and services to RIAs, as well as wirehouse, regional, and independent financial advisors. He also managed the sales, national accounts, marketing, research, and business analytics functions. As CRO at Orion, DeAngelis will provide strategic direction and overall leadership for the sales functions across the firm to drive revenue growth, profits, and talent development. He will chair Orion's growth committee and sit on the executive committee.
"Orion is an excellent company and I'm thrilled to join the talented executive team," said
DeAngelis. "As someone with experience leading the growth of both asset management and fintech companies, I'm confident no firm is better positioned than Orion to continue raising the bar in the fintech industry."
Previously the Head of Innovation at WisdomTree Asset Management, Shepard brings a wealth of experience working with institutions and global brands that demand entrepreneurial agility, careful analysis, and structured processes. Shepard played an integral role in developing Wisdomtree's leading solutions, models, and ESG offerings. As CSO, Shepard will bring innovative thinking to Orion's go-to-market strategy to build stronger connections between users of Orion's technology and TAMP offerings. He will also serve as chair of Orion's product committee and join the firm's executive and growth committees.
"The strength of the Orion platform comes from all the ways its brands link together to create an end-to-end experience for advisors," Shepard said. "I look forward to showing the advisor community how these solutions will engage clients and help grow their businesses."
Petrick is a Fortune 500 marketing and communications leader with more than 20 years of experience working in media, agency, nonprofit, and corporate organizations. Most recently, she worked at TD Ameritrade for nearly 12 years, rising to the position of managing director, marketing and communications for the firm's advisor business.

During her tenure there, Petrick helped the company achieve a decade of best-in-class
customer experience scores. She also built a sophisticated demand-generation and lead-nurturing engine that contributed to three consecutive years of double-digit new client
acquisition. As CMO at Orion, Petrick will leverage her talent and experience to spearhead thcompany's strategic marketing vision. She will join the firm's growth committee.
"I couldn't be more excited to join a cutting-edge, industry-leading company like Orion," said Petrick. "I've been very impressed by their achievements from afar and look forward to implementing innovative marketing strategies to help Orion reach even greater heights."
About Orion Advisor Solutions
Orion Advisor Solutions is the premier provider of the tech-enabled fiduciary process that
transforms the advisor-client relationship by enabling financial advisors to Prospect, Plan,
Invest, and Achieve within a single, connected, technology-driven experience. Combined, our brand entities, Orion Advisor Tech, Orion Portfolio Solutions, Brinker Capital Investments, and CLS Investments, create a complete yet modular offering that empowers firms to attract new clients seamlessly; connect goals more meaningfully to investment strategies and outcomes, and ultimately track progress toward each investor's unique definition of financial success. As a
result, Orion supports more than 2,200 advisory firms with $1.4 trillion in assets under
administration and an additional $48 billion of combined platform assets (Orion Portfolio
Solutions and Brinker Capital) on the open architecture TAMP, making Orion the platform of choice for all growth-focused advisory firms looking to strengthen their client relationships, gain a competitive edge in a crowded marketplace, and build strong, profitable businesses. Learn more at www.orion.com.
---