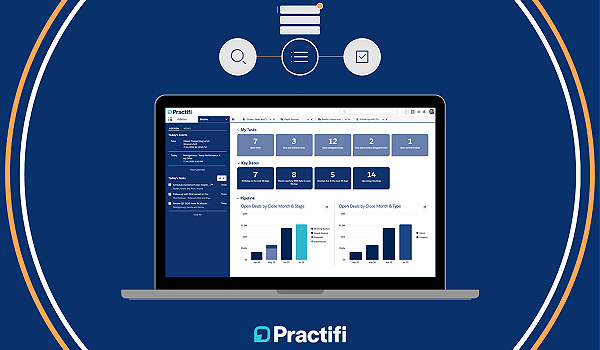 ---
BY ALLISON LASLEY
PRACTIFI
Forward-thinking financial advisory firms face an increasing number of challenges. In addition to fee compression, strong market competition, shrinking margins and increasing cyberattacks, firms also have to navigate and comply with country-specific regulations. Choosing the right technology partners, however, can reduce risk and simplify the compliance process.
When it comes to finding the right long-term technology partners, Dan Houlihan, President of Asset Servicing, Americas at Northern Trust Corp., suggests looking for two key traits. First, seek out service-oriented providers with deep knowledge of the global markets and the regulations in which they operate. Second, look for holistic technology providers that fulfill multiple technology needs within one solution. This way, he says you'll not only be making strategic decisions to help you in the future, but also reducing unnecessary costs.
"In order to achieve their cost-management goals, forward-thinking
firms are investing in outsourced relationships that provide a
strategic platform on which to grow efficiently."
Dan Houlihan,
Pensions & Investments
With a sharp eye on industry trends and a deep understanding of Salesforce's ecosystem, Practifi provides a single, unified workplace for every team in an advisory firm. Compliant by design, Practifi helps advisors and their teams scale sustainably and increase productivity. With features that help advisory teams track client information, document processes, communicate compliantly and store data securely, Practifi is a holistic solution for forward-thinking advisory firms.
1. Tracking client information ("Know Your Clients") 
Advisory firms are responsible for knowing their client's financial situation and providing tailored advice accordingly. Important information such as the client's age, investment experience, risk tolerance, tax status, financial needs, investment time horizon and liquidity needs are all taken into consideration when building out a client's unique financial plan.
When it comes to compliance, the SEC and FINRA have multiple ethical requirements related to the Know Your Client (KYC) standards to protect both the client and the firm.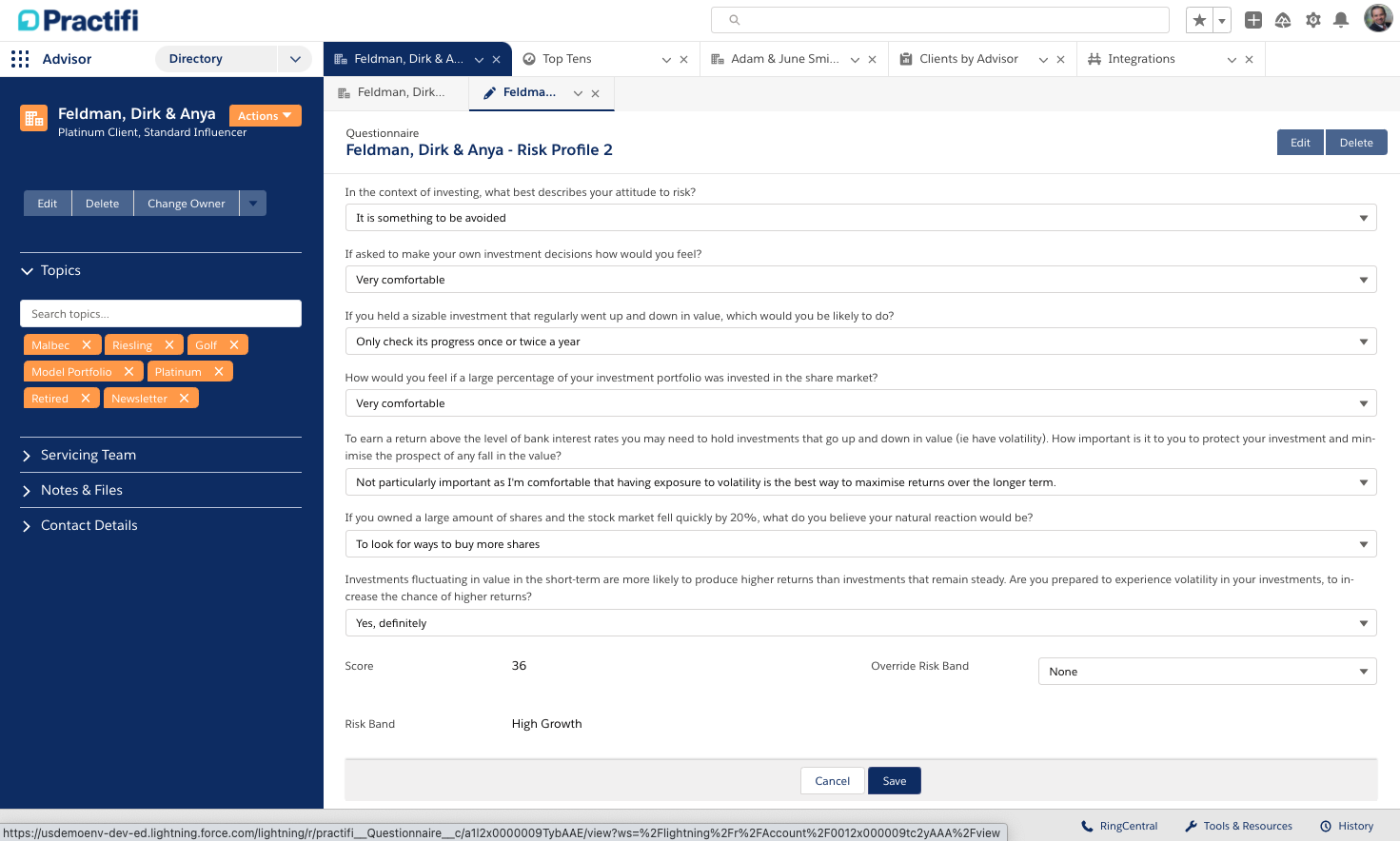 Designed with these regulations in mind, Practifi has the fields needed to hold this important information in a way that makes sense for advisory teams. In addition, risk tolerance questionnaires can be created, sent to clients, and managed easily within Practifi. Finally, when it comes to KYC requirements, Practifi is building automation to help advisory teams fill in the gaps when it comes to missing client information.
2. Documenting processes
Advice firms typically rely on their advisor's own due diligence and competence to comply with industry policies, standards and guidance when it comes to providing financial advice. This increases risk and opens both the individual and the firm up to multiple types of compliance violations. The cost of fixing these problems is much higher than investing in the proper tools and training from the get-go.
With automated processes, many of these risks are easily managed. Processes not only help provide a consistent client experience, but they also help keep firms compliant by making sure staff follow the necessary steps when it comes to data capture and documentation. In addition, compliance-specific processes can help compliance officers and their teams better monitor and track risk across the business.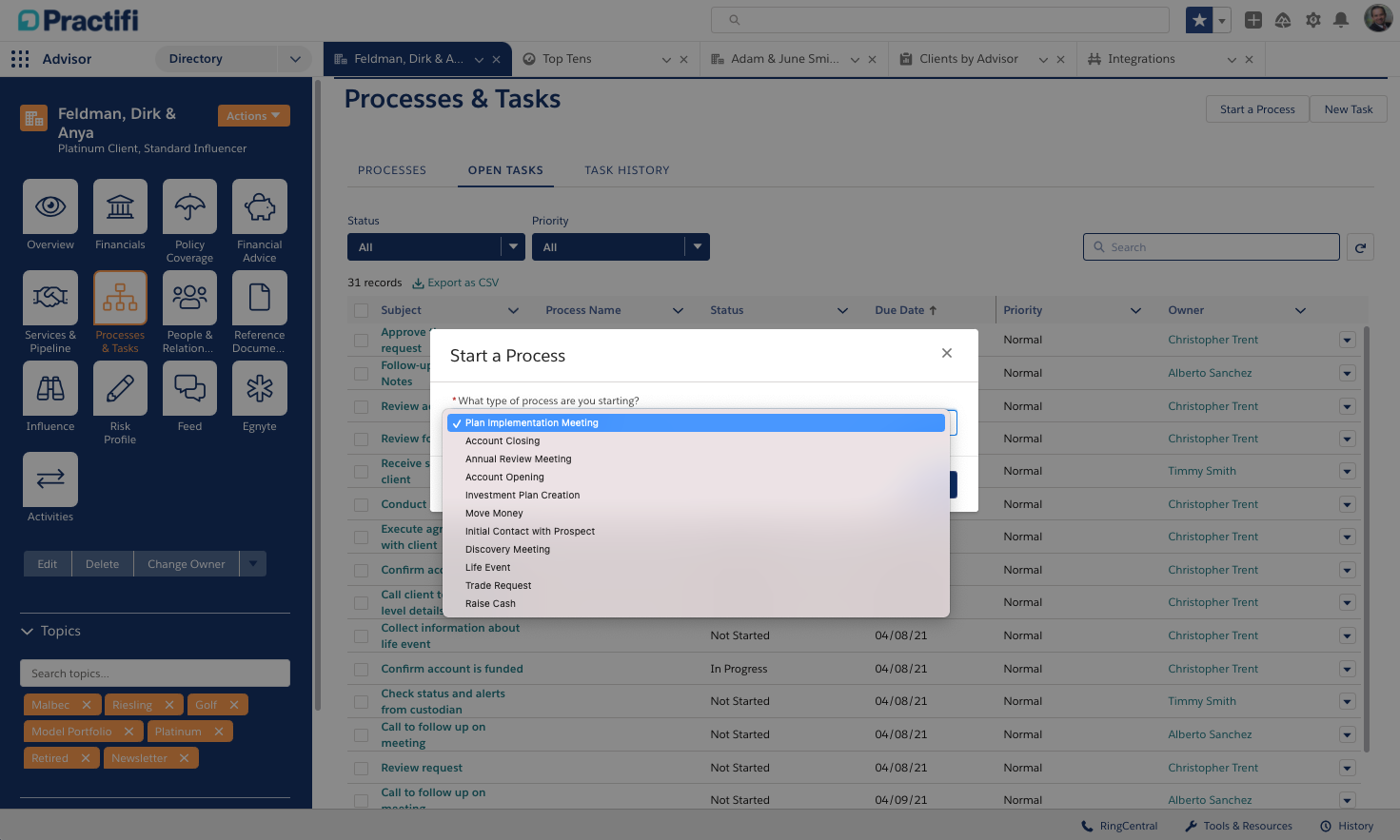 To make process implementation easier for advisory teams, Practifi provides pre-built processes and frameworks for advisory firms. Whether it's automating disclosures during account openings, reminding advisors to send documents at the right time, or ensuring associates minimize risk, processes can help. Advisory firms have benefited from the power of automation in numerous ways. Practifi's process automation engine provides the customization and power to handle even the most complex sequence of tasks, helping high-performing firms standardize their processes and stay compliant.
3. Communicating compliantly
Building strong client relationships is a priority for all financial advisory firms. Studies have shown that frequent communication results in higher overall client satisfaction. In addition, most firms would benefit from a communication strategy to ensure clients are receiving communications in their preferred method. With the rise of new generations of investors and the proliferation of digital communication channels, traditional methods of communication still work but are becoming less relevant.
Regardless of firm strategy, it's crucial all client communication types and activities are tracked back to the relevant record. Practifi makes it easy to monitor all individual, organization or household-related activities in one convenient location. Activity feeds show a historical record of which communication or event types have taken place, when, and who was involved. If the communication takes place in Outlook, Zoom, RingCentral, or another third-party tool, it can be easily logged in Practifi. In addition, reports can be created to monitor client communications over time.
As advisory firms adapt to the demands of new generations and adopt new digital communication channels, it's important to remember these activities need to be closely monitored and tracked. Forward-thinking advisory firms choose to monitor these activities in one platform that not only integrates with necessary tools, but also provides valuable insights on client communication preferences over time.
4. Storing and accessing data securely
Government security policy agencies and financial regulators are placing greater obligations on the wealth management sector to protect the privacy and security of the data they hold. When it comes to managing data, firms must be able to answer the following questions:
What data is being collected (e.g. consent to collect?)
Where is data being held (e.g. cloud, on-site, overseas?)
How is data used and shared (e.g. sharing with third parties?)
Who has access to the data (e.g. access controls, monitoring, and protection)
While these questions are straightforward, many advisory firms struggle to answer them because they don't have a broader data management strategy. As a result, firm and client data become vulnerable to theft, and both regulatory and litigation risk increases.
"As asset managers continue to seek growth, better data management and technology can help them navigate all aspects of the regulatory environment."
Dan Houlihan,
Pensions & Investments
Safe data storage and access controls are key components of any data management strategy. Practifi keeps data secure with SOC 2 level security and provides additional protection to defend against security breaches and cyberattacks. In addition, with role-based permissions to determine access controls, usage monitoring to track data usage, and field audit histories, Practifi helps compliance officers elevate the firm's whole approach to cybersecurity all while enforcing data governance.
A holistic approach to compliance
Forward-thinking advisory firms face many challenges. Thankfully, solutions like Practifi are designed to help advisors and their teams overcome them. Choosing holistic technology partners that understand industry regulations and accomplish multiple needs all in one platform can help reduce costs, mitigate risk and simplify the compliance process.
Compliant by design, Practifi helps advisors and their teams scale sustainably and increase productivity – all while simplifying compliance at the same time. To learn more about our approach to compliance, visit our page. Alternatively, if you'd like to get in touch with a member of our team, contact us today.
---