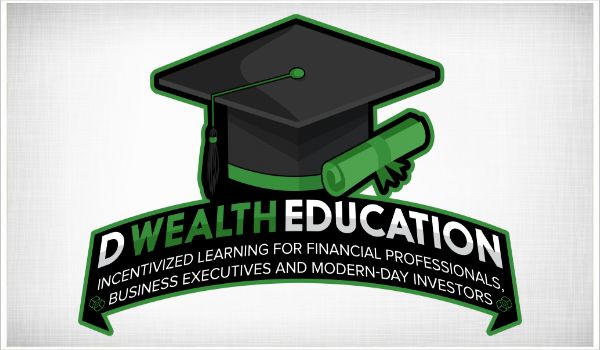 A Novel Financial EdTech Platform Bringing Incentivized Learning To Financial Professionals, Business Executives And Modern-Day Investors/Consumers ("Investumers")
---
September 9, 2021 – Digital Wealth News™, a multi-tiered media platform covering the maturing fintech revolution, is pleased to announce the launch of "DWealth Education", a groundbreaking new financial EdTech platform offering incentivized learning for financial professionals, business executives and modern-day investors/consumers ("investumers") as they seek to understand the monumental impact fintech is making on financial services, businesses and economies at-large.
DWealth Education will be overseen by Dara Albright, an accomplished fintech pundit and host of the DWealth Muse podcast, a weekly podcast that bridges the knowledge gap between conventional and modern finance through original coverage of the tidal wave of technological and regulatory change headed to finance as it shifts to a digital and more decentralized substratum.
DWealth Education's first initiative is aimed at serving the new educational needs of financial advisors as a growing number of their clients seek expertise in digital assets, and will feature Sarson Funds' cryptocurrency financial advisor certification program which enables financial advisors to earn CE credits through the Investments and Wealth Institute as well as earn a new "crypto advisor certification" that will be awarded as a non-fungible token (NFT) from Sarson Funds – an industry first.
The Sarson course, designed to provide financial advisors with a comprehensive primer into blockchain technology and some of the new asset classes it has inspired such as utility tokens, stablecoins, privacy coins and smart contract coins, will be comprised of live bi-weekly, complimentary webinars, and commenced on September 14, 2021. All those interested can click here to register for the first one-hour session, which is now available on demand.
"I am ecstatic to be part of this innovative educational initiative that sits at the intersection of FinTech and EdTech. Most people don't realize that fintech has inspired new educational models that now include even economic incentives for expanding one's knowledge on specific topics, especially financial topics. While wisdom is the utmost reward, it is not the only perquisite to learning. I believe that by helping the entire economic ecosystem capitalize on financial literacy, "Fin-Ed-Tech" can ultimately lead to more prosperous economies," stated Dara Albright, President of DWealth Education.
"The entire team at Digital Wealth News and I are thrilled to be partnering with fintech visionary, and DWealth Muse podcast host, Dara Albright to begin the next chapter in the growth of our media platform. With the new addition of this education and webinar platform, Digital Wealth News becomes further established as the go-to source for knowledge and certification of the vast fintech center, and we couldn't be more excited," said Cindy Taylor, co-founder of Digital Wealth News.
About Digital Wealth News
Digital Wealth News™ is a multi-tiered media platform combining news, thought leadership, partner content and industry press, with a view toward the fintech revolution as it has evolved and matured. Its accomplished editorial team presents highly complex information pertaining to the digital wealth sector and simplifies it so investors, investment managers, and non-technical readers are able to understand the subject matter and apply it to their investment directives. Coverage areas include: Digital Currencies & The New Token Economy * Trading Technology * Digital Investing Platforms * WealthTech & Robo-advisors * Fintech At Large * Legal & Legislative Issues. For more information, please visit Digital Wealth News online at www.DWealth.news.
About Sarson Funds
Sarson Funds is an independent provider of blockchain technology and cryptocurrency marketing and educational services. The firm serves the Financial Professional community and their clients by providing cryptocurrency and blockchain technology educational services and investment solutions. Sarson Funds maintains a Fiduciary Standard at all times, bringing Wall Street standards for research, risk management and transparency to digital asset investing. Along with our Investment Manager and Financial Advisor partners, we believe that disruptive innovation requires a disciplined approach to risk management and education. For more information, please visit Sarson Funds online at www.sarsonfunds.com.
---
Register for "Introduction to Blockchain and Crypto Basics" Webinar Here