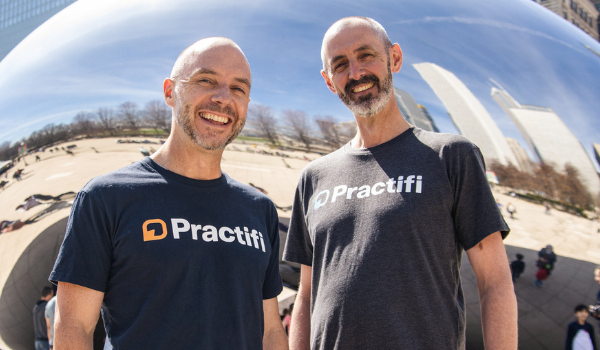 ---
Earlier this month, the financial advisory and fintech industries gathered in New York for WealthManagement.com's annual Wealthies awards, highlighting some of the best and most innovative companies and individuals serving financial advisors today.
Among the winners was Practifi, a business management platform for the wealth management industry, which took home honors in the CRM technology category for its roles-based applications.
"We took this very seriously, we get constant offers to buy awards through sponsorships, but thankfully it's not all like that," said Practifi CEO Glenn Elliott. "The Wealthmanagement.com Industry Awards have great integrity, and that means a lot to us."
Other fintech companies taking home awards included Vestmark, which won in the All-In-One System category; Asset-Map, which won in Specialized Planning Applications and several other categories; AdvisorPeak, whose Digital Asset Trading Solution won in the Rebalancing category; Laserfiche, which won in the Document Management category; and Morningstar, whose Regulation Best Interest Solutions won in the Compliance category. Fidelity's Managed Account Xchange won the custodians' Technology category, while Merrill's Client Engagement Workstation won in the broker-dealer Technology category. Merrill also won a "Disruptor" award in Technology, while Envestnet won the Disruptor prize in the Industry category.
"It's fantastic to be recognized in that peer group and for us to be considered and viewed by the industry as part of the award cohort is amazing," Adrian Johnstone, co-founder and president of Practifi. "We were trying to re-write what people should expect from their technology, to be a platform that allows all of us to be seen as someone to be paid attention to."
 Practifi was also nominated in the innovation category, which was won by eMoney Advisor's Incentive mobile app.
The win comes just a few scant years since Practifi's move into the U.S.—Elliott and Johnstone founded the company in Australia.
While the CRM win is an honor for Practifi, Elliott said it doesn't really tell the whole story about what a platform with role-based applications can do for a financial advisory firm.
"CRM is the foundation of what Practifi does, but there's so much more beyond that," Elliott said. "While we take great pride in being the system that enables wealth advisory businesses to manage, own and foster their client relationships, there are more benefits that our clients get from using Practifi on a day-to-day basis, so we see this really as a beginning."
Practifi beat out nominees including InvestCloud, Redtail and SS&C Salentica in the CRM category, with the role-based applications serving as the differentiator.
While the data entered into the Practifi platform resides in one place that, when appropriate, can be accessed by users across a firm, the user experience that accesses that data is tailored to each specific role. The idea is that not every team needs the same information, presented in the same way with the same priority.
So whether you're an advisor, a marketer, a compliance officer or someone focused on business development, Practifi's role based apps filter information based on your role. A marketing user, for example, would have a personalized dashboard prioritizing the campaigns they are running and the processes they are personally involved in. All of the data input into the platform can be linked to workflows that move seamlessly between people with different roles, allowing for compliance checks and management review in different parts of financial planning or marketing processes.
Moving forward, Practifi is also looking to implement functional roles for teams within firms that focus or specialize in areas like retirement, income planning or insurance planning.
"A typical CRM is really managing the relationship between firm and client and not much else—everyone sees this one perspective, and everyone sees the client relationship in the same way, and that's all the system does," said Johnstone. "The innovation that won us this award was that we stepped back and recognized that everyone in a firm has a different role, and they need quick access to information that's most relevant to them. That's why we talk about being a business management platform rather than a traditional CRM."
Because roles across an advisory firm, even a major enterprise firm, can use and enter data into Practifi, the platform can become a valuable repository of data at the management and executive levels while making life easier for employees at any level.
Over the next 12 months, Practifi will also roll out additional integrations with third-party technology providers, said Elliott.
"We have an exciting array of features and integrations coming down the pike," he said. "We constantly feel real excitement around meeting the needs of businesses and the very top tier of leadership and providing everything required to make the day-to-day user experience for everyone in a firm better, faster and more insightful, and that's going to come through in our next release. Team members, as well as leaders in these firms, want to drive every efficiency to grow and every opportunity to scale that they can, and we want to be at the forefront to help them do that."   
---