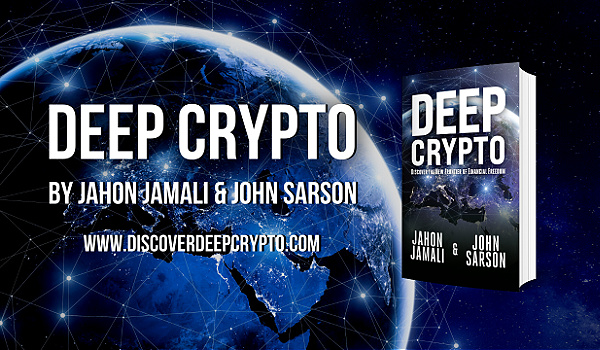 ---
BOSTON, MA – A day after the first Bitcoin ETF hit Wall Street, the founders of cryptocurrency education and investment firm Sarson Funds, announced the launch of their new book, DEEP CRYPTO.
Written by Jahon Jamali and John Sarson, DEEP CRYPTO delivers a stark and powerful narrative about cryptocurrency and the technology behind it. From the origins of exchange, to the introduction of currency and through the discovery and growth of cryptocurrency, DEEP CRYPTO provides readers with a complete and thorough understanding of crypto and why it is having such a major impact not only financially, but also politically, and globally.
Sarson Funds has been at the forefront of cryptocurrency education for financial professionals and investors. Jamali, a former intelligence officer and technology professional, oversees the firm's Cryptocurrency Financial Advisor Certification course. Sarson, the firm's CEO, launched the firm with Jamali after a celebrated career working with financial advisors on Wall Street.
"DEEP CRYPTO brings an understanding of blockchain technology, cryptocurrencies, and digital assets to everyone – in a way that's approachable, and that provides a historical context on how the history of money has brought us to the edge of this new financial frontier," Jamali said.
DEEP CRYPTO demystifies the very concept of money and examines how cryptocurrencies, and it's peer-to-peer connectivity, serve as the completion piece to the internet.
"Cryptocurrencies are a powerful force for freedom, and financial freedom is at the core of American values," said Sarson.
DEEP CRYPTO is available for pre-order now at www.DiscoverDeepCrypto.com and scheduled to hit bookshelves after Thanksgiving.
---
About Sarson Funds:

Sarson Funds is an independent provider of blockchain technology and cryptocurrency marketing and educational services. The firm serves the Financial Professional community and their clients by providing cryptocurrency and blockchain technology educational services and investment solutions. Sarson Funds maintains a Fiduciary Standard at all times, bringing Wall Street standards for research, risk management and transparency to digital asset investing. Along with our Investment Manager and Financial Advisor partners, we believe that disruptive innovation requires a disciplined approach to risk management and education.
For more information, please visit Sarson Funds online at www.sarsonfunds.com.
To pre-order your copy of DEEP CRYPTO, visit www.DiscoverDeepCrypto.com.
---