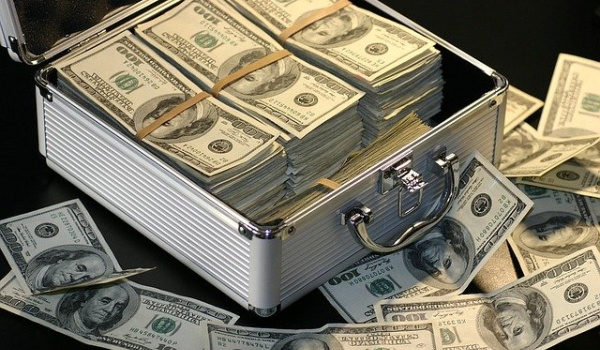 ---
This week we're back with a fresh round of new Top 5 VC deals, and we continue to see major diversity this week in the types of deals getting completed.
The week's deals all came to us from across the planet – Germany, the Bahamas, UK & USA.
None of the deals surprise this week – we see mobile banking, payroll, a crypto derivatives exchange (think of the new ProShares bitcoin ETF – any coincidence – I wonder?), etc.
Three of the top five VC deals this week were RETAIL-focused, the other two were INSTITUTIONAL.
Without further ado, here are this week's top 5 fintech VC deals for the week below…
---
$900M, Series E | Berlin | Mobile banking platform | Third Point Ventures, Coatue Management, Dragoneer Investment Group |

LinkedIn Firm Overview: "N26 is building the first mobile bank the world loves to use. Valentin Stalf and Maximilian Tayenthal founded N26 in 2013 and launched the initial product in early 2015. Today N26 has more than 7 million customers in 25 markets. Our team of 1500 employees work across 8 global office locations in Berlin, Barcelona, Madrid, Milan, Paris, Vienna, New York and São Paulo. With a full European banking license, state-of-the-art technology and no branch network, N26 has redesigned banking for the 21st century and is available on Android, iOS, and desktop. N26 has raised close to EUR 800 million from the world's most established investors, and with a $3.5 billion valuation is one of the most valuable and well-funded Fintechs in Europe. N26 operates in the US via its wholly owned subsidiary, N26 Inc., based in New York. Banking services in the US are offered by N26 Inc. in partnership with Axos® Bank, Member FDIC. The N26 Inc. app is available on Android, iOS and desktop."
$425M, Series D | San Francisco, CA | Global payroll platform| Coatue, Rahul Kishore, Lucas Swisher |
LinkedIn Firm Overview: "Deel is a global payroll solution which helps businesses hire anyone, anywhere. Using a tech enabled self serve process, you can now hire independent contractors or full time employees in over 150 countries, compliantly and in minutes. Today, Deel serves 3,000+ customers from SMBs to publicly traded companies."
$420.7 million, Series B-1 | Bahamas | Cryptocurrency derivatives exchange | Ontario Teachers' Pension Plan Board, Temasek, Sequoia Capital, Sea Capital, IVP, ICONIQ Growth, Tiger Global, Ribbit Capital, Lightspeed Venture Partners, BlackRock |

LinkedIn Firm Overview: "Currently, there are many problems plaguing the top future exchanges: Clawbacks, Broken Liquidation Systems, Poorly Designed Products and Margin Wallets. We are traders. We share your frustrations. In fact, we've written countless white papers and given hours of feedback to these exchanges, but to no avail. Like you, we are very excited about the future of cryptocurrency, but immature exchange infrastructure has been holding this space back. This is why we created FTX! Our mission is twofold – to build the best derivatives exchange and to help move this space toward becoming institutional! We are strong believers in education, and we have been actively collaborating and engaging in dialogue with players in the ecosystem."
$300M, Series C | London | Fintech offering P2P lending, credit cards, saving accounts and more | Softbank Vision Fund 2, Chimera Capital, IAG Silverstripe, Davidson Kempner Capital Management, NorthZone, Augmentum Fintech |

LinkedIn Firm Overview: "15 years ago, we built the first ever peer-to-peer lending company to give people access to simpler, better-value loans and investments. Since then we've helped hundreds of thousands of customers take the stress out of money by building our business on honesty, transparency and trust. That's why we've launched a different type of bank. We give our customers a fair deal as standard and our products are built so that we win when you win. We have handy tools to get stuff done and helpful people always at the end of a phone – meaning managing your money is no sweat. We're built for the future and evolve as quickly as possible, we'll always listen to what you want, and do our best to change to meet your needs. We've built a bank. But we're a FeelGood money company at heart."
$150M, Series B| NYC, NY | Retail investing platform | Valor Equity Partners, Galaxy Interactive, Motley Fool Ventures, HOF Capital, Tribe Capital, CoinFund, Pillar VC, Brevan Howard, Atreides, executives at GoldenTree Asset Management |

LinkedIn Firm Overview: "Republic gives people power to invest in the future they believe in by providing access to startups, real estate, crypto, and video game investments. Focused on creating a diverse, sustainable, connected world, Republic has facilitated over $250 million in investments from over one million global community members. Headquartered in New York City with a team in six countries, Republic is backed by Binance, AngelList, Passport Capital, and more. For more information, visit republic.co"
We'll be back next week with more news on fintech VC funding.
---