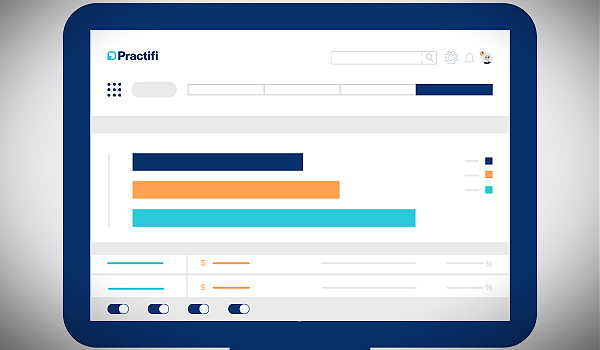 ---
By Allison Lasley, Practifi
As a forward-thinking advisory firm, you know that to stay competitive against changing market forces, your services need to create value for your clients and your operations need to meet SEC compliance regulations.
However, with multiple services occurring every day and different outcomes or 'deliverables' involved, knowing if these outcomes are fulfilled can be challenging. Missed client deliverables result in increased risk, and clients may question the value of the services they're paying for.
Practifi helps advisory teams reduce regulatory risk by making it easy to manage deliverable fulfillment in one convenient location. With automatic reminders, detailed tracking and pre-built reports, wealth management firms can feel confident that they're delivering a high standard of service to their clients while meeting industry compliance obligations.
Leverage intelligent automation
Historically, compliance has been a backward-looking function, but firms are increasingly learning how to automate the data they have to anticipate potential issues and correct them before they become risks. Intelligent automation can help both compliance and advisory teams tackle routine tasks and reduce the operational risks of managing multiple deliverables per client.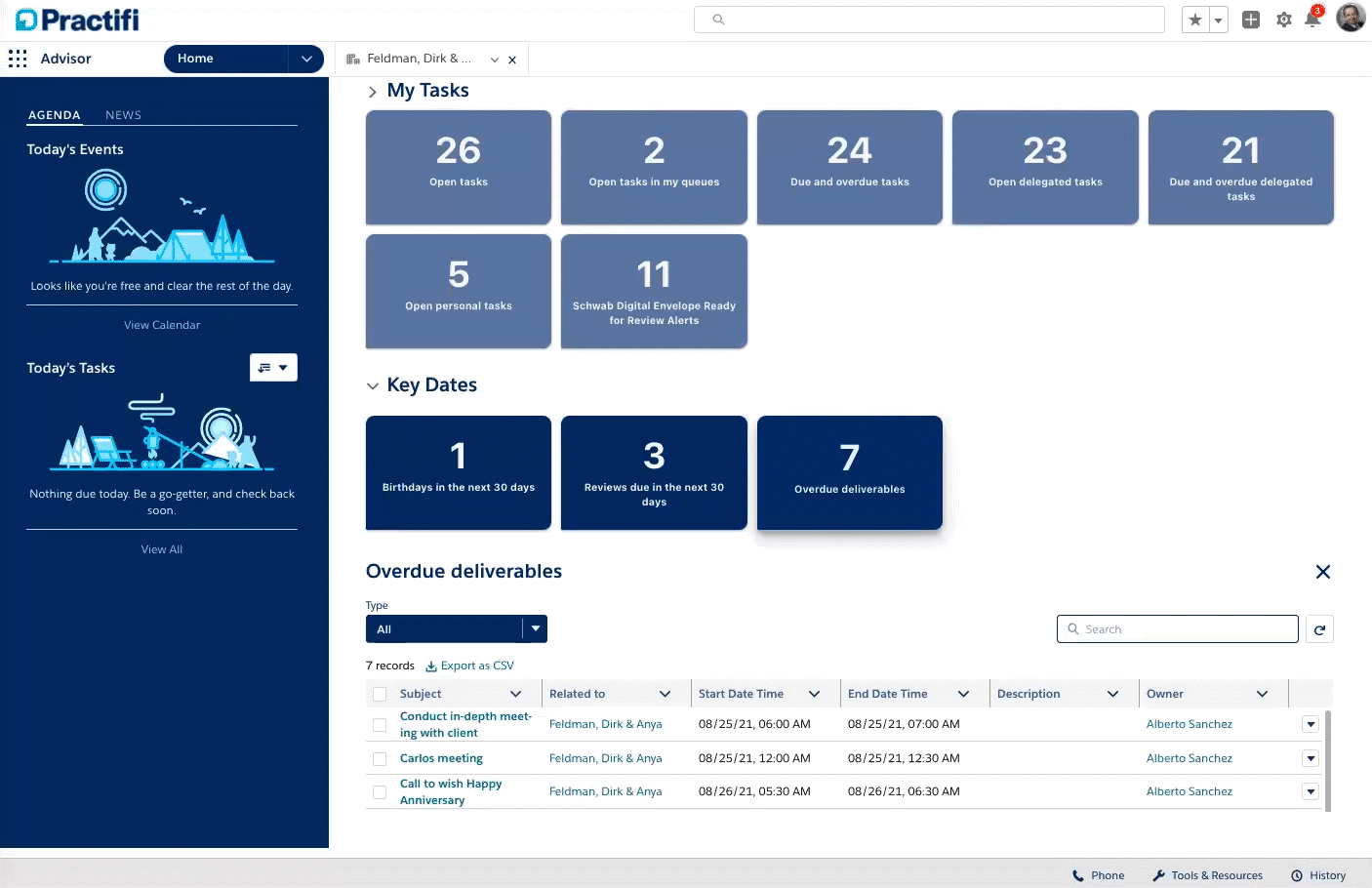 Intelligent automation helps with deliverable fulfillment
Practifi uses intelligent automation to ensure deliverables are delegated and fulfilled on time. When an advisor creates a new client service with a financial plan, meetings and client progress reports involved, Practifi automatically assigns the deliverables and calculates the due dates. With flexibility in mind, advisory teams can add or remove deliverables according to the client's specific circumstances.
When the financial plan due date is approaching, automatic notifications remind staff to ensure it's completed on time. However, if a deliverable is forgotten, staff can quickly see which deliverables are overdue in their dashboard view, prompting action. The sidebar assistant provides an easy way for staff to link deliverables with recently completed activities, aiding compliance needs.
Monitor deliverable fulfillment
To provide a high-quality client experience and protect the firm, managers should have a strong motivation to automate tasks and reduce risk in their operating models. While reminders are helpful for staff, it's also important for managers to have transparency into all client deliverables and their fulfillment progress.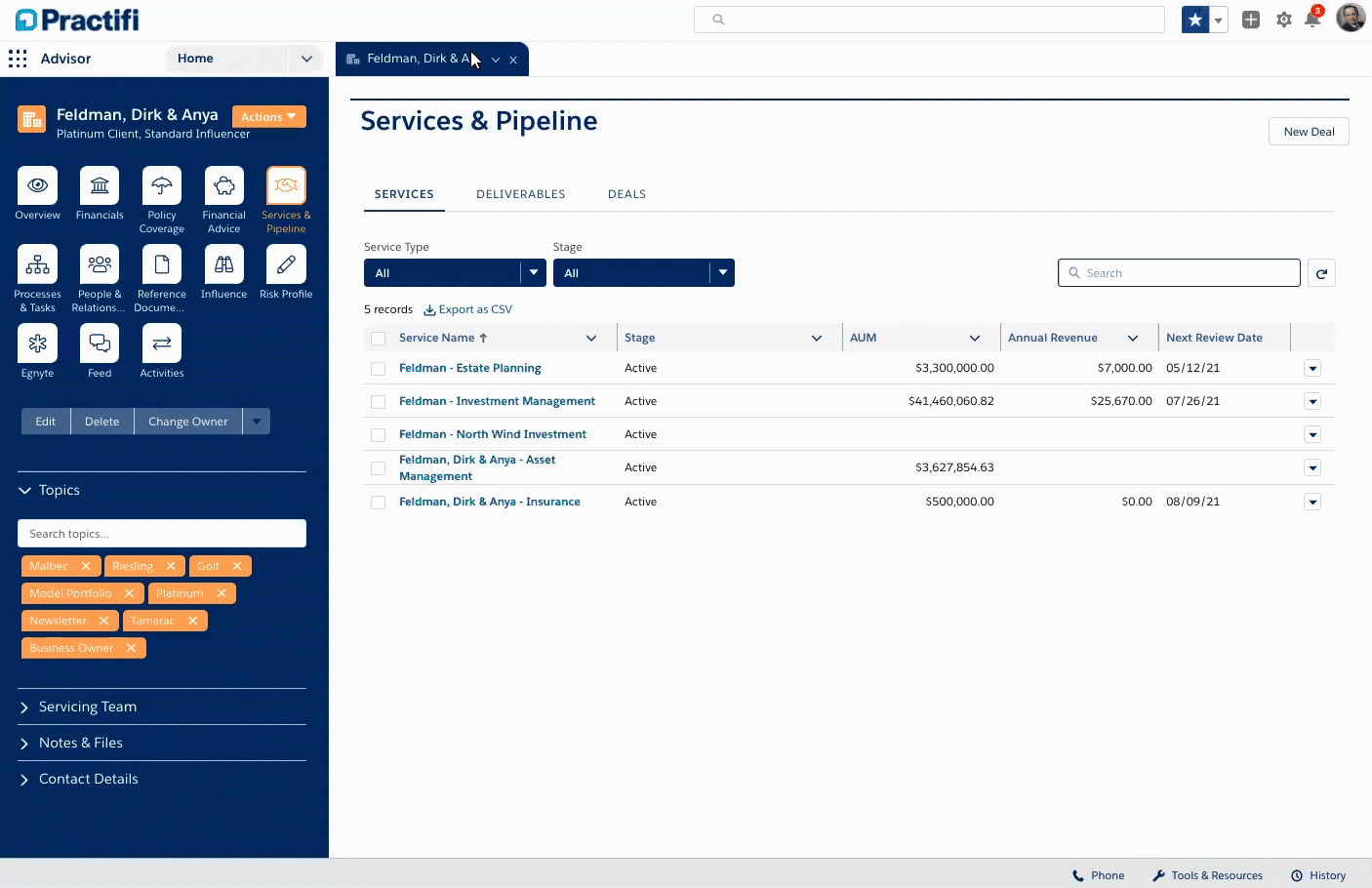 Top-down views of deliverables allow managers to monitor fulfillment
Practifi provides a top-down view that makes it easy for managers to track service progress and deliverable fulfillment. A new Deliverables tab within Services & Pipeline lets managers view all client deliverables, their related tasks, supplementary notes or files, as well as the owner of each deliverable. With such detailed views, managers can quickly get the information they need or follow up with staff to ensure essential client deliverables like financial plans and annual reviews aren't missed. As a result, clients are happy and regulatory risk is reduced.
Report on firm progress
As advisory teams fulfill deliverables and complete services, leadership may want to know how operational efficiency is tracking across the firm to identify areas for improvement. Enterprise-grade reports and dashboards make it easy to unlock powerful insights across your firm so leadership can make more informed business decisions.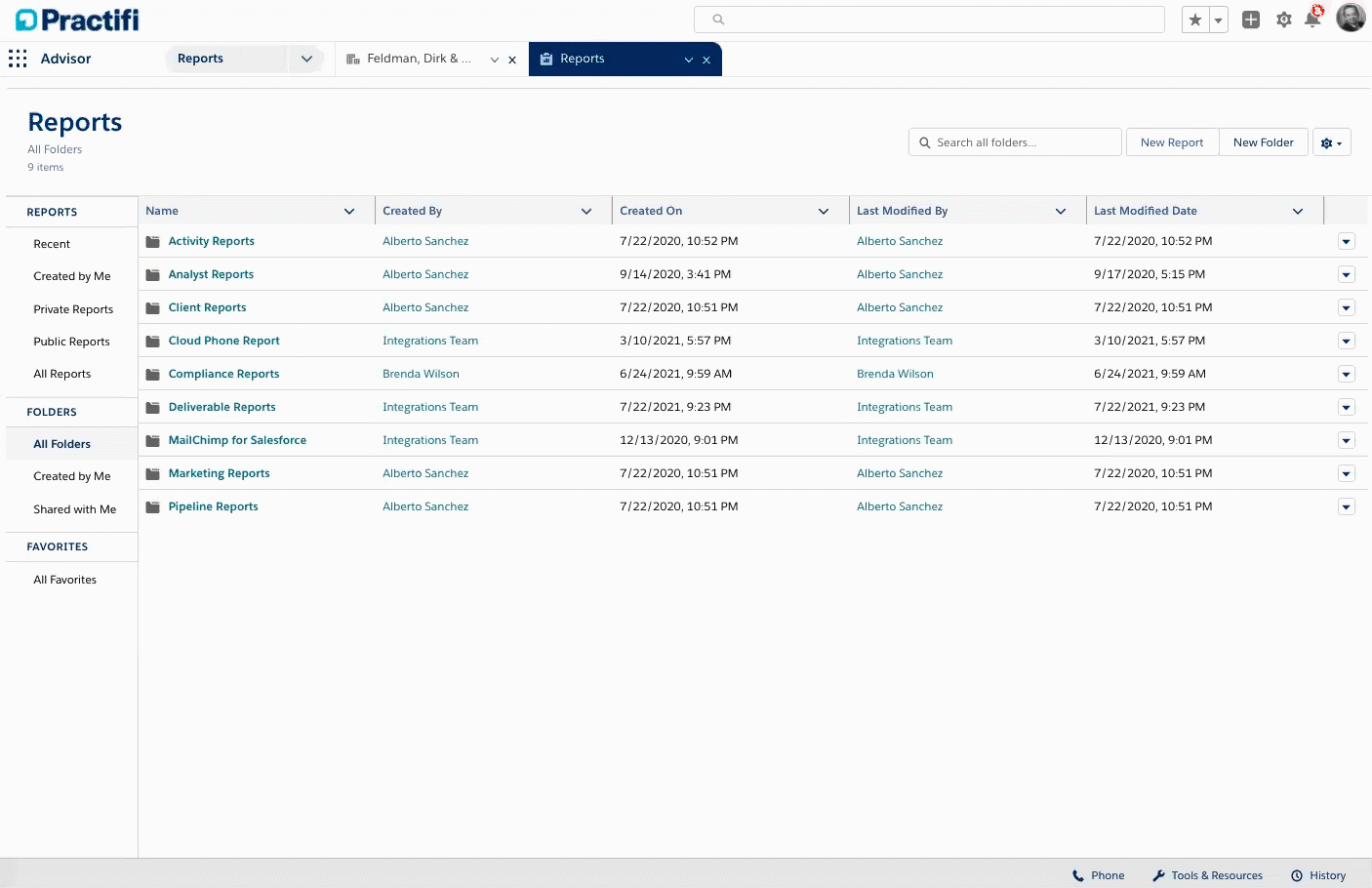 Pre-built reports help leadership see deliverable performance across the firm
Practifi provides four pre-built deliverable reports for leadership to monitor fulfillment rates per division, owner and service type, as well as an advisor report to monitor missed deliverables per client. By monitoring performance over time, leadership ensures compliance obligations are on track and clients receive value for the services they're paying for.
Interested in learning more?
While there are challenging market forces at play, forward-thinking firms are implementing intelligent solutions that emphasize the value of the professional advice they already provide. Automating deliverables can help advisors, managers and compliance officers reduce regulatory risk and continuously deliver value for clients.
To see how Practifi can help your firm reduce regulatory risk and provide a valuable client experience, speak to your Client Success Manager or reach out to a member of our team today.
Get the latest insights delivered straight to you inbox.SUBSCRIBE TO BLOG
---
To learn more about Practifi, visit www.practifi.com.