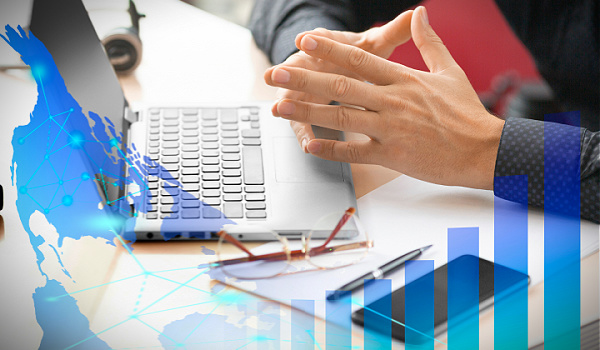 ---
Just over two months into 2022, we've seen an awful lot of change.
Markets have entered a new period of volatility. Inflation continues to rear its head. War is raging in Europe. It really feels like the pace of change has accelerated and shifted gears.
In the background, the coronavirus pandemic that has afflicted the world for more than two years continues, but in the U.S. and most developed parts of the world rates of infection, hospitalization and death are on a steep decline.
Are we ready, at last, for a return to the office—and is it really necessary?
It seemed as if a huge, collective return to the office was likely ahead of 2021's Delta wave of Covid-19, as many companies, including giants in the wealth management space, announced reopening plans and called their workers back to the office, only to reverse course as positivity rates and hospitalizations increased.
Today, it seems like companies are taking a more conservative approach to reopening plans, and fewer workers are returning to the office.
Which makes me wonder—with each wave of coronavirus, or in future pandemics, will we see an additional shift to remote working? Is working from or returning to the office a phenomena that will inevitably diminish over time as technology continues to advance?
---
Onramp Invest: Tyrone V. Ross, a wealthtech rising star, has stepped down as CEO of Onramp Invest.
Founded by Ross and former AdvisorShares CEO Eric Ervin and launched in 2020, Onramp was an early entrant into the cryptocurrency technology, education, resources and services for advisors business.
Ervin will take over as CEO, while Ross will reportedly re-enter the wealth management space after a brief break.
eMoney Advisor: Ed O'Brien, CEO of eMoney, has resigned to take a role at Fidelity Institutional, the parent company of the financial planning wealthtech.
Susan McKenna was appointed as interim CEO—since 2018, McKenna served as eMoney's head of marketing.
O'Brien, who has been eMoney's CEO since 2018, will serve as head of technology for Fidelity Institutional.
Gridline: Gridline, a new digital alternative investment platform, announced that it has raised $9 million in capital, which it will use to double its headcount.
Gridline launched in February oriented its services towards RIAs and accredited investors.
Advisor Websites: Advisor Websites, provider of personalized websites and targeted digital marketing solutions for financial advisors, today announced availability of AccessAble, AI-infused technology that helps make wealth management websites accessible for everyone and compliant with the Americans with Disabilities Act and other similar legislation.
AccessAble can be implemented in a matter of minutes, and within 48 hours can scan a firm's websites and address any accessibility and compliance gaps. From there, the software will continue to scan the websites every 24 hours to update its accessibility options.
Holistiplan: Holistiplan is making its tax planning software available to students in Texas Tech's School of Financial Planning for free. The collaboration with TTU provides students access to tax planning tools as an addition to both their education and preparation for the future.
Holistiplan sad that it is currently in discussion with other universities and the agreement with TTU will be the first of many collaborations.
SMArtX Advisor Solutions: SMArtX, a rapidly growing TAMP, announced this week that it has surpassed 1,000 strategies on its platform with the addition of 36 new strategies from 14 firms. SMArtX saw an influx of nine new firms, spearheaded by industry behemoths Loomis, Sayles & Company and WisdomTree Asset Management.
Luma Financial Technologies: Luma announced plans to offer its structured products data within Morningstar's Advisor Workstation.
Advisors using Morningstar's platform will now have access to Luma's information on alternative investments
Morningstar will use the data provided by Luma to analyze, manage, and allocate structured products in an overall client portfolio context, according to a press release from Luma. Subsequent enhancements of Advisor Workstation through 2022 will build on Morningstar's objective to provide deeper classification of structured products so financial professionals can more easily see the impact to a client's investment plan.
---