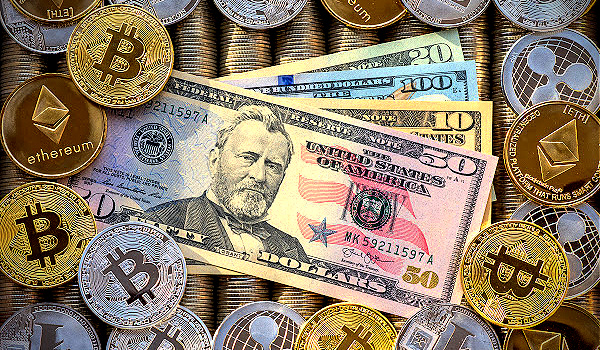 ---
By Gregory Bilecki
TWIDW 3/8/22: Russia & Ukraine updates, Visa & MasterCard cut ties with Russia, Switzerland adds sanctions and freezes Russia-owned digital assets, Yearn founder and lead Fantom developers have officially left the crypto space, and 60 new DeFi projects are headed for Cardano (ADA). Rarify aims to add value to the NFT sector, while Thetanut aims to level the playing field in crypto-related options markets. Finally, Binance bets big with its new payment venture aimed at accelerating the adoption of crypto worldwide.
---
Fed News & Market Impacts
Ukraine announced Thursday that they had officially cancelled the airdrop originally planned for the end of February. While this cancellation definitely raised some eyebrows around the world, it should be noted that Ukraine also had to politic their way through many years of crypto talks & discussions over the course of just a few weeks since the invasion by Russia began. Just prior, talks were already being held for the possibility of launching the country's own CBDC token in order to support the war effort within its borders. However now, it seems that the country is planning to issue its own NFT's in response instead. A major reason for this move came along with the impending snapshot for the airdrop yielding countless micro-amounts in worthless tokens being sent to the country's Etherum address. Miners were effectively paid more than they donated to Ukraine, with much of the related mining activity occurring within Russia.
The two largest engines powering credit cards everywhere, Visa & MasterCard, have officially cut ties with Russia last Saturday, with both financial groups going on record and citing the recent actions made by Russia on Ukraine as justification for their suspension of activities. This involves cards backed by Russian financial institutions no longer having the ability to operate outside of the country, and those cards issued outside no longer working within. This also includes the ability to make payments to individuals and organizations identified within Russian borders regardless of where the card was issued. This comes as another huge measure being utilized to financially isolate the country on the heels of being expunged out of the global Shift financial messaging system just a couple short weeks ago.

This past Friday Switzerland decided to join the list of 27 EU countries already imposing sanctions on Russia while also (and in a very Ukraine-like fashion), go after all funds residing on accounts on centralized exchanges located within Swiss borders. In just this past week alone, Swiss Finance Minister Guy Parmelin mentioned that 223 Russians, which included those that have close ties with Vladimir Putin, have had their bank accounts and physical assets frozen by the historically neutral region. This comes as a necessary measure as indicated by the Swiss Finance Ministry as they were specifically interested in protecting the integrity of its blockchain and Web3 industries as approximately 1,200 related companies currently call Switzerland home.
The End of an Era?
In a shock to the digital asset sector and markets globally, early Sunday morning Yearn Finance (YFI) founder Andre Cronje along with Fantom lead developer Anton Nell have effectively walked away from Web3 tech altogether and the pair are now both headed back to more traditional roles in the finance realm and decommissioning 25 related DeFi projects in their wake. Projects scheduled for termination include yearn.fi, keep3r.network, multichain.xyz, chainlist.org, solidly.exchange, and bribe.crv.finance. Per both of their Twitter accounts, this was a long time coming and no single scenario sparked their decision. Reactions to the departures were mixed, considering Cronje himself has not touched YFI code in over a year. YFI in particular has a total of about 200 developers actively contributing to the project as of the date of this article, composed of 50 full time and 140 part-time devs, as well as 40 devs still actively dedicated to Fantom. The Fantom Foundation released a more-than optimistic statement in response: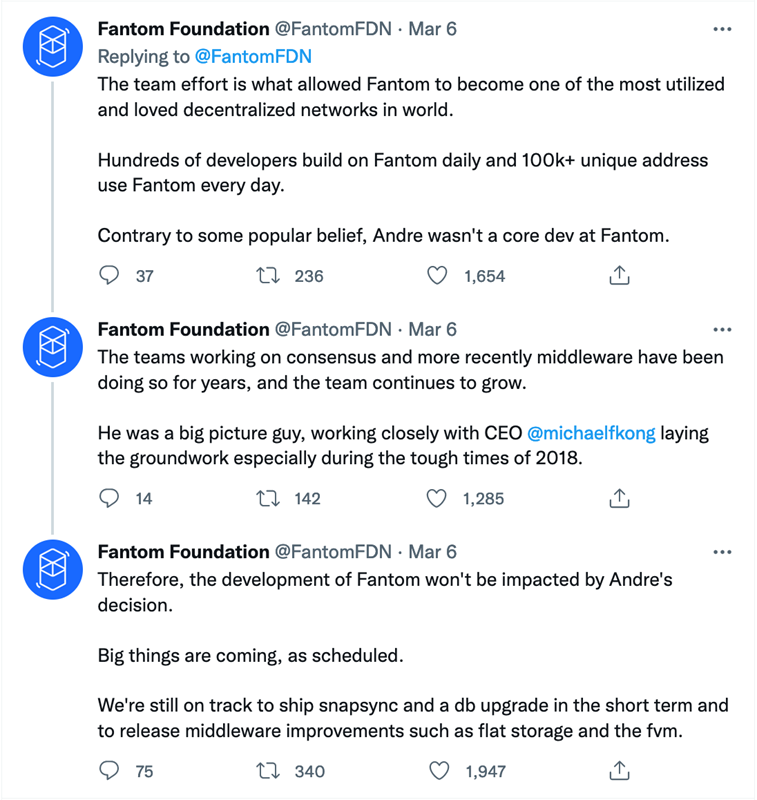 More DeFi Projects on the Horizon
If the news regarding the exodus of YFI and FTM's dev team has you a little worried, fear not. Cardano has announced 61 DeFi related projects on the horizon which include 26 new DEX's such as ADA Finance, Ray Network, Occam.Fi, YaySwap, Cardax, Matrixswap, and Meowswap. SundaeSwap was the first DEX to launch in the crypto world on the ADA chain with Smart Contract functionality. With most of the token's $120 million float (approximately $118 million) locked into SundaeSwap currently, this should come as a boon to investors as the token is currently trading below its average which has largely fluctuated between $1.10 and $1.30 USD since the beginning of 2022.
Deal Pipeline
Rarify, an NFT startup, just received $100 million in Series A investment from Pantera Capital, a crypto-only VC firm. The cash for stock transfer will help Rarify delineate the NFT creation steps which plans to scale back the 14 step NFT creation process into a mere 3 steps for enterprise organizations. The positive news comes as information emerged that 4 of Rarify's 14 employees, including their CTO and head of engineering were stationed in Ukraine right before the invasion by Russia began.
DeFi platform Thetanuts has raised $18 million in a seed round aimed to drive additional development of its derivatives ecosystem with two new products, Theta-Index, and Theta-Wheel. The Thetanuts platform which currently allows for 11 tokens to be accepted as collateral in exchange for a combination of risk-adjusted yields among multiple blockchains provides investors a more maximal opportunity for returns. As a relatively new protocol, the company is led by a powerful team with years of hedge fund and software development experience whose goal is to level the playing field between all types of investors. Theta-Index, is an option basket that provides more well-rounded risk management, and Theta-Wheel, offers physically settled vaults which alternate between calls and puts. With this technology, the benefits of Theta-Wheel allows for investors to truly "buy low and sell high" while earning incentives and forming a foundation for other derivative-related products offered by Thetanuts.
The Payment Space
In other massive crypto news, Binance announced its new PayTech venture, Bitfinity. The new company aims at providing enterprises easy access to fiat to crypto related transactions with various "on-ramp, off-ramp" solutions providing more exposure to firms wanting (and willing) to do business with digital assets while even presenting new use cases for digital assets worldwide. The new platform features over 50 cryptocurrencies, geared at accelerating global adoption by reducing the overall friction which still plagues the crypto space while increasing stakeholder value.
---
Gregory Bilecki is a freelance editor at Digital Wealth News, as well as full-time finance, digital marketing, and sushi aficionado. Follow him on Twitter and Instagram at @omgreaktmedia.