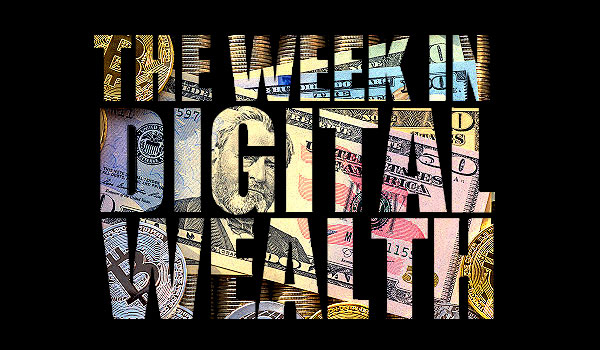 ---
By Gregory Bilecki
TWIDW 5/9/22: Fed News & Market Impacts, SEC adds staff responsible for protecting investors in crypto markets, Biden & Co. implement digital banking with updated Community Reinvestment Act, Fed begins piloting "real-time" payment initiative, Byzos implements BNPL for the steel industry, Walnut receives more funding, InfiniGods gets a fresh infusion to further their blockchain gaming ecosystem…and finally, tokenization has arrived for your checking and deposit transactions as well as a certain favorite financial institution.
Fed News & Market Impacts
It was a very rough and ever more bearish week for BTC, sliding by about 10% and going sub-$35k for the first time since February. Inflation and Fed monetary policy were catalysts for riskier assets like crypto taking a nose-dive as the BTC/NASDAQ 100 correlation strengthened over the week.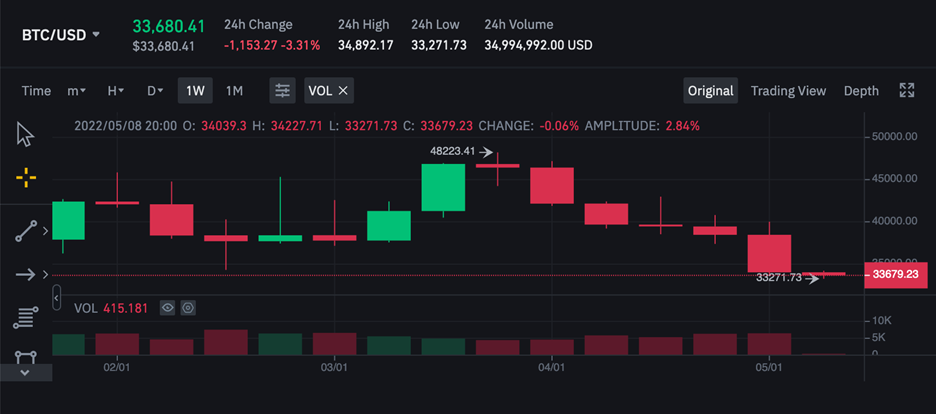 The U.S. Treasury hit crypto mixing service Blender.io with sanctions this week which now prevents transactions between the popular underground tumbling service and US based wallets – the same service which helped disguise the trail for the attackers who made off with $600 million from the Ronin sidechain in March. The Treasury said the theft was conducted by the North Korean Lazarus group last year which it first sanctioned in 2019, the Treasury having since updated the groups cryptocurrency addresses this past Friday on its website.
The Securities and Exchange Commission announced Tuesday that it will almost double its staff responsible for protecting investors in cryptocurrency markets, the move coming along with the recent rise in fraud and abuse reports received. The regulator's Crypto Assets and Cyber team, a unit of the SEC's broader Enforcement division, will increase its head count by 20 for a total of 50 dedicated positions. The SEC said that the 20 additions will include investigative staff attorneys, trial lawyers, and fraud analysts.
The SEC last Friday, May 6, said technology company NVIDIA Corporation in consecutive quarters in fiscal 2018 made "inadequate disclosures concerning the impact of cryptomining on the company's gaming business," according to a recent press release. The SEC argues NVIDIA "failed to disclose that cryptomining was a significant element of its material revenue growth from the sale of its graphics processing units (GPUs) designed and marketed for gaming," the SEC wrote in its order, referring to NVIDIA's Forms 10-Q for fiscal 2018, in which the company didn't disclose that its increase in gaming sales "was driven in significant part by cryptomining," according to the SEC.
The Biden Administration is finally revealing the proposed new rules for modernizing the Community Reinvestment Act that now takes into account digital banking. The government is seeking public comments though early August on the proposal. The modernized Act aims to have the new rules finalized by the end of the year.
The Payment Space
The Federal Reserve has started onboarding pilot participants for its new real-time payment system, ahead of its full launch next year, called "FedNow". The Fed says that a handful of organizations have already successfully connected and delivered test messages via a pilot version of the service. During the next few months, more pilot users are expected to be onboarded, to establish connectivity and perform technical and operational tasks that will lay the groundwork for full-scale, end-to-end testing later this year. Among the next round of pilot users is expected to be be Square and Q2, with pilot users of the new service featuring about 120 participants total, ideally setting the stage for thousands of financial institutions to be up and running with instant payments in the near future.
Bryzos is an online steel marketplace that facilitates trade between buyers and sellers and now, also offers buy now, pay later (BNPL) payments. The company's platform is a model which is a real-time network of suppliers which also addresses both credit and terms while improving on industry dynamics. Buyers and sellers operate across several verticals, including energy, automotive and infrastructure which becomes a real-time network of supply that gets the steel where it needs to go to the firms that need it. Regarding its functionality, the online marketplace facilitates anonymous transactions to both parties until the deals are done and closed via Bryzos' checkout and documentation processes.
Deals and Capital Raises
Last week, InfiniGods, a blockchain-based game developer, announced the completion of a $9 million seed round led by Pantera Capital. Animoca Brands, Framework Ventures, Jefferson Capital and Double Peak also participated in the fundraising. The company said they plan to use the funds to develop and release three blockchain games in 2022, encompassing NFTs and in-game crypto, as well as a DAO governance token. While many gaming circles remain skeptical about the whole idea of play-to-earn gaming amid fears that video game studios are compromising game quality and fans for financial gains, InfiniGods said its developers are placing user experience at the forefront of its list of priorities.
Brooklyn-based Walnut received $110m in a Series A round last week to be divided between $10 million in equity financing and $100 million in debt financing. The $100 million debt financing portion, led by ClearHaven Capital, included existing investors also participating in the round, including Newark Ventures, Afore Capital and 2048 Ventures, as well as new investors such as AngelList, Weekend Fund, Company Ventures, Banana Capital, Goodwater Capital and Muse Capital. Founders and executives from Ramp, Teachable, Clearbit, Afterpay, PillPack and Giphy are also investors. The equity round was led by Gradient Ventures. Walnut is a point-of-sale lending company that helps patients pay for healthcare over a period of time. Walnut works with healthcare providers so that a patient's bill can be paid back through $100-a-month increments for 30 months, instead of one lump-sum payment.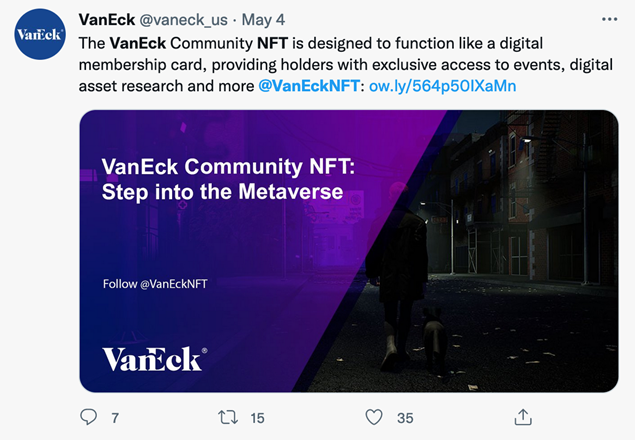 It's Becoming a Tokenized World
Tokenization for deposit and checking account information which ensures a customer's banking account and routing numbers are never transmitted along with a payment will soon be available for financial institutions utilizing the RTP and EPN networks, the real-time payments and ACH networks operated by The Clearing House. Secure Token Exchange (STE) for customer deposit and checking accounts is a new, optional capability currently available for the RTP network that issues tokens for a customer's bank account and routing numbers. Customer deposit and checking account tokenization for EPN is expected to be available later this quarter. Tokens for customer deposit and checking accounts use random digits to substitute a customer's actual account numbers when making a payment. Even if compromised, the token can be deactivated, rendering it useless to cybercriminals.
Approved this week was the launch of the VanEck Community NFT from US fund manager VanEck. VanEck said the new Community NFT will be distributed to 1,000 holders who want early access to research, to be in the know on various investment opportunities, and who also would want to take part in real and virtual events and experiences that the company plans on sponsoring in the future.
VanEck noted that while NFTs are very much associated with the art world, they are now being used to tokenise a wide range of assets, including play-to-earn assets, real estate and collectibles. The pre-release NFT dropped to participants' crypto wallets on Monday and include a story line that is tied to VanEck's "Hammy" character, a fictitious representation of Alexander Hamilton.
---
Gregory Bilecki is a freelance editor at Digital Wealth News, as well as full-time finance, digital marketing, and sushi aficionado. Follow him on Twitter and Instagram at @omgreaktmedia.