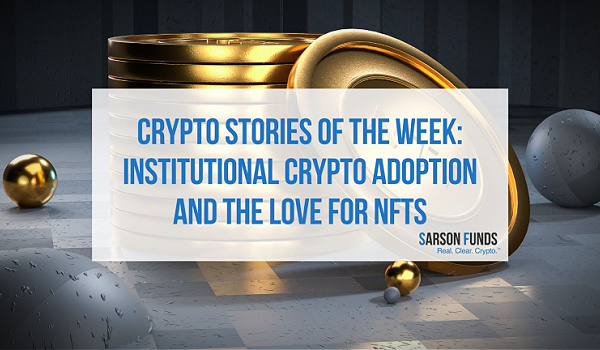 ---
By Ivan Dimov
Cryptocurrency has always been volatile with regards to its fiat-comparative value. It Is important to remember that the blockchains are decentralized and there isn't any single entity behind it putting out media fires. With that in mind, current fiat value becomes irrelevant to believers when we are Hodlers, as there are many promising signs of what's yet to come. Crypto and NFT adoption is still just getting started.
Wells Fargo's Global Strategy Team published a Special Report – Understanding Cryptocurrency, answering a question on the minds of many – Is it too early or too late to invest in cryptocurrency? Also highlighted were several ways in which to invest. What does this mean for investors? Wells Fargo says "For now, we suggest the consideration of only professionally managed private placements."  Sarson Funds has been one of the few professionally managed private placement digital asset investment groups available for accredited investors and RIAs, since 2018.
The New York Stock Exchange – NYSE has filed a trademark application that highlights an online marketplace for NFTs, as well as some metaverse aspects such as "develop and design virtual retail stores, virtual stores, and virtual showrooms…" as noted in their provision. NYSE previously released NFTs with hints to do more in the space.  Only time will tell what the NYSE will do with the trademark.
We have seen Gucci enter the blockchain digital space earlier this year when their NFT collaboration with SUPERPLASTIC® called SuperGucci was released.  Now Gucci is taking it to the next level by buying land in the popular metaverse, The Sandbox. Their plan includes introducing fashion wearables for the Voxel Sandbox characters that represent players in the metaverse.
The U.S. Federal Justice Department announced that law enforcement had confiscated approximately 94,000 Bitcoins (BTC) from a married couple that was allegedly involved in the 2016 Bitfinex hack where over 120,000 were stolen.  Because Bitfinex is a subsidiary of iFinex, a company registered in the British Virgin Islands, it is currently unknown if Bitfinex would receive the seized tokens.
A win for cryptocurrency in yet another sovereign nation. The Russian government and its central bank have come to an agreement on how to regulate Bitcoin and cryptocurrencies. The sovereign nation plans to accept digital assets as a form of currency while treating it in a similar regulatory fashion as fiat foreign currencies. Cryptocurrency laws may be enacted as early as this year.  Considering current events in Russia, cryptocurrency adoption may prove to be an important step for future financing as fiat stability may become unreliable for some – depending on which side of the fence they find themselves. 
---