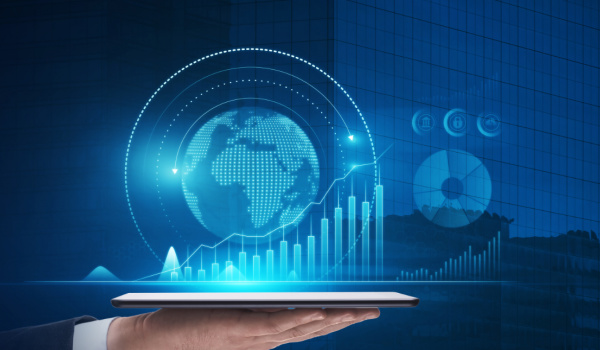 ---
By Christopher Robbins
This week in digital wealth, we have several fundraising announcements, partnerships and hires with the potential to further progress the financial technology space.
In wealthtech and investments, InvestCloud announced that it will be offering digital financial planning to Rabobank, one of the largest Dutch banks. Similarly, in the realm of payments, Pidgin is announcing a new partnership with Banker's Bank.
In crypto and digital assets, we have an interesting offer from FTX for investors caught up in the Voyager Digital Bankruptcy, while in fintech and personal finance CalTier Realty is beefing up the technology side of its advisory board.
All told, it was another eventful week in fintech:
---
WealthTech and Investments
Prometheus Alternative Investments — Prometheus Alternative Investments, Inc., a Los Angeles, California-based fintech social marketplace providing institutional-quality information, insights, and alternative investment opportunities, today announced the launch of their Prometheus Content Creator Program.
The Prometheus Content Creator Program is a first of its kind network that brings together some of the best financial content creators and increases access to quality investing insights through social media. This new program seeks to change investor education by leveraging leading financial influencers to develop unique and compliant content for investors of all types.
InvestCloud — InvestCloud announced it is supporting Rabobank, one of the Netherlands' largest banks, to provide digital financial planning for all its customers, from private banking to retail clients. Online and mobile app Rabobank clients will be able to create highly customizable life plans, allowing advisors to guide their clients to achieve their financial goals without needing to create time-intensive and costly proposals.
Banking, Payments and Infrastructure
Pidgin — Pidgin, a secure real-time payments platform built for the future of payments, announced that The Bankers Bank, a leading provider of correspondent services to community banks with more than $200 million in assets, is extending the platform to its more than 250 banks across Oklahoma, Texas and New Mexico.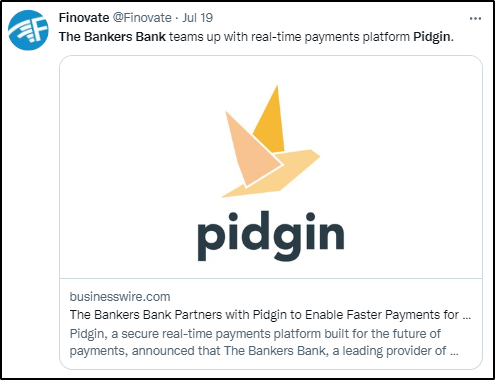 The Bankers Bank is rolling out Pidgin to its community bank customers, providing them a fast, easy and secure way to send and receive payments. With Pidgin, payments are routed directly from financial institution to financial institution.
Bancorp Bank — The Bancorp Bank, the wholly-owned banking subsidiary of The Bancorp, Inc., announced that the Company has hired Timothy Green as Managing Director, Head of Fintech Lending. In this new role within The Bancorp Fintech Solutions division, Green will play an instrumental part in the development and execution of the Bank's fintech lending strategy.
One Inc. — One Inc, a digital payments network for the insurance industry, announced today that property and casualty carrier, Harford Mutual Insurance Group (Harford Mutual), has selected One Inc's ClaimsPay to help process claims payments and synchronize the company's workflow. Headquartered in Bel Air, Maryland, Harford Mutual is represented by nearly 450 independent insurance agencies and is licensed in nine states and the District of Columbia. Harford Mutual's selection of One Inc's ClaimsPay is its latest step forward in assuring that its policyholders are taken care of in the critical moments when a claim is initiated, adjusted, and completed.
Crypto, Blockchain and Digital Assets
FTX — FTX Trading Ltd. ("FTX"), owner and operator of FTX.com, a leading global cryptocurrency exchange, today announced a joint offer with West Realm Shires Inc., the owner and operator of FTX US, and Alameda Ventures Ltd, to provide early liquidity to customers of Voyager Digital, LLC ("Voyager"), which filed for bankruptcy in New York earlier this month.
Under the joint proposal, customers of Voyager would have the opportunity to start a new account with FTX with an opening cash balance funded by an early distribution on a portion of their bankruptcy claims. Customers would be able to withdraw their cash immediately, or use it to purchase digital assets on the FTX platform. No customer is required to participate, and participation in the joint proposal is fully voluntary.
Earnity — Earnity, a community-based crypto platform and marketplace, announced today that Steven Yee, a seasoned global executive with decades of fintech and ecommerce startup experience after a career in banking, has joined the growing company as Chief Operating Officer.
Yee has significant experience leading operations, customer service and risk functions for startups across the globe and fintech industry. He joins from OK Group, the second largest crypto platform globally by trade volume, where he was Chief Customer and Risk Officer.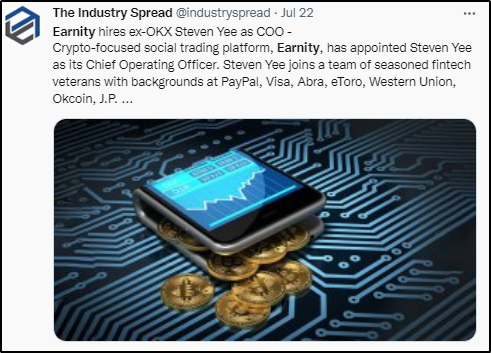 HashFlow — Decentralized finance (DeFi) trading platform Hashflow, founded in 2021, has announced it has raised $25 million in new funding bringing its valuation to $400 million. The round included returning investors Electric Capital, Dragonfly Capital Partners, LedgerPrime, and Balaji Srinivasan, along with crypto-native new investors and market participants including Jump Crypto, Wintermute Trading, GSR, Kronos Research, and Altonomy. Other investors include Coinbase Ventures, Kraken Ventures, Fabric Ventures, Evernew Capital, Spacewhale Capital, and angel investors Meltem Demirors, Anthony Sassano, and Jason Choi. This raise comes just over one year after Hashflow's seed round of $3.2M was announced in April 2021.
Fintech, Apps and Personal Finance
Fiserv — The Financial Services Innovation Lab (FSIL), which serves as an interface between the financial services industry and faculty and students at the Georgia Institute of Technology, and Fiserv (Nasdaq: FISV), a global provider of payments and financial services technology with a flagship presence in Georgia, are partnering on a new initiative to better understand consumer financial health. Through this new initiative, Georgia Tech researchers will leverage Fiserv data to generate insights into household financial behavior, which will be relevant to policy makers, consumers and small businesses. The three-year partnership, funded by Fiserv, has a goal of increasing financial and payments inclusion.
Hometap — Hometap, a provider of a loan alternative for tapping into home equity without taking on debt, today announced that it has appointed Eugene Wong as its Chief Financial Officer. Wong will lead Hometap's finance team in developing strategies for acquisition and deployment of new financial products and services. He joins Hometap from Forward Financing, a Boston-based fintech that provides working capital to small businesses, where he served as Vice President of Strategy & Finance.
Before joining Forward Financing, Wong served as Vice President in the Sponsor Finance Group at Silicon Valley Bank, providing leveraged debt financing to private equity firms in support of their acquisitions of software companies.
CalTier — CalTier, Inc (CalTier), the innovative Fintech Crowdfunding platform, today announces it is strengthening its technology capability by bringing two experienced technology heavyweights to its advisory counsel, Ash and Vish Mehta from Mehta Ventures.
StockTwits — Stocktwits, the original social platform for investors and traders across all asset classes including stocks, crypto, and other emerging investments, today announced that they are launching equities trading on the platform. This new capability will expand the company's existing suite of trade execution capabilities creating a complete user journey, from awareness to execution, allowing users to purchase stocks directly within the Stocktwits platform through its wholly owned subsidiary and SEC registered Broker-Dealer, ST Invest, LLC.
---