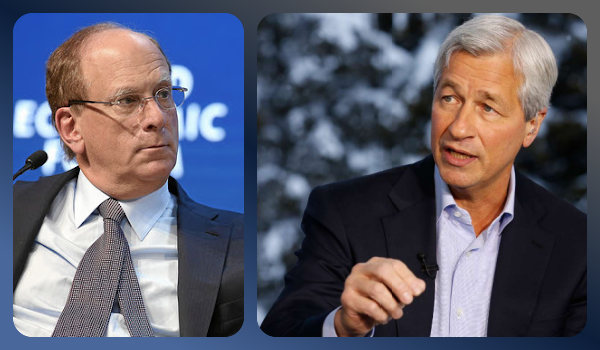 ---
Times change, people change and very smart leaders know when to "pivot." What and who are we talking about? Bitcoin and Larry Fink, CEO of BlackRock, and Jamie Dimon CEO of JPMorgan. Both CEO's are quite famous for being anti-bitcoin (understatement) but have, over the years, seen the light (with laser eyes?) and have pivoted nicely. In very big ways too. Will Warren Buffet ("bitcoin is rat poison") be next? Yeah, probably not. So what's changed?
Well lets start with BlackRock since CEO Larry Fink has just rocked the bitcoin world with some huge announcements. Back just about five years ago Larry called bitcoin an "index of money laundering." No more. News last week that BlackRock had entered into a partnership with Coinbase to offer its institutional clients access to bitcoin has just become even bigger. The world's biggest asset manager just announced it launched a private trust offering US-based institutional clients exposure to spot bitcoin. That's a BIG WOW! It's BlackRock's first product that offers direct exposure to the price of bitcoin. Nice "tone change" Larry.
Moving on to Jamie and JPMorgan. Mr D, being blunt, expressed his thoughts on bitcoin a few years ago. Saying, "If you're stupid enough to buy it, you'll pay the price for it one day" and bitcoin was a "fraud." Ah, but times do change. Exactly one year ago, JPM started giving its wealth management clients access to six crypto funds. They did that quietly so as not to embarrass Mr. D? Maybe yes, maybe no. In the meantime Jamie has gone from thinking anyone who owns bitcoin is "stupid" (don't take it personal Larry) to allowing JPM analysts to surmise bitcoin's recent slide has left the digital token well below its fair price, giving the cryptocurrency "significant upside" now (May 2022). Again, nice (reluctant) pivot, Jamie.
So if these two brilliant titans of finance can re-think their previous bias toward bitcoin (specifically), might the "holdout haters" actually be inflicted with BDS (Bitcoin Derangement Syndrome)? That term actually came to light by folks who hate a certain former US President (we are non-political here). Meaning, anything that was controversial was attributed to the ex-President. Same with bitcoin? You know, climate change is bitcoin's fault. Bitcoin causes criminal activity. Bitcoin is responsible for Covid. Bitcoin is the devil's work. Etc, etc. But hey, BDS is curable and if two of the most powerful leaders in the world can change…………well, just saying. Now, I think Warren Buffet may be a "special case" for sure. "Rat poison?"
---