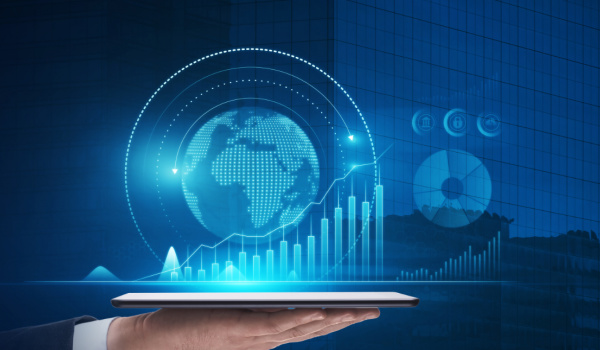 ---
By Christopher Robbins
This week in digital wealth we have—a lot! It was a very busy week!
Of particular note are announcements from Interactive Brokers opening up 24/7 crypto trading and QED Investors making its first African investment in Nigerian payments fintech TeamApt.
In the world of wealthtech, we yet again have news from iCapital which seems to be expanding and integrating its platform on a near daily basis, while in banking and infrastructure we have Rocket Mortgage continuing to integrate with traditional lenders to provide mortgage tech and more modern user experience.
Elsewhere, in crypto, Bitwage is updating its user experience to make it ridiculously easy to integrate certain crypto wallets, and in fintech we have a pair of next-gen announcements from MoneyLion (remember them?) and college-oriented Kora.
Wealthtech and Investments
Socotra—Socotra, the modern core platform provider for innovative insurers, announced that twelve insurance technology providers joined Socotra App MarketPlace to publish modern software apps connected to Socotra policy core, making the platform the fastest way for insurers to bring new products and features to market. Built on Socotra's cloud platform, Socotra App MarketPlace is a breakthrough for the insurance industry, enabling insurers to eliminate integration projects and add new solutions and services in minutes.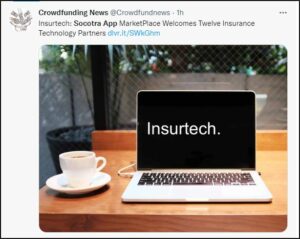 iCapital—Bonaventure, an integrated alternative asset manager focused on the development, construction, and property management of innovative lifestyle multifamily communities in the Mid-Atlantic and Southeastern regions, announced a partnership in which iCapital will provide a customized end-to-end technology solution that will enable financial advisors and their accredited clients to access Bonaventure's alternative investment offerings
InvestCloud—Eagle Life Insurance Company, a provider of fixed and index annuities, has announced today that it is teaming up with InvestCloud, a global leader in digital transformation, to offer access to product details about its fixed index annuities (FIAs) via the InvestCloud platform. The InvestCloud cloud-native platform is designed in a modular fashion to boost customizability and control. Through this digital portal, financial professionals can engage with both clients and prospects, personalizing the sales process and creating an experience designed to bring confidence and interactivity.
Crypto, Blockchain and Digital Assets
Bitwage—Bitwage has partnered with bitcoin and crypto wallets Casa and Edge wallet. Working together with Casa and Edge Wallet, they are offering a new way for beginner users to easily download their first wallet and connect it to the Bitwage platform. Previously, when using Bitwage, users had to provide their own wallet address in order to receive part of their wages in cryptocurrency. Bitwage has streamlined this process: guiding new users without a wallet to generate one from Casa or Edge and connecting it back to the Bitwage platform via QR code or a deep link without any need for manual public key exchange. The partnership creates access for a generation of beginner crypto users. While experienced users still have the ability to connect an address from any wallet, new users have the option of having a friendly and secure experience for finding their first wallet and connecting it to Bitwage.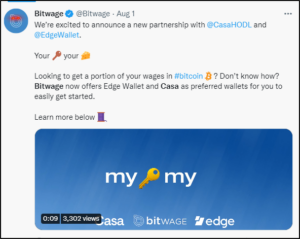 Interactive Brokers—Interactive Brokers introduced the ability for customers to access 24/7 crypto trading through an enhanced web application available from Paxos Trust Company. Clients who elect to manage the funding of their crypto account themselves can pre-fund their crypto accounts at Paxos during regular US banking hours and then trade Bitcoin (BTC), Ethereum (ETH), Litecoin (LTC), and Bitcoin Cash (BCH), plus additional coins around the clock.
Structure.fi—Structure.fi, a mobile-first financial platform that offers investors seamless access to both traditional and crypto markets, has officially launched in El Salvador on Thursday, August 11. In the coming weeks and months, millions of people in emerging markets around the world will be able to utilize its service as the company prioritizes some of the most historically underserved populations, in countries like Mexico, Nigeria, and India.
Banking, Payments and Infrastructure
Figure Technologies—Figure Technologies announced a new collaboration with Visa to provide issuing processor services via Figure's blockchain-based Banking in a Box platform. Visa DPS, used by financial institutions around the globe, will be a key component of Figure's online banking service, known as Banking in a Box, which allows Figure Pay customers to add eligible deposit accounts, payments, and cards to any existing online retail, fintech, or banking offerings. Through Figure Pay, companies can rapidly get to market with innovative payment, banking, and card solutions, leveraging the Provenance Blockchain, a production blockchain built specifically for the financial services industry.
Rocket Mortgage—Q2 Holdings and Rocket Mortgage announced a new partnership enabling Q2 banks and credit unions to offer Rocket Mortgage's digital home loan application experience, with live mortgage assistance, inside of Q2's online banking platform.  The Q2 Partner Marketplace Program provides an app store-like experience so financial institutions can evaluate, select and deploy applications from a catalog of pre-integrated third-party products with no up-front investment. It enables banks and credit unions to provide their customers and members with innovative fintech applications, like access to Rocket Mortgage, integrated directly into their digital banking platform.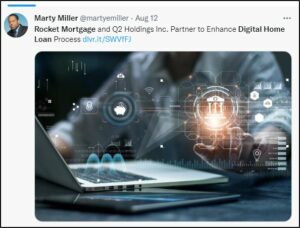 Fintech, Personal Finance and Apps
TeamApt—TeamApt has just completed a financing round and brought on board one of the world's largest fintech specialists, QED Investors. TeamApt is its first investment in Africa.
TeamApt operates Nigeria's largest business payments and banking platform, with more than 400,000 businesses onboarded and processing $100 billion annualized run-rate transaction value. Its all-in-one business solution aims to digitize Africa's economy and is laying the foundation that will provide Nigeria's 41 million SMBs with digital payments acceptance channels, access to working capital and business expansion loans, and business management tools such as expense management (business payments cards), accounting and book-keeping solutions to manage their operations.
Kora—Kora, a financial technology company exclusively serving college students, announced they've reached 100,000 active users on their Kora Insights budgeting tool. Kora Insights allows users to securely connect their banking accounts for a full scope of their assets, and also categorizes users' transactions to make budgeting easier. This tool is one of four additional personal finance offerings including Cash, Card, and Drive. The Kora Blog is an additional resource for students, and is updated weekly with fresh financial education and insights on a diverse range of college-related topics.
MoneyLion—MoneyLion and Zogo, a Gen Z-powered financial literacy company, announced their collaboration today that will provide enhanced financial education to over three million MoneyLion users. The partnership offers an essential blend of holistic and technological innovation that for many years has been left out of the banking and education industries. This is Zogo's largest integration with a Fintech platform since its conception in 2018.
The two digital-first companies are teaming up to create crucial content and a seamless experience for users via a co-branded design effort of modules. MoneyLion customers can now easily access Zogo's bite-sized education modules within the MoneyLion app's "Today Feed" content.
---