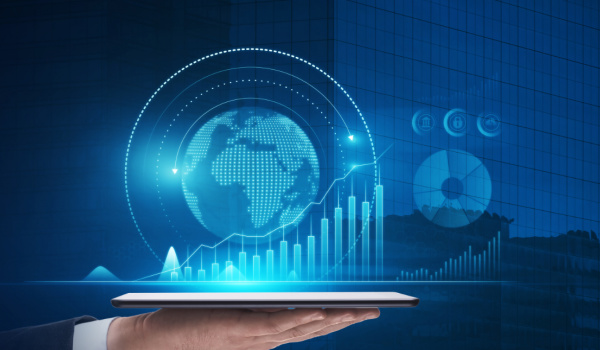 ---
By Christopher Robbins
This week in digital wealth we have some new practice management and development initiatives from SEI and Skience… but what we really need to talk about is Envestnet.
Envestnet's new marketing campaign uses a character from the animated children's program Spongebob Squarepants to illustrate the power of Envestnet's client portal, enabling users to peruse through the finances of the show's small business owner character, Mr. Krabs.
I never imagined that a fintech-Spongebob Squarepants mashup was even a remote possibility, let alone thought I'd live to see the day that Spongebob characters are used to market wealthtech, but here we are.
And Envestnet's campaign stands out for being so damn… weird. I mean, there's some cool announcements in this week's round up, but Mr. Krabs takes the cake.
---
WealthTech and Investing
Skience — Gladstone Associates is hitting the road to tout its new strategic growth advisory business helmed by industry veteran Derek Bruton. Bruton will be leading in-person bootcamp events alongside Lido Advisors' Brad Hixson and Skience's Marc Butler. The trio will invite small groups of RIA executives in different regions to get together to learn what they have to do to steel their business against a pending recession while optimizing their business for M&A-related growth opportunities.
SEI — SEI  announced the launch of Growth Lab, an on-demand practice management hub featuring actionable tools and extensive resources for independent advisors to implement ideas and processes into their practice, available to all advisors.
Growth Lab focuses on key topics around practice management and common pain points SEI has seen amongst advisors that can be addressed to help scale their businesses. The purpose is to help identify where there may be gaps within an advisor's practice that is stunting growth/scalability, and providing actionable steps specific to them.
Broadridge Financial Solutions — Broadridge Financial Solutions, Inc. announced a global partnership with Blue Ocean Technologies, a capital markets Fintech focused on global afterhours trading. Blue Ocean ATS (BOATS) will integrate with Broadridge's NYFIX order-routing network to offer clients untapped after-market access to US equities. Blue Ocean ATS operates an alternative trading system that replicates a daytime trading experience with electronic access, transparent price discovery, regulatory requirements, and clearing and settlement processes while overlapping significantly with Asia Pacific business hours.
Envestnet — Envestnet is partnering with Nickelodeon to take a closer look at SpongeBob SquarePants' Mr. Krabs' imagined finances in their latest omnichannel brand campaign. The new digital interactive campaign features clips of Mr. Krabs' experiences as a small business owner that serve as entertaining examples of being a proprietor. Envestnet empowers financial advisors to serve as heroes who help their clients live an "Intelligent Financial Life" through its connected financial wellness ecosystem.
The campaign, developed in partnership with Boston-based agency HeyLet'sGo, invites advisors to dive into Mr. Krabs' imagined finances through Envestnet's next-generation Client Portal. The campaign leverages an interactive digital experience where advisors can engage with five scenarios inspired by the SpongeBob SquarePants TV series—such as the destruction of the Krusty Krab, opening a second restaurant, and firing SpongeBob—and through the Portal, advisors can see how these events affect Mr. Krabs' overall financial picture.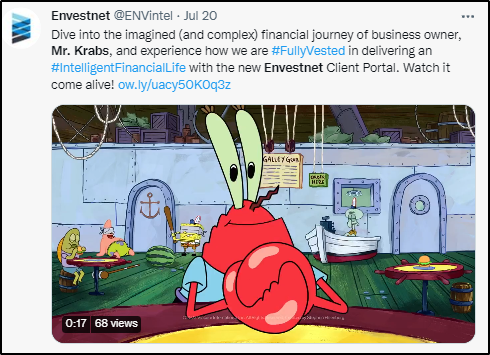 Crypto, Blockchain and Digital Assets
Solana Spaces — Solana Spaces today announced the opening of the world's first permanent physical retail, educational, and community space dedicated to Web3 at The Shops at Hudson Yards on Level 2, in Manhattan, New York. Solana Spaces was founded in 2022 and is based in San Francisco. Spaces, created in collaboration with The Solana Foundation, who funded and incubated the store, introduces an immersive consumer experience for Web3, specifically the Solana blockchain and its ecosystem. The founding team is a group of retail designers and engineers that also founded b8ta, the innovative and award-winning electronics retailer. Within the space, visitors will find a variety of tutorials on programming and experiences for new entrants into the crypto-technology industry, often offering unique rewards for participation.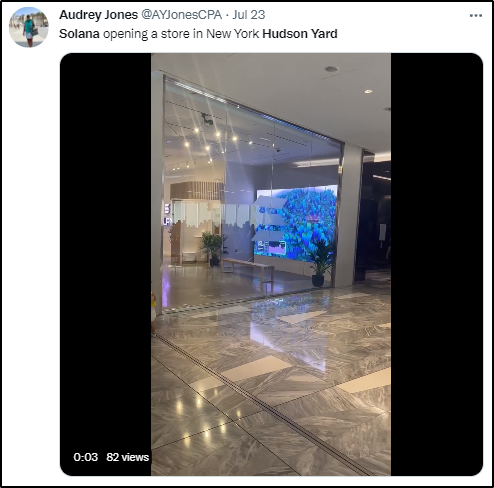 LevelField Financial — LevelField Financial (LevelField), the U.S. financial services firm focused on uniting digital assets and traditional banking services in one trusted platform, announced today that it has selected AlgoTrader, the leading digital asset trading software firm, to deploy its institutional crypto and digital asset trading operations. AlgoTrader's modular portfolio, order, and execution management system (pOEMS) provides a powerful platform for accessing deep liquidity as well as sophisticated interoperability capabilities for LevelField's Over-the-counter (OTC) trading desk. In addition, LevelField will leverage AlgoTrader platform's rich application programming interfaces (APIs) and its intuitive front-end, to serve the digital asset needs of a wide range of customers – from financial institutions to retail and high-net-worth-individuals.
Goose24 — Crypto broker Goose24 recently announced granting its traders access to the MetaTrader 5 (MT5) trading platform. MetaTrader 5 is the latest development of MetaQuotes, which brought investors MetaTrader 4. MetaTrader 5 has many distinct advantages over the former version: It provides more indicators, analytical objects, and timeframes. With it, one can use an unlimited number of charts and have access to more markets. Not to mention that it's much faster, both for testing and optimization.
Banking, Payments and Infrastructure
LendingClub — LendingClub Corporation, the parent company of LendingClub Bank, a digital marketplace bank, today announced that Drew LaBenne has been named LendingClub's next Chief Financial Officer (CFO). To ensure a seamless transition, he will assume the responsibilities on September 1, 2022, from current CFO, Tom Casey, who will be retiring but will continue to support LendingClub in a non-executive capacity through the end of 2022. Mr. Casey will also be retiring from LendingClub's Board of Directors. 
Payground — PayGround, a healthcare fintech payments platform, today announced the completion of a $5.5M funding round led by FCA Venture Partners and Lewis & Clark Ventures with participation from existing investors, Triventures and notable angel investors. This financing, which fortifies the $4M seed funding PayGround raised in 2021, will help expand into new markets, invest in new marketing campaigns and enhance the platform's features.
PayGround enables patients to manage bills from all providers in one platform. PayGround removes the complexities of paying medical bills by providing multiple payment methods to fulfill that responsibility — all from their PayGround Digital Wallet. All a patient needs to do is take a picture of their bill, select their payment method and click pay in the PayGround mobile app.

Fintech, Apps and Personal Finance
Ready Life — Ready Life, a new fintech backed by Figure Technologies Inc., is pioneering a revolutionary mortgage lending model that relies on good rental payment history to qualify buyers for home purchases. When the Ready Life platform launches this Fall, consumers who pay their rent on time using a Ready Pay Visa Debit Card will qualify for mortgages without a credit score review.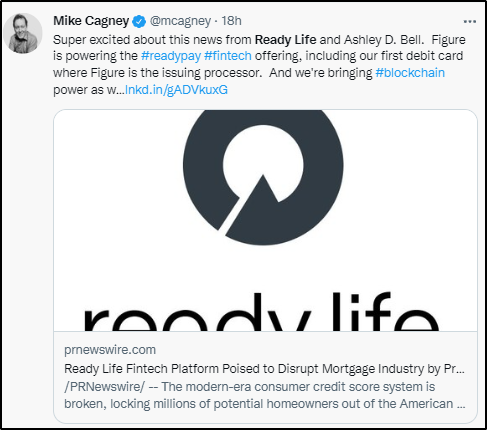 ---