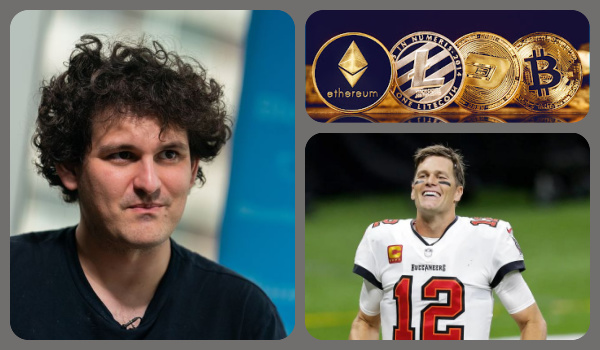 ---
It's no secret that this year has not been kind to the crypto/digital asset sector. Selected carnage comes to mind. Several big names in the sector have failed. Consolidation within the sector is well under way. But one firms failure is another firm's trophy. And who has a huge trophy collection? Quarterback Tom Brady (just not in crypto). And who is gathering a crypto trophy collection? FTX founder and CEO Sam Bankman-Fried. Probably best SBF doesn't play football though.
With the shakeout in the crypto sector evaporating names like Voyager Digital, Celsius and Three Arrows Capital (more still lurking out there?), stronger firms have stepped in to pick up the debris. Or, trophies. And there is no one more active in the space than SBF (Sam Bankman-Fried) and his firm FTX. Just one year ago this month FTX US finalized its acquisition of LedgerX, an institutional derivatives exchange platform for digital currencies (one trophy).
Helping to stabilize the crypto sector (and, of course, grow FTX) SBF has become much more active lately in acquiring "trophies." Back in June this year FTX acquired Bitvo, Canada's premier cryptocurrency exchange, its first foray into Canada (trophy two).
Last Friday FTX was the winning bid ($1.4B) for bankrupt crypto firm Voyager Digital. If approved by creditors, FTX's winning bid would include a $51 million cash payment, with an additional $60 million in earnouts and incentives. Obviously there are more details, but those are the basic headlines. (trophy three)
Ah, but as the "game" gets bigger and the competition gets tougher, the trophies are harder to acquire (ask Tom Brady). Word has it that FTX is looking to raise another $1B to be used for other acquisitions. New trophy target? Celsius. Celsius (which filed for bankruptcy a few months ago) was one of the largest players in the crypto lending space with more than $8 billion in loans to clients, and almost $12 billion in assets under management as of last May. So, with SBF raising capital and eyeing Celsius there may be other big players circling. Goldman Sachs was said to be seeking to raise $2B for a possible Celsius bid (no word on how that's going). SBF vs GS? Super Bowl. Another trophy?
Oh, don't forget, FTX Ventures, an investment arm of FTX, announced that it would acquire a 30% stake in Anthony Scaramucci's asset management firm SkyBridge Capital for an undisclosed amount. Hmmmm! Let's call that a runner up trophy (half trophy).
But for SBF to become the Tom Brady of crypto he needs to pick up the pace. I mean TB (oh wow, TB now plays in TB–Tampa Bay….cute) has 7 Super Bowl trophy's (out of 10 games….nice winning percentage) and lots of "sub-titles" too. One advantage for SBF is that he is just 30 years old. Tom Brady is 45 so the trophy collection race is a bit skewed (of course TB may be playing till he is 60…..and winning). So currently, SBF has three and a half trophies versus TB's 7 "big ones."
Sam Bankman-Fried the Tom Brady of crypto? Tom Brady the SBF of football? Hmmmm! Just thinking, what would SBF look like in a football helmet or TB look like with bushy hair and laser eyes?
---