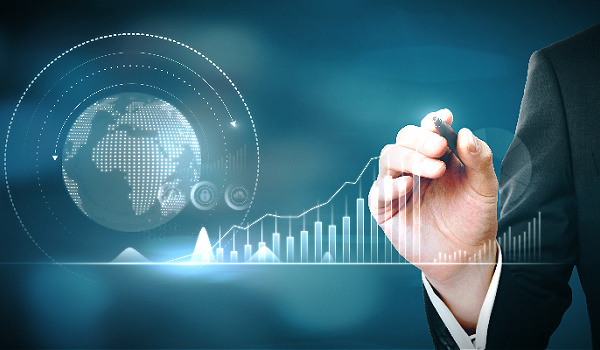 ---
By Christopher Robbins
It was a very busy week in digital wealth, and to bring it to you more comprehensively we've reorganized our feature.
To start, in banking and payments, Nymbus has inked a deal to juice its services to business banking clients, while in the fintech and personal finance realm Morgan Stanley is consolidating its robo-investing options following its acquisition of E*TRADE.
In crypto, LevelField continues to make progress towards its goal of combining digital asset and traditional banking services, while in investments QRaft Technologies announced a new risk indicator.
In three additional areas of coverage and focus, real estate, insurance and retirement, we have announcements from RBC, Better and Lincoln Financial.
Here's your digital wealth headlines of the week:
---
Banking, Payments and Infrastructure
Nymbus—Nymbus, a provider of banking technology solutions, announced a partnership with Hurdlr, a modern business expense, invoicing, and accounting API tool built for growing businesses. The integration will enable Nymbus business banking clients to equip small- to medium-sized businesses with the capabilities needed to operate their businesses seamlessly.
Speedchain—Speedchain announced a multifaceted partnership with Mastercard.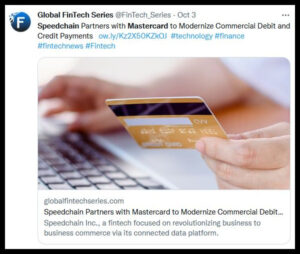 Leveraging Mastercard's network and innovative payments technology, Speedchain member organizations of all sizes can experience modernized ways to pay by connecting virtual purchasing cards to the Speedchain platform and leveraging Mastercard rails for vendor payments. Speedchain members can now connect Mastercard virtual cards to the Speedchain B2B SuperApp, which is designed to offer improved payment security, enriched data, and enhanced user experience for vendors through its reporting, cash management and threat detection capabilities.
Fintech, Personal Finance and Apps
TrueNorth-TrueNorth announced the addition of Carla Miller to the executive team as VP of Sales. Carla will be pivotal in building out TrueNorth's newest Salesforce business unit which leverages cloud technologies to help clients transform their businesses.
Tally—Tally announced that it has raised $80 million in Series D funding, led by Sway Ventures with participation from Menora Mivtachim. Previous investors Kleiner Perkins, Andreessen Horowitz, Shasta Ventures and Cowboy Ventures also took part in this round. Tally will use the funding to continue to grow the business and further expand its automated debt pay-down system to help members get out of credit card debt, reducing the time and stress it takes people to reach their financial goals. Tally also announced that Ken Denman, a veteran customer-centric technology leader, has joined Tally's Board of Directors.
Morgan Stanley—Morgan Stanley Wealth Management announced plans to consolidate its robo-advisor offering, Access Investing, within the E*TRADE from Morgan Stanley ecosystem.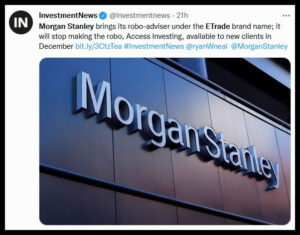 The updates are part of the E*TRADE integration as Morgan Stanley seeks to leverage the strengths of each product offered in its suite. Core Portfolios, currently offered by E*TRADE Capital Management, LLC, is specifically designed to help meet the needs of digitally inclined investors and exists within E*TRADE's award-winning1 digital brokerage platform, making it a natural home for Morgan Stanley's robo-advisor.
Crypto, Blockchain and Digital Assets
ConsenSys—ConsenSys unveiled the third round of institutional custodians onboarded to MetaMask Institutional (MMI), a version of MetaMask designed to meet the needs of the rapidly growing number of institutions embracing Web3 and investing in Decentralized Finance (DeFi). Cobo, Floating Point Group, Liminal and Propine will join MMI's already expansive suite of custodians — enhancing choice, security, and operational efficiency for crypto funds, market-makers, trading desks, DAOs and other organizations seeking exposure to the digital asset class.
LevelField Financial—LevelField announced that it has launched its turnkey digital asset solution for banks, which will enable bank customers to buy, sell, hold and transfer digital assets with the safety and security of a platform built on LevelField's compliance-focused technology. Bitcoin will be the first digital currency LevelField will administer with its White Label offering. Banks will be able to offer digital asset services through a frictionless, low-cost, and efficient technology platform creating a great value-added customer experience, designed to generate fee income for banks and help them attract and retain customer assets. LevelField's White Label offering features their Easy Trade GUI, which was designed to be the simplest way to buy, sell, and hold digital assets.
WisdomTree— WisdomTree's first blockchain enabled fund, The WisdomTree Short-Term Treasury Digital Fund (WTSY), has become effective. The fund brings a mainstream, traditional asset, U.S. Treasury bonds, into the digital ecosystem to unlock use cases and distribution opportunities.
The Celo Foundation-The Celo Foundation is partnering with IDEO, a global design and innovation firm, through its Last Mile Money program, a five-year initiative led by IDEO and a global network of partners committed to helping transition unbanked people into the digital economy.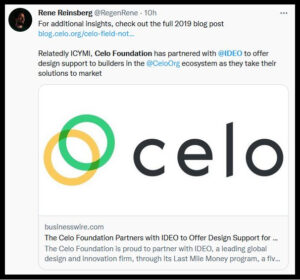 Aligned with the Celo community's mission to create the conditions of prosperity for all, the Celo Foundation and IDEO Last Mile Money offers robust, pro-bono design services from IDEO experts for founders building on Celo's carbon-negative, mobile-first platform throughout a six-month pilot period. This partnership includes product reviews for Celo ecosystem partners to promote digital confidence, providing support for product design challenges that improve overall user experiences for new internet users in emerging markets––an effort aimed at making Web3 tools more inclusive, accessible, and intuitive for mainstream adoption.
NYDIG—NYDIG announced the promotion of executives Tejas Shah and Nate Conrad to the roles of CEO and President, respectively. NYDIG's bitcoin balances hit all-time highs in Q3, up almost 100% year-over-year, and revenue is up 130% through Q2, with another increase when the firm closes its books on Q3. Building on this momentum, Shah and Conrad will focus on accelerating NYDIG's investment in its industry-leading Mining Solutions franchise serving the largest North American miners and in its platform technology business, helping banks and non-bank enterprises utilize the Lightning Network for next-generation wallets and global payments.
Investments
Qraft Technologies-Qraft Technologies, an AI-driven, invest-tech company, announces the U.S. launch of the Qraft AI Risk Indicator. Powered by Qraft's proprietary artificial intelligence (AI) models, the AI Risk Indicator forecasts risk in the U.S. equity market for the upcoming week. The indicator provides direction to help actively position portfolios for expected risk using an easy-to-interpret scoring methodology.
InsurTech
Lincoln Financial Group—Lincoln Financial Group announced a new partnership between Lincoln Financial Distributors (LFD), its wholesale distribution franchise, and Modern Life, a tech-enabled life insurance brokerage. The partnership will enable Lincoln's life insurance product portfolio to be delivered on Modern Life's digital platform, providing an improved digital end-to-end experience – an important pillar of both companies' shared commitment to innovation and support for financial professionals and their clients.
Majesco—Majesco announced the acquisition of Global IQX, a SaaS-based insurtech who delivers market-leading solutions insurers rely on to streamline, automate, and transform the way they do business.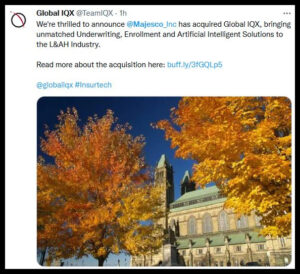 Majesco adds sixteen customers as well as a powerful underwriting workbench, and enrollment & artificial intelligence solutions to their market leading core and absence management solutions. This expanded portfolio delivers "tip of the spear" business transformation solutions and capabilities with multiple paths for innovation, operational effectiveness, speed to market and customer experiences from underwriting and enrollment components to full core replacement. The announcement furthers Majesco's customer-centric growth strategy and reinforces its commitment to making insurance faster, easier and better for all.
Retirement
RBC Wealth Management-RBC Wealth Management is teaming up with Transamerica and FuturePlan by Ascensus to introduce an innovative new pooled plan retirement solution for U.S. business owners called RBC Group Retirement Plan (GRP). Many small and mid-sized business owners recognize the value of an employer-sponsored retirement plan as part of a competitive benefits package; however, the regulatory, financial, and administrative challenges associated with offering a retirement plan often deter sponsorship. RBC's GRP helps alleviate those burdens and makes it easier for small and mid-sized employers to compete with larger employers in attracting and retaining talent.
Real Estate and PropTech
Better—Better announced it has surpassed $100 Billion in mortgages financed for American families. This is a key milestone in Better's journey, becoming the first fintech to ever fund over $100B in loans.
Origin Protocl—Origin Protocl has partnered with the online real estate investment platform Roofstock to bring blockchain innovation to the real estate industry. Origin's technology will power Roofstock's web3 subsidiary, Roofstock onChain, with an NFT marketplace for tokenized real estate. Roofstock onChain's ERC-721 smart contracts will be integrated into the marketplace to facilitate the purchase and sale of tokenized properties in the form of NFTs.
---