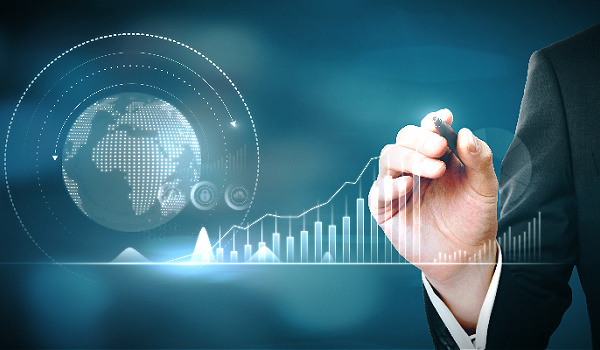 ---
By Christopher Hamman
There has been a lot of goings-on in the digital wealth space over the past week.
The lines between banking and fintech seemed to disappear as crossover solutions for bank accounts continued to launch.
Zenus Bank will soon make available US accounts for residents as it onboard Finxact's banking solutions. Boost Mobile launched a no-fee checking account, while Tipalti and BillingPlatform are collaborating on enterprise solutions.
In the crypto space, the progressive top shots in Congress queried the mass exodus of government officers into the industry. A Morgan Stanley research note indicated that investors are holding on to their Bitcoins and waiting for things to turn.
Sweater partnered with Stonks granting just about anyone access to early-stage startups in the YCombinator ecosystem.
In the PropTech industry, alternative investment marketplace Realto launched Indicators of Interest, removing the need for upfront commitments before trades. 
Here are the headlines.
---
Banking, Payments, and Infrastructure
Finxact/Zenus Bank-Banking software provider revealed the deployment of its software platform for Zenus Bank.
Zenus Bank enables the creation of US Bank accounts for non-resident aliens and business entities.
Tipalti/BillingPlatform-Accounts payable service provider Tipalti giant selected BillingPlatform to integrate enterprise payment solutions.
The partnership will enable Tipalti to leverage BillingPlatform's cloud-based third-party solutions and automate mission-critical payment options for clients.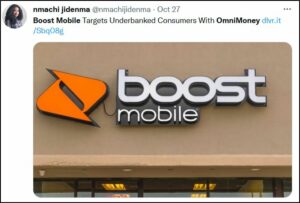 Boost Mobile-Colorado-based wireless carrier Boost Mobile unveiled "OmniMoney by Boost Mobile" a zero-fee checking account.
The banking product will serve under-banked Americans.
Offerings include flexible deposit options via select stores, a debit card, ATM access, and real-time money management tools via the OmniMOney app, among other perks.
Valereum Plc-Innovative financial services company Valereum Plc received consent from the Gibraltar Financial Services Commission to acquire the Gibraltar Stock Exchange (GSX).
The approval is subject to capital and compliance. The GSX enables companies from Europe, the Middle East, and Africa to access capital for expansion and other activities.
FinTech, Personal Finance, and Apps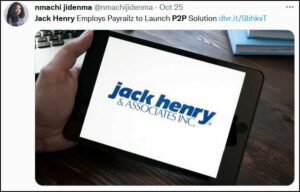 Jack Henry™- Fintech solutions provider Jack Henry™ introduced its person-to-person (P2P) financial institution-focused payments platform.
This comes after Jack Henry's™ September acquisition of the "Payrailz® Digital Payments Platform" and is based on the same.
Veriff-Identity solutions provider Veriff unveiled its Social Security Number (SSN) verification product, allowing US institutions to complete compliance checks across borders.
The service occurs in real time and automatically confirms the identities after SSN entry.
Bill Harris/Nirvana Money-leading FinTech innovator Bill Harris introduced Nirvana Money, an easy-to-use debit and credit card on the go for middle-income Americans.
 The credit/debit card has other features, including a rewards program and a bank account.
Harris is the founding CEO of PayPal.
Crypto, Blockchain, and Digital Assets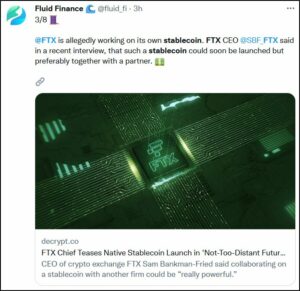 FTX-Sam Bankman-Fried, CEO of cryptocurrency exchange FTX, revealed in an interview that a stablecoin was in the works.
Bankman-Fried also revealed that he focused recent acquisitions and other activities on keeping things steady within the cryptocurrency markets while improving FTX's hold on the US.
Core Scientific Inc.-Cryptocurrency mining company Core Scientific Inc. in a filing has revealed that harsh operating conditions, including liquidity issues and its litigation with Celsius Networks LLC, have forced the management to take steps to keep the company afloat.
Measures considered by the board include restructuring, defaults on bridge promissory note payments for late October and early November 2022, and possible bankruptcy.
Capitol Hill-Progressive stalwarts on Capitol Hill sent letters to several federal agencies, including the Federal Reserve, the Treasury, SEC, and CFTC concerning the "revolving door between our financial regulatory agencies and the cryptocurrency (crypto) industry".
The letters were signed by Senator Elizabeth Warren (D-MA), Representative Alexandria Ocasio-Cortez (D-NY 14th district), Senator Sheldon Whitehouse (D-RI), Representative Jesús G. "Chuy" García (D-IL 4th District) and Representative Rashida Tlaib (D-MI 13th district).
Morgan Stanley-Investment bank Morgan Stanley on 26th October 2022, released a research note showing record levels of Bitcoins sitting in wallets. As per the report, investors are waiting for prices to rally before moving tokens across the Bitcoin blockchain.
The report stated that 78% of Bitcoin tokens are in storage, while the other 22% are for immediate and near-term transactions.
InsurTech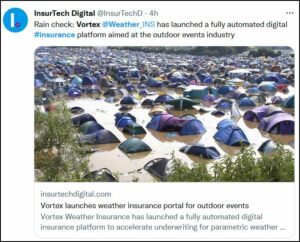 Vortex-Weather insurance firm Vortex introduced its fully automated portal. Users of the Vortex " Weather Insurance Portal" can now log in, get quotes and even get policies seamlessly.
Brokers aren't left out, as copying quotes and documentation occurs within a few clicks.
The Kansas-based firm will handle all back-end activity.
Investments
Sweater/Stonks-Sweater, the venture capital fund for everyday people, revealed a collaboration with Stonks, the aggregator platform for accredited investors, accelerators, and startups.
Unaccredited investors will now be able to catch the next YCombinator unicorn early via the Sweater-Stonks partnership.
Sweater's Cashmere fund has pulled funds into the Stonks YC S22 Access Fund, aimed at the 35 top YCombinator startups from the 2022 summer program.
Real Estate and PropTech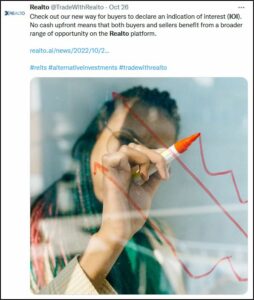 Realto-Alternative real estate investment marketplace Realto announced extended functionalities on its platform.
Investors can now place "Indicators of Interest" (IoIs) with zero commitments. Buyers can show the value of equities they want, and sellers can offer prices before deals get executed.
Plaudits
S&T Bank-S&T Bank was named by the 2022 Energage's Culture Excellence Awards as a national " Top Workplace for Diversity, Equity and Inclusion (DE&I)" after a vetting process.
S&T has promoted DE&I by adding the role of a diversity relationship officer and improved processes within its corporate structure regarding such issues.
Cribl/Bank of America-Open data enterprise solutions company Cribl was given kudos by the Bank of America at the bank's "2022 Tech Innovation Summit".
---