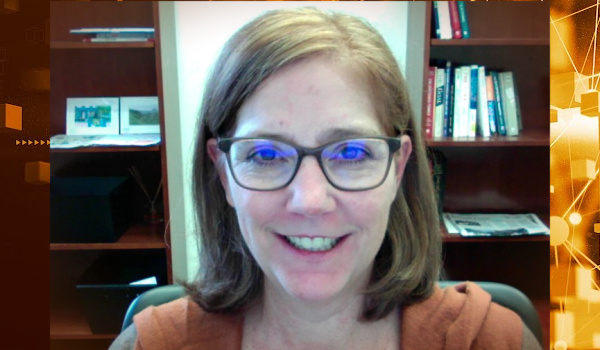 By Mike Wilkins
---
When Candace Ryder joined the University of Wyoming as a Faculty Development Professional in early 2020, she had no idea what was in store. Her mandate was originally to focus on designing instruction for a set online programs, but when the University was forced to pivot to fully online during the early part of the COVID-19 pandemic, she quickly found herself as part of an all-hands effort to adapt the curriculum and acquaint the faculty with a fully virtual environment.
Now with the pandemic in the rear-view mirror, Candace's focus has shifted to another challenge: supporting the implementation of Wyoming's first-in-the-nation blockchain and Digital Asset curriculum for high school and junior college students. DWN sat down with Candace in March to learn more about how she got involved with this groundbreaking program and the benefits it'll provide to the entire state.
Candace Ryder holds a Master of Education in Education and Human Resource Studies from Colorado State University.
---
A pioneering mindset
Candace has always had a keen interest in forward-looking technologies. Although her degree is in Accounting, much of the work she has done has been on the technology front, from her days working on enterprise-wide platforms such as Oracle to dabbling in web design for non-profits starting in the late 1990s. She's always been confident interacting with both business and technology teams, saying "I speak geek, and I speak business. I can go to the client, then come back to developers and tell them what needs to be done." "
It was her accounting background that first piqued her interest in blockchain technology though. Accounting operates on a set of principles, the most important of these being the belief that the data presented is verifiable, complete, and could pass review by an outside party. Many accounting software providers promise to adhere to these principles, but the reality is that these solutions can often be easily exploited by altering data or deleting transactions with just a few keystrokes. As Candace said, "You can just go in and delete transactions with a lot of accounting software applications – that's not OK by accounting principles. There's too much openness for fraud."
But when data is stored on a blockchain, every participant has a permanent record of every transaction's history, which can't be altered without consent. It's this concept of proof, and the progress associated with reaching that proof which sparked her interest to learn more, and eventually become an evangelist for the technology. Candace summed this up by saying "Having a record of verified transactions – that's the key."
Bridging technology, business and education
Introducing a new technology to a population can be a delicate balancing act. Complex concepts and models need to be articulated in a digestible way which both instructors and students can understand from the ground up, and blockchain is no exception. The term "Blockchain" carries a natural skepticism, because so many people associate it with the wild price swings and black-market use cases of cryptocurrencies. The logical approach from Candace's point of view is "you have to teach the foundational pieces (of blockchain) first. That helps people think beyond just Bitcoin."
Much of Candace's work is focused not only on the benefits of blockchain for business as a whole, but specifically on potential real-world applications specific to Wyoming. With an economy that's heavily based on farming and ranching, it's easy to explain the benefits of using blockchain to track the movement of a herd of cattle from field to processor to grocery store shelf for an audience of students who have often been working on their family's ranch in addition to their studies.
But Wyoming isn't just cattle ranches and oil patches anymore. In fact, the driving force behind the state's entire blockchain initiative is to attract existing technology firms to establish a presence there and relocate some of their workforce, while at the same time providing  close-to-home educational opportunities for the local population to "stay local" instead of leaving the state for opportunities elsewhere. The vision of turning what was for a time America's physical frontier into a "digital frontier" is already coming to fruition, with Microsoft opening a second data center in the state, Elon Musk's Starlink preparing to provide internet access to even the most remote locales, and the ski town of Jackson Hole re-inventing itself as Jackson, a mecca for startups. Candace summed up the overall initiative as "trying to diversify prospects for industry experts who want to live in WY."
But providing the educational infrastructure to support these opportunities can't start with a "big bang" statewide launch. Candace's current focus is twofold – launching a pilot education program at three high schools of varying sizes in Cody, Laramie and Powell, while kicking off a professional development program for junior college instructors in parallel. This gradual approach ensures there's plenty of time to capture feedback from administrators, educators and the community so the program can be adjusted if needed.
Following the technology trend
Although Wyoming is leading the pack as far as blockchain education initiatives in the US, they're not alone in offering it as a course of study. The University of Arkansas is also using blockchain education to spark economic growth in their state, offering an information sciences degree with a concentration in blockchain. Other universities are offering MBA or MS programs with a blockchain emphasis. Further afield, the University of Nicosia in Cyprus offers a Master's in blockchain and digital currency which includes a free online course focused on the latter as an entry point. Candace has used this course as inspiration for her work, as it's been offered for nine years and has a network of more than 1300 alumni.
Looking to the future, Candace feels the biggest barrier to overcome for a US college or university to offer a designated undergraduate degree in blockchain is the continued uncertainty in the regulatory environment. With the SEC and the Federal Reserve spending more time making threats than prescribing a framework for governance, it's still a tall ask for institutions to dedicate time and resources to what's still very much a shifting landscape.
The digital payoff
In the past, when a student reaches an academic milestone they receive a certificate or diploma which sometimes ends up on a wall, but more often ends up in a bottom drawer or a box that gets lost in a move, making it difficult to produce evidence of successful completion.
Now by leveraging blockchain, academic credentials can be issued by an institution, loaded on-chain, and produced digitally on-demand without the need to dig through boxes or request duplicate copies. What better way to put this into practice than by recognizing the completion of a blockchain focused course of study than issuing a digital certificate?
Digitizing credentials can also provide immutable proof of completion, eliminating the potential for dishonesty or misrepresentation. As Candace put it, "we want students coming out of program to have a badge they can use. Once their credential hits a digital wallet, they can have QR code they can share to bring up a verified credential on-demand."
Candace had her doubts about this process at first, thinking it seemed a little too "gamified." But in an age where people earn badges for workouts or coffee shop visits, she warmed to the concept once she saw it in action firsthand. After completing an online course, Candace logged onto the Credly platform where she was able to see her certificate. From there she was able to connect her Credly wallet to her LinkedIn profile, where her badge now appears. She's since added over 20 badges to her profile.
Digital transformation takes time, and always faces its share of skepticism and challenges. But the first step towards transformation is education, and it's experienced educators like Candace Ryder who are leading the charge.
---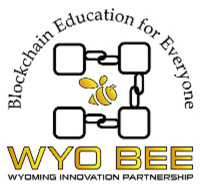 We are proud to announce that Digital Wealth News, in conjunction with the American Crypto Academy, has partnered with the University of Wyoming Center for Blockchain & Digital Innovation to offer a 12-module course on blockchain for Wyoming's high school juniors, seniors & community college studentes beginning with the Fall 2023 school year.  The modules will also be available for a nominal licensing fee to other schools throughout the US.
Contact DWN's publisher Cindy Taylor at cindy (at) dwealth (dot) news if you would like details on sponsoring this initiative or how you can help bring these modules to students in your community.
CLICK HERE FOR MORE INFO ON THIS DIRECTIVE
---

Author Mike Wilkins is a capital markets industry veteran, with over 20 years experience in business development, product marketing and strategy roles. Mike has worked for enterprise firms and startups in Chicago, London and New York.
---