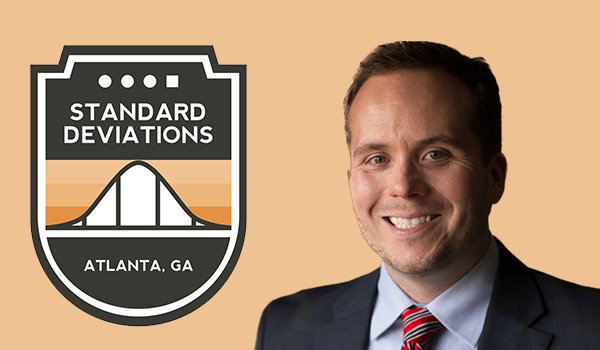 ---
This week on the Standard Deviations Podcast, Dr. Daniel Crosby is joined by Brian McLaughlin.
Brian McLaughlin is President, Orion Advisor Tech. Prior to Orion's acquisition in June 2022, Brian was the CEO and Co-Founder of Redtail Technology where he worked closely with advisors, broker-dealers, and industry partners for nearly two decades. Through innovation and cooperation, Brian's touchstone has always been to make the industry a better place for those who depend upon it. He is passionate about the CRM-driven solutions Redtail Technology provides to the financial services community and enjoys getting his hands dirty in the pursuit of continuous innovation. In addition to his behind-the-scenes work on Redtail product development, Brian is also highly respected in the industry at large, as evidenced by his many appearances as an individual speaker or panelist at industry events and through his frequent contributions to publications such as Financial Planning, InvestmentNews, and ThinkAdvisor. When he's not focused on fintech, Brian loves spending time with his family, all things aviation, Oregon Ducks football, and Legos.
Tune in to hear:
How does Brian McLaughlin's entrepreneurial journey fit into the mold of Campbell's Hero's Journey?
What was Brian's "call to adventure," or his impetus for creating Redtail, and how did he take this leap?
Is this "call to adventure" for entrepreneurs, writ large, often about coming up with a practical solution to a particular problem they are facing?
What needs to be in place before an entrepreneur takes a leap and who should or shouldn't go into business for themselves? How should people decide whether to accept or refuse a call to adventure?
Who were some of the mentors Brian McLaughlin found along the way and what role did they fill?
Did Brian have mentors who gave him support and advocated for him, as well as those who were critical of him when he fell short and gave him tough love?
How did Brian get the courage to surround himself with people who would call him out on any nonsense?
At what point in the Redtail journey was he most scared and how did this ordeal shape and mold both Brian and his business?
What has been the overall impact of his newfound financial abundance and how is he thinking through it so he can enjoy the best parts of this windfall while avoiding the worst parts?
What leadership lessons is Brian bringing to Orion and how does he keep his entrepreneurial drive alive in a much larger organization like this?
Compliance Code: 0709-OAS-3/9/2023
https://twitter.com/redtailtech
---
ABOUT STANDARD DEVIATIONS PODCAST:
Educated at Brigham Young and Emory Universities, Dr. Daniel Crosby, the personality behind STANDARD DEVIATIONS podcast, is a psychologist and behavioral finance expert who helps organizations understand the intersection of mind and markets.
Dr. Crosby's first book, Personal Benchmark: Integrating Behavioral Finance and Investment Management, was a New York Times bestseller. His second book, The Laws of Wealth, was named the best investment book of 2017 by the Axiom Business Book Awards and has been translated into Japanese, Chinese, Vietnamese and German. His latest work, The Behavioral Investor, is an in-depth look at how sociology, psychology and neurology all impact investment decision-making.