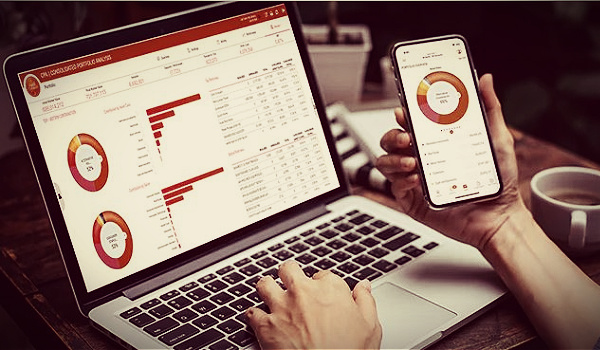 ---
April showers bring May fintech news.
Okay, so that stretch of an old proverb doesn't really fit, but there was truthfully a blossoming of big advisor tech news over the past week, leading with the anticipated re-brand announcement from Riskalyze on Tuesday, which going forward will be known as Nitrogen.
After enduring years of Riskalyze's media full-court-press strategy of getting into our inboxes, that new name is going to take some getting used to.
But there's so much more this week, including a ChatGPT integration from Orion and big partnerships for Vestwell and TIFIN Wealth, and a timely reminder from Apex Fintech Solutions about its cash management option for RIAs.
Let's get to the advisor tech news for the week.
---
Apex
Apex announced that its Apex FDIC Sweep Program is now offering 4.25% yield* to advised accounts, which is up to 12x greater than other available offerings in the marketplace. The program also now has double the insurance coverage, now up to $5m per account. The Apex FDIC Sweep Program is an interest-bearing deposit program offered to Apex Advisory clients. It enables registered investment advisors (RIAs) to provide clients with the opportunity to earn returns on their cash. As investors show an increased interest in safety and stability, the Apex FDIC Sweep Program provides advisors with a simplified way to deliver value to clients in the form of higher yields, higher FDIC insurance and instant liquidity.
CFRA
CFRA announced the launch of FUNDynamix, a new web-based platform that provides critical, timely data and updates, specialized ETF monitoring, and analysis available on no other platform. Key features of FUNDynamix include dramatically enhanced abilities to identify ETFs and ETF categories on a granular level that are experiencing changes in flows; analyzing sector- and holdings-level exposure trends in specific ETFs over a variety of time frames; monitoring credit quality changes in bond ETFs over time; detailed breakdowns of the drivers of fund flows, including analysis on whether asset changes are being driven by net creations/redemptions or market movement; and much more.
Conquest Planning
Conquest announced a partnership with Wealthsimple, a platform that has built some of Canada's leading digital financial products and that holds more than $18 billion in assets for over 3 million Canadians. As a result of this integration, Wealthsimple's Generation clients (those with $500,000+ in net deposits at Wealthsimple) will gain access to Conquest's technology-enabled planning tools, enabling them to continue to advance toward their individualized financial goals, including saving for retirement, funding their children's education, making big purchases and more. Conquest's next generation planning technology is another tool that Wealthsimple will leverage to help its clients make smart financial decisions for their future. Wealthsimple's portfolio management team will have access to Conquest's Strategic Advice Manager (SAM), powered by artificial intelligence, enabling them to quickly and accurately illustrate the impact of different scenarios on client's goals and recommend the next best financial decision.
Nitrogen
Riskalyze revealed the brand identity for its next decade of innovation, fueling the growth of wealth management firms: Nitrogen. The SaaS company first publicly alluded to its intention to rebrand during its 2022 Fearless Investing Summit and, after extensive research and consideration, has chosen this new name to reflect the value wealth management firms are generating with its platform. Nitrogen was originally founded as Riskalyze in 2011 to help financial advisors and wealth management firms quantitatively measure investor risk tolerance, risk capacity and portfolio risk. Advisory firms quickly realized that this data could be used to more effectively acquire new clients, increase client satisfaction and retain clients over time. With more than $50 million dollars in research & development (R&D) investments since its inception, Nitrogen has built a platform that snaps into the gap between a wealth management firm's marketing activities, CRM, and asset platform to create a consistent client experience and accelerate the growth flywheel.
Orion Advisor Solutions
Orion went live with a ChatGPT-3.5 series integration with Redtail Speak, the compliant, real-time communication platform for financial advisors offered through Redtail Technology. First teased in February at Orion's Ascent conference, the third-party integration will allow users to select from and, as needed, edit suggested AI-generated responses. The integration – an assistive technology designed to save advisors time and facilitate faster, more effective client communication – draws from and builds upon the previous 20 text messages between the advisor team and client. This incorporates the necessary context and prevailing sentiment to be enmeshed into the dialogue created by ChatGPT, providing automatic prompts and recommended responses to client questions with vital knowledge of the advisor-client relationship. Redtail Speak users can turn the integration on or off at their discretion.
Smart
Smart announced that it has closed its $95m Series E funding in a round led by Aquiline Capital Partners, a private investment firm based in New York and London. Existing investors participating in the round include: Chrysalis Investments, Fidelity International Strategic Ventures, DWS, Barclays and Natixis Investment Managers. Funds from this investment round will bolster Smart's global expansion plans, building on what we consider to be the company's strong performance in the UK, Europe, the US, the Middle East and Asia. Proceeds from the funding round will also help finance growth and acquisitions.
TIFIN Wealth
TIFIN announced a partnership with NAPFA. In an aim to support the smallest advisors to grow faster, TIFIN will provide free access to the AI platform's advanced investment assessment and proposal capabilities for NAPFA-affiliated advisors with less than $100M in assets under advice (AUA). Through this partnership, TIFIN aims to support advisors seeking organic growth the most and who may otherwise be cost-sensitive. This partnership advances TIFIN Wealth's mission to make intelligent advice accessible to more individuals. This starts with equipping independent financial advisors with cutting-edge technology to better serve their clients. TIFIN Wealth sees NAPFA member advisors who are fee-only, fiduciary financial planners as a major part of the future of the wealth management industry. Therefore, TIFIN Wealth is proud to provide this NAPFA member benefit in support of their success; and to those that need that organic growth the most.
Vestwell
Vestwell announced its rapid expansion to serve the financial advisor industry through new key industry partnerships and integrations. Vestwell was selected to support J.P. Morgan's expansion of their recordkeeping options and help power Everyday 401(k), Chase's small business 401(k) workplace savings platform. Vestwell has also expanded its distribution partnerships with top advisory firms including Commonwealth Financial Network and Cambridge. To further allow for a seamless recordkeeping solution for advisors and small businesses, the firm has expanded API integrations with leading payroll providers Gusto and Intuit QuickBooks.
---