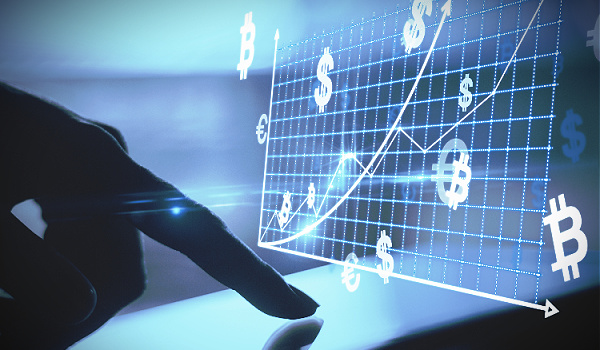 ---
By Christopher Hamman
With the markets slightly rattled and as everyone keenly watches how the politicians in D.C. sort themselves out, industry innovation continued to thrive.
The SEC proposed rules that allow margin call executions based on elevated risks in trading activities.
Uniswap (finally) joined the Polkadot blockchain. Personal finance for teens just got enhanced security with a selfie!
Regional and community banks got a big boost.
Plus, AWS (Amazon Web Services) Marketplace suddenly is the "go-to" place for everything FinTech and finance (I wonder why).
This is your week in digital wealth!
---
WealthTech, RegTech and Treasury
Overbond/Finsemble Inc.
AI fixed-income solutions provider, Overbond and financial architecture solutions firm Finsemble Inc. announced their intention to close data gaps by improving the FDC3 (Financial Desktop Connectivity and Collaboration Consortium) standard via Overbond's AI solutions.
FDC3 interoperability has become a leading standard in the financial markets and could set the standard for future innovation in the industry.
Securities and Exchange Commission (SEC)
America's top regulator revealed proposed amendments and new rules that will help prevent situations similar to the 2021 GameStop short squeeze.
The proposals allow covered clearing agencies (CCAs) to observe intraday exposures and to make as many intraday margin calls as possible, provided risk exposures within such ecosystems surpass preset levels.
YCharts/Orion Advisor Technology LLC
Financial research solutions platform YCharts revealed its partnership with Orion Advisor Tech. which allows wealth professionals to improve their analytical processes through improved organization and reporting for accounts under management and to improve communications flows.
The integration also enables the ease of use of Orion's "Portfolio Group" accounts feature.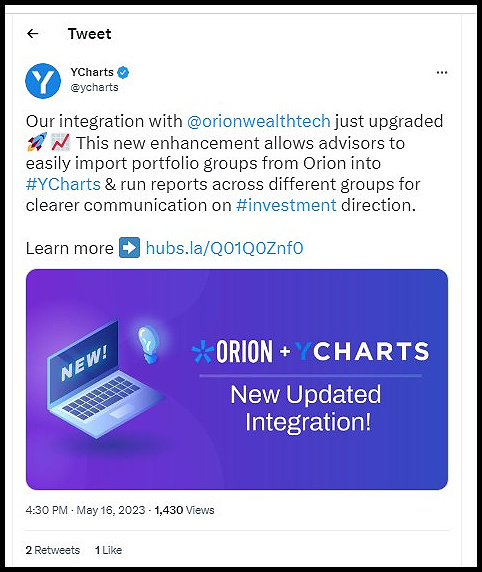 Crypto, Blockchain, and Digital Assets 
Uniswap/Polkadot/Moonbeam
Uniswap, the leading decentralized exchange (DEX) announced its integration with the Polkadot blockchain via the Moonbeam Layer-1 parachain.
This followed a successful governance vote to integrate the DEX, led by "Blockchain at Michigan", a leading delegate for the Aave, Uniswap, and Compound protocols.
Blockchain at Michigan is a University of Michigan initiative.
The White House/Capitol Hill
The Joe Biden-led administration continued its push against the cryptospace with the President's opposition to any deal with House Republicans that protect or favor crypto traders as part of negotiations to lift the U.S. debt limit.
 The President commented on the sidelines of the G7 summit in Japan.
Financial Action Task Force (FATF)
In similar news, Raja Kumar, the Financial Action Task Force (FATF) President, called on the G7 to lead the charge per crypto regulations.
Kumar also reiterated that the FATF had included the cryptospace within its compliance framework since 2019 but noted noncompliance from most countries.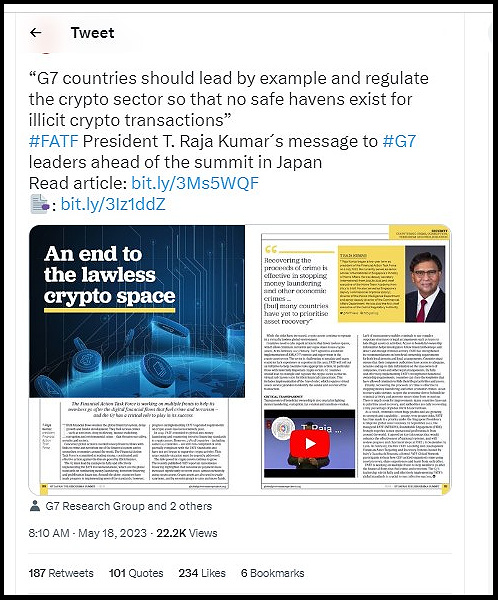 FinTech, Personal Finance, and Apps
Public.com/Alpha/Open AI/GPT 4
Leading retail investment platform Public.com introduced "Alpha", an Open AI GPT 4-powered automated advisor that allows members to make informed trading decisions based on research from the regenerative AI's analysis.
Alpha is fully integrated with OpenAI and sifts through the noise, making decisions as easy and accurate as possible for investors.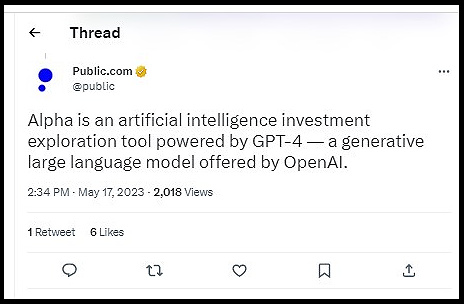 Zip
To improve the procurement payments, California-based procurement startup Zip revealed " Zip Intake-to-Pay ", an end-to-end ecosystem solution that takes care of all the kinks.
The unified payment ecosystem does everything payments, including accounts payable (AP) automation, purchase order (PO) management, and B2B payments.
Rokt
Automated e-commerce solutions firm Rokt went one step further for customers and merchants with the launch of " Rokt Payments Marketplace ", a product that allows merchants to offer shoppers financial and payment offers.
Shoppers can take advantage of related offers and discounts while merchants earn (a win-win). Rokt Payments Marketplace is fully customizable and can be placed natively before checkout.
Modak Makers/Yoti
Modak, a personal finance platform for teens, partnered with Yoti, a digital identity verification solutions firm.
Per the partnership, Yoti will deploy age estimation and selfie identification to KYC processes to create a safer user environment.
Banking, Payments, and Infrastructure  
Prove Identity Inc./Visa
Financial institutions and merchants can now onboard customers faster with the revelation that Visa and Prove Identity partnered to enable Visa customers to access Proves' "Pre-Fill identity verification solution", reducing fraud incidences and improving transaction efficiency.
Customers pre-fill secure data and improve processes by one-click data submission from secure platforms.
GOBankingrates
As chaos continues to hit the American banking industry, GOBankingrates stepped in to help regional and community banks.
The personal finance solutions platform announced the extension of its digital services to help the FIs extend deposits.
The services include content creation, copywriting, digital ad campaign services, compliance consulting, data analytics, customer onboarding optimization, and more.
Galileo Financial Technologies LLC/Amazon Web Services (AWS)
Boutique financial solutions firm Galileo Financial Technologies LLC revealed its AWS (Amazon Web Services) Marketplace listing, allowing for easy cloud integration of its services securely.
SoFi Technologies, Inc. owns Galileo Financial Technologies.
Loanspark/Mastercard/MidDesk/LexusNexis
Lending solutions provider, Loanspark reiterated its partnership with premier tech firms to enable the seamless delivery of its products.
Partners include Mastercard, MidDesk, and boutique analytics firm LexusNexis.
REtech, Insurtech and Investing
Temenos
Global banking solutions leader Temenos was at it again.
This time with its new ÄI-driven " Temenos Digital Mortgages", a solution that offers personalized solutions to financial institutions and users while allowing for fast integrations to banking and financial institution ecosystems.
Socotra Connected Core/AWS (Amazon Web Services)
Core insurance policy digital deployments got a big boost with the addition of Socotra's insurance policy core platform to the AWS Marketplace.
The integration allows insurers to access Socotra's ecosystem and integrate Socotra's open APIs, providing an end-to-end digital experience for customers.
Insurity/Dream Payments/J.P Morgan Payments
Boutique insurance solutions firm Insurity revealed that it was opening up payment functionality for " Sure Claims Payments ", its claims payment solution to players in the industry.
The decision allows Property and Casualty (P&C) institutions to pay claimants in seconds, allowing for faster settlements.
---