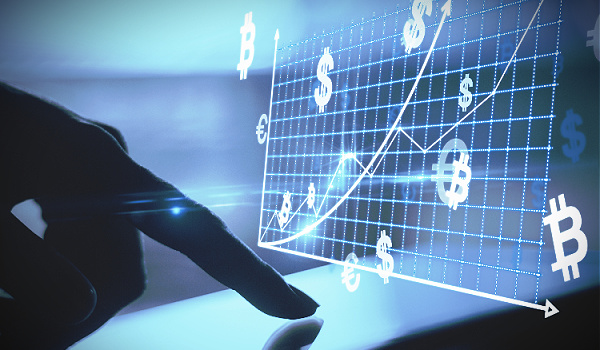 ---
By Christopher Hamman
With the last lever in its arsenal (interest rate hikes), the Fed tried to keep the U.S. economy from overheating. 
Then again, we will have to wait and see how that goes. 
State Street came through for everyone with three data indicators. 
Owners Bank went "supernova" with the revelation of new partners, and the the IMF is trying to "understand" how retail CBDCs will affect global economies. 
Plus, a new solution "hit the streets" for the unbanked and underserved in America. 
This is your week in digital wealth!
---
WealthTech, RegTech and Treasury
State Street Corporation
Insights for investors just got easier with the launch of three public data indicators by leading financial services giant State Street Corporation. 
State Street revealed the launch of the Institutional Investor Risk Appetite Indicator, the Institutional Investor Holdings Indicator, and the State Street S&P Global Institutional Investor Carbon Indicator. 
Broadridge Financial Solutions/Aiviq 
Aiviq, the asset manager Software-as-a-Service (SaaS) solutions firm, partnered with Broadridge Solution to improve internal sales data and market intelligence. 
Per the cooperation, Aiviq added Broadridge's solutions to its integration hub, a primary data source for several asset managers industry-wide. 
Hidden Road
The global credit network, Hidden Road, eased rising regulatory hurdles and compatibility issues institutions face with three new APIs to provide robust solutions. 
Hidden Road's Account Activity API, Risk API, and Automated Treasury Management (ATM) API cover several areas of concern and provide a much-needed breather in fast-paced situations. 
TS Imagine 
Boutique trading solutions firm TS Imagine launched "TS One", a multi-asset class solution that provides flexibility and multiple integrations via a single interface. 
TS One provides multiple crossovers across assets, and extended risk modeling capabilities, including stress tests and lean growth-focused architecture for investment teams. 
Crypto, Blockchain, and Digital Assets 
The International Monetary Fund (IMF)
The IMF finally waded into the Central Bank Digital Currency (CBDC) question last week, with Kristalina Georgieva, a managing director, stating the institution's keen interest in the ongoing global discourse over adoption. 
Kristalina, at the Milken Institute Global Conference, indicated that while "wholesale CBDCs (for financial institutions)" could be easily implemented, "retail CBDCs (for personal transactions)" take the conversation into uncharted territory. 
The White House
According to a recent post by the Joe Biden-led White House, a "Digital Asset Mining Energy (DAME) excise tax" is part of the administration's 2024 budget proposal, presented last month, which could see crypto miners pay up to 30% of the energy used to mine tokens in taxes. 
If Congress passes the proposal as part of the budget, the tax will kick in permanently after a "phase-in" period. 
Curve Finance
The crvUSD, a new stablecoin, joined the crypto space and was minted by a leading decentralized finance (DeFi) protocol, Curve Finance. 
The $5 billion-backed protocol minted $20 million worth of tokens in the first five minutes, with the first $1 million crvUSD loan taken by a wallet linked to Frax Finance, another DeFi protocol. 
FinTech, Personal Finance, and Apps
InvoiceCloud
Mismatched invoices could become a thing of the past with increased enhancements to InvoiceCloud's " Online Bank Direct" solution.
The Braintree, Massachusetts, billing solutions-based provider included deposit flexibility with single and merged invoice payments, one-click invoice matching, a 72-hour payment window, and more.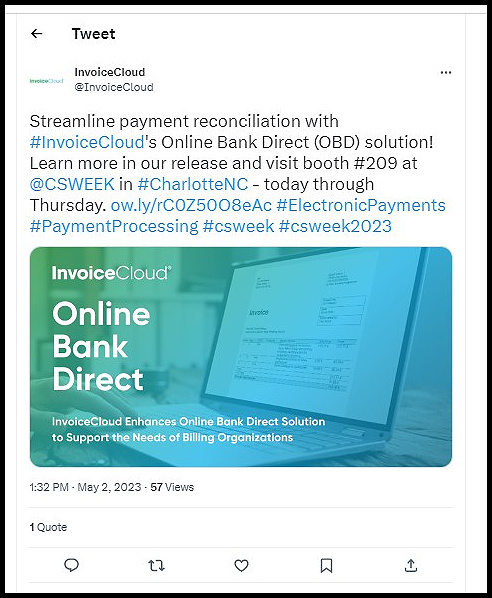 Paymentus Holdings Inc./Oracle
As spring winds down, and summer approaches, utility services nationwide got a big boost with the final addition of the Paymentus Instant Payment Network (IPN) and Electronic Bill Presentment and Payment Platform (EBPP) to Oracle's utility ecosystems (including Oracle Energy and Water Customer Information Systems (CIS)). 
The partnership enhancements include a focus on automation per consumer behavior and increased payment options for utility users. 
Paymentus is a member of the Oracle Partner Network (OPN). 
IDIQ/Credit & Debt
Credit & Debt, a financial solutions company owned by compliance solutions firm IDIQ, launched its "Credit and Debt" mobile app to enable people to improve their financial decisions. 
The app offers free "basic" coaching (a premium option is coming soon) and a suite of tools, including a debt simulator, a marketplace, and analytics-based insights for personal financial situations. 
Banking, Payments, and Infrastructure  
Eltropy Inc. 
As regional banks and financial institutions continue to feel the heat of failures, community banks and credit unions (CFIs) could be in vogue with "Video Banking", a new product by CFI solutions provider Eltropy Inc. 
The solutions include multiple customer options, including in-branch and remote video conversations, plus mobile video banking options. CFIs can offer their customers regular across-the-board services, including account operations, credit, transfer, and investment services. 
Fintel Connect/Cheese
Underserved Americans will have lighter burdens with improved access to credit products per a partnership between leading industry marketing firm Fintel Connect and creative credit solutions FinTech firm Cheese. 
The cooperation will see Fintel Connect extend its marketing prowess to the unbanked and financially underserved while Cheese provides the much-needed services. 
Liberty Bank/Owners Bank
Following the recent launch of the "no frills" Owners Bank (owed by Liberty Bank), Small and Medium-sized businesses (SMBs) can finally get a taste of what the "digital-only" life feels like with the launch of the partners within its ecosystem.
The partners include Glia, Financial Vision (fiVISION), Alkami Technology, Autobooks, and Payrailz®.  
REtech, Insurtech and Investing
NEXT Insurance/Akur8
Small business-focused NEXT Insurance increased its competitive advantage with a new partnership with Akur8, an automated-driven insurance pricing solutions firm.
The cooperation will see Akur8 provide NEXT Insurance with next-gen pricing solutions, while Akur8 will increase the accuracy of its insights from the data sets provided by the integrations. 
Obie/Marketplace Homes
Landlords and rental property investors will sleep better at night with "landlord insurance ", per a partnership between Obie, an InsurTech firm that provides insurance products for landlords, and boutique real estate platform, Marketplace Homes. 
The new product can be obtained within minutes via a streamlined application process that produces results without lengthy paperwork. 
CLARA Analytics Inc.
AI solutions provider CLARA Analytics Inc. gave the insurance industry leverage to improve general liability claims with an AI-powered platform that draws insights from different sources, including everyday bills and other documents involved in claim processing. 
The Santa Clara, California-based company uses state-of-the-art processes, including image recognition and natural language processing for insights. 
---