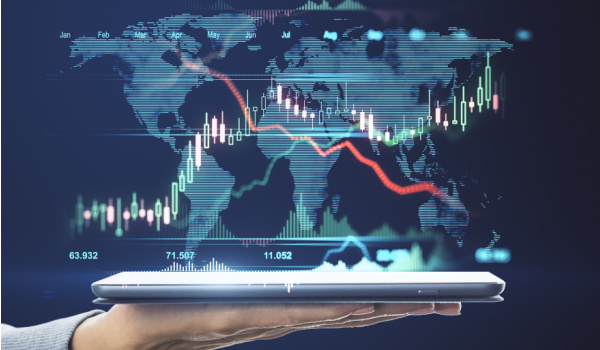 ---
Happy New Month and Labor Day!
Things quietly hummed as the markets steadied and reactions continued to trail the release of Non-Farm Payroll (NFP) data.
That said, the SEC settled down to do some real regulating.
NASDAQ revealed the progress of its cloud migrations.
Binance's stablecoin BUSD is finally on its way out, with Federal access to blockchain data coming soon (with support from Chainalysis).
Amazon, it seems, is enabling easy payments (via Shopify).
Plus, a report from J.D. Power identified the highest-occurring payment method.
Also, a new AI assistant helps landlords create rental listings.
It's your week in digital wealth!
---
WealthTech, RegTech, Regulatory, and Treasury
SEC/FINRA/Intelligent Cross LLC
America's top regulator approved the inclusion of IntelligentCross's ATS (Alternative Trading System) in FINRA's Alternative Display Facility (ADF). 
The addition aids increased market transparency and improves Bid/Offer conditions for traders. 
The SEC also ordered FINRA to create a single national market system (NMS) plan to replace the current three-tiered structure. 
 MSCI/Google Cloud
Financial information services behemoth MSCI revealed its partnership with Google Cloud. The collaboration covers a conversational engine, a risk ecosystem, and a climate-focused AI platform. 
NASDAQ moved its bond platform to Amazon Web Services Cloud. 
The move comes after the exchange's 2021 decision in that regard. 
OptiMargin Software Co.
Leading margin analytics software firm OptiMargin revealed the upgrade of its "WHATif Cloud" product. 
The firm also iterated that the Cloud and API versions are compatible with the "SPAN 2 margin methodology" industry standard by CME Group, which allows for the daily calculations and adjustments of assets. 
Crypto, Blockchain, and Digital Assets
Four Inc./Chainalysis
Chainalysis, a leading blockchain analysis firm, introduced public access to its data sets via a partnership with Four Inc., a Federal sector information services provider.
The government will use Four's "NASA Solutions for Enterprise-Wide Procurement (SEWPV)" and related infrastructure to access Chainalysis' blockchain platform.
Binance
Leading cryptocurrency exchange Binance revealed the cessation of support for its beleaguered stablecoin ("BUSD").
Its reported replacement, the little-known First Digital USD ("FDUSD"), hasn't garnered favor with the crypto community with a $382 million market capitalization.
Federal Reserve Bank of Kansas City
According to a report by the Kansas City Fed, crypto ATMs have continued to rise in popularity despite the risks and issues associated with their use.
The report also identified the unbanked as a critical user segment and recommended education for the uninformed as a risk mitigation method.
FinTech, Personal Finance, and Apps
Merchants within Shopify's ecosystem can now offer customers the "Buy with Prime" option following the feature's integration by Amazon. 
Amazon Prime members have several benefits, including quick order fulfillment. 
The integration is currently available as an "invite-only" option. Full access will be available across America at the end of September. 
Astra Finance/Plaid 
Premier payments solutions company Astra revealed the addition of identity verification services as part of its partnership with Plaid, a leading FinTech firm. 
The cooperation allows for faster payments via "Plaid Identity Verification." 
Procurement solutions FinTech Zip revealed the expansion of its network via the " Zip Partner Program." 
The "Zip Partner Program" has leading players and technology integrations, giving vendors "plug-in" access to procurement processes. 
 J.D. Power
According to 2023's "J.D. Power U.S. Consumer POS Payment Program", a study by the leading consulting and analytics firm, consumers are shifting rapidly towards digital payments. 
J.D. Power's research indicated that debit card usage constituted the largest segment, with 78%, followed by cash in second place, with 74%. 
J.D. Power also identified six consumer "personas" according to Point-of-Sale (PoS) market segmentation. 
Banking, Payments, and Infrastructure
VSoft Corporation/Pidgin
VSoft, a leading banking solutions firm, announced real-time payment functionality on its platforms via a partnership with Pidgin, a leading payments solution ecosystem.
"Arya" its digital banking product, and "Wings", its processing counterpart, have multiple payment rails, including access to FedNow. 
U.S. Bank/Elavon Inc. 
Elavon, the payment processing subsidiary of U.S. Bank, revealed the next iteration of the Android-based Point-of-Sale (PoS) platform for small businesses ("Talech"). 
Small Businesses can deploy "Talech" seamlessly with zero upfront costs. 
Alkami Technology Inc./Atomic FI Inc. 
Alkami, a leading banking solutions firm, revealed its partnership with Atomic, a payroll solutions firm. 
Per the cooperation, Atomic's direct deposit option is now integrated within Alkami's banking suite, giving financial institutions expanded payment options. 
Small business-focused solutions firm Weave revealed the addition of "Scan-to-Pay" functionality for healthcare firms to its ecosystem. 
The feature enables seamless payments on the go via QR codes. 
REtech, InsurtTech and Investing
Duck Creek Technologies/Southern Trust Insurance
Leading carrier Southern Trust Insurance revealed its integration of a premier InsurTech solution ("Duck Creek OnDemand"). 
The integration starts with auto insurance lines in South Carolina, Tennessee, and Georgia. Expansion plans are coming soon. 
XDimensional Technologies/Trawick Insurance Brokerage 
XDimensional Technologies, a premier InsurTech company, revealed the integration of Alabama-based Trawick Insurance Brokerage into its digital ecosystem ("Nexsure Insurance Platform"). 
Trawick deployed the upgrade as part of the expansion, digitization, and growth efforts. 
Colorado-based TurboTenant, a leading property management solutions firm, revealed the launch of an AI-driven tool that allows landlords to create listings. 
OpenAI's engine drives the creation process, allowing for their creation and personalization on the fly. 
AND ON A COMPLETELY DIFFERENT NOTE, Edyoucore, a boutique financial wellness firm, expanded its services to include mental health services.
The Baltimore Ravens are among the first clients to get onboarded.
The firm focuses on sports stars and entertainers per financial literacy.
---