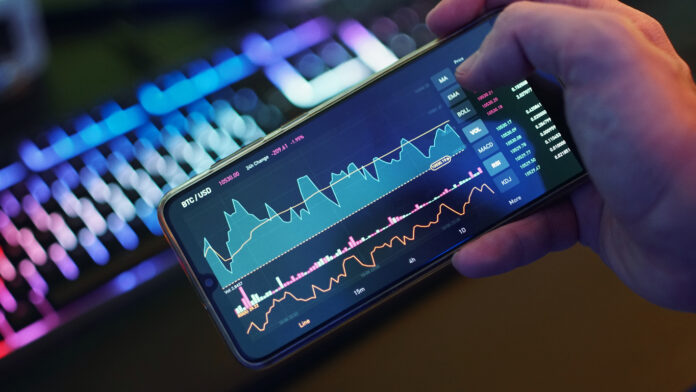 ---
With nearly five months in the books, 2022 is financially defining itself with market volatility.
On top of a two-years-and-counting Covid-19 pandemic, the year also brought us a major conflict in Europe, rising inflation in the U.S. and abroad, supply chain problems, a monkeypox outbreak, shortages in silicon chips and baby formula, and a host of other problems both expected and unexpected.
Advisors can help keep their clients on track through all of this turmoil with some timely and highly-personalized messaging, said Jay Manciocchi, Head of Content at TIFIN Clout, an AI-guided marketing platform for financial advisors and asset managers. TIFIN Clout is part of the broader TIFIN, a fintech platform using artificial intelligence and investment-driven personalization to shape the future of investor experiences, which recently announced the closing of $109 million in a Series D financing, propelling them to an $842M valuation.
"You should provide clients with highly personalized content on staying the course over the long-term and how doing so has helped investors in the past," said Manciocchi. "Teach clients not to be overly emotional, or reactionary, as it can hurt them more in the long-term."
In hindsight, advisors need to be offering these messages to clients ahead of volatility, said Manciocchi, as investor reactions to volatility and stress can be primed towards a more positive course.
But, even if advisors are late to the content game, Manciocchi offers six tips that advisors can use to help their clients stay on track with content.
1.  Start with a Core Message
Advisors need to offer clients a unified, core message, recognizing that volatility can be unnerving and that disjointed messages from different stakeholders in a firm may make a difficult experience even worse.
"At the end of the day, having a resilient and even-keeled message creates confidence for your audience," said Manciocchi. "Giving clients periodic market updates to help them stay apprised of what's happening can not only assuage them, but it can also help with client retention and potentially generate new client relationships, too, if you offer to help your clients' friends and family during these challenging times."
2.  Over communicate
"This lets clients know that you are there for them," said Manciocchi. "Smart advisors really train their clientele to stay the course and think long-term; but, when something does happen (i.e. the recent market sell-offs), they try to get ahead of the story, recognize that clients may be concerned, and acknowledge that they may have questions."
TIFIN Clout helps advisors with these communication opportunities. For example, the day that Russian troops invaded Ukraine, Clout had a thought leadership article on its blog by 9 a.m. discussing how it might impact the markets.
Similarly, an hour or so after The Fed's most recent interest rate increase, Clout had a thought leadership piece on its blog discussing potential portfolio impacts, said Manciocchi.
Beyond that, Clout created custom campaigns for their clients on this topic, as well as on other hot topics, such as rising inflation. In fact, virtually every week, Clout creates custom email nurture campaigns for advisors, as well as curated social posts for their clients who can, in turn, use them to engage their end-clients.
"We always try to be ahead of a market story to show our clients (advisors and asset managers) that we're on the pulse," he said.
Again, the most effective advisors are doing this long before market tumult begins.
3. Make Sure Clients Know You Care
There are a couple of ways advisors can make sure clients are aware they are in their advisors' thoughts, said Manciocchi, and they don't need to be overly complex or intimate. For many clients, a monthly or weekly newsletter will suffice. For others, a simple call, or even a voicemail message, will be helpful and reassuring.
And, Manciocchi knows. He's a former licensed financial advisor and legal professional that spent years walking a mile in Clout's clients' shoes.
"You should try to communicate via a variety of different channels, but hyper-personalized communications are the key," he said. "That means using myriad of different channels to reinforce to clients that they are top-of-mind—from personalized touchpoints to sharing thought leadership pieces, as well as timely videos on relevant topics."
Clients also need a forum where their concerns can be addressed. These can be offered one-on-one, or as group events.
4. Volatility Loves Company
"This is the perfect time to bring clients together for a group event," said Manciocchi. "These can take an array of different forms. Some advisors do wine tastings, some do educational or cultural events. Others may do intimate dinners or a retreat of some sort. Clients want to be able to commiserate and share their challenges."
Bringing clients together builds empathy and also reassures them that they are not alone in their fears. It can also help to reinforce the feeling that their advisor understands and cares about them.
5. Give Clients the Chance to Help Others
Those advisor events can also serve as an opportunity to solicit referrals, said Manciocchi.
"It's the perfect time to say, 'I'm going to be here, in this with you, and don't hesitate to have your relatives and friends give me a call if they're worried too,'" he said.
While using volatility as an opportunity to rake in referrals may seem a little opportunistic, investors generally appreciate the chance to offer help to others, said Manciocchi. Clients leave advisor events and in the same week may be attending church / synagogue / mosque / temple events, school functions, sports competitions, and social clubs where there may be prospects calling out for the help of a professional advisor.
6. Engage Strategically
There are three key principles to strategic engagement: explain what is happening to the best of your knowledge, give clients context, and reassure them about the course of action you have recommended for them.
"You have to translate what the financial media is saying into plain English and make it relevant to them," said Manciocchi. "Financial media is largely produced for the benefit of a broader audience of  active market professionals, not long-term investors.
Investors need to understand that from a long-term perspective, markets are cyclical, said Manciocchi. In the context of decades and decades of generally upward market growth, a correction, or a bear market, becomes a small notch in the chart of an index like the S&P 500.
For those with an especially long-term horizon, down markets need to be portrayed as opportunities, he said.
"There's a reason clients work with you," he said. "If you've taken methodical time to craft a plan and construct a portfolio to help them reach their goals, you instantly have the ability to lend a lot of reassurance to clients to help them avoid damaging emotional responses."
One Final Point
"I would tell advisors and asset managers to give investors a warning that risk is involved in virtually any investment and success comes from sticking to a long-term plan while being mindful that risk exists," said Manciocchi. "We've seen advisors mushroom client portfolios amid economic downturns when they are able to effectively monitor and rebalance, as needed, to take advantage of attractive buys."
"Our CEO, Vinay Nair, was recently on CNBC noting that, even though it may appear to be all doom and gloom recently, there has been an uptick in searches for funds with exposure to crypto, climate and ESG-focused funds, and funds with strong returns. True winners know how to take advantage of market calamity and get those attractive buys because they know that over the long-term, as markets go back up, so will the value of their portfolios."
---