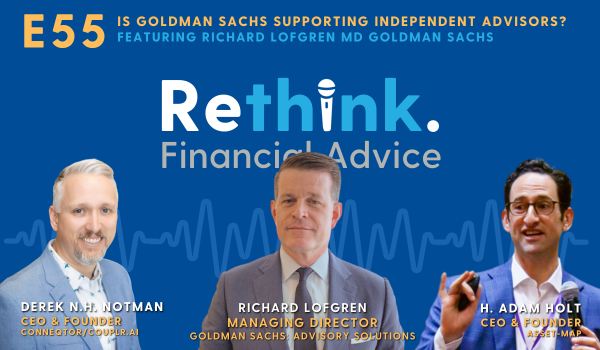 ---

With the recent sale of United Capital there's been a lot of talk about what Goldman Sachs is focusing on. Turns out quite a bit including serving independent financial advisors. Join us as we chat with Goldman Sachs Managing Director and US Navy Captain Richard Lofgren to learn what they are doing to support advisors and what advisors should be thinking about to stay relevant and continue to grow.
In this episode Richard, Adam and Derek chat about:
Planning is critical for the market
Automating to get speed to market
Tech ignorance is a career warning light
Tech still has no empathy
Goldman Sachs as a Service (GSaaS)
The similarities between military planning and financial planning
The enemy always gets a vote
And more!
---