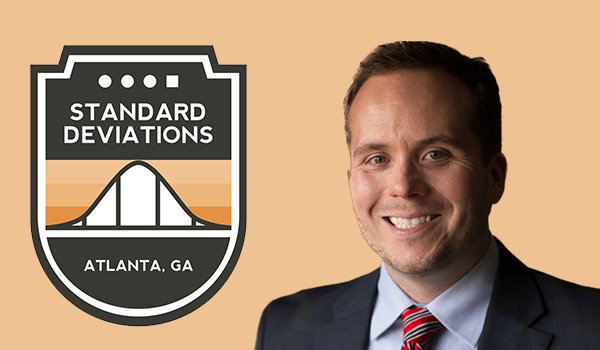 ---
This week on Standard Deviations with Dr. Daniel Crosby, Dr. Crosby is joined by Jay Coulter.
Jay Coulter is a practice management and investment portfolio construction expert.  He has two businesses focused on serving financial advisors, teams and firms. Jay is also the host of The Resilient Advisor Podcast and the author of two books, The Resilient Advisor and Conquer Worry.
Jay is the Founder of Pinger Systems, where he and his team help Financial Advisors implement marketing systems to expand their professional network while becoming authorities & influencers in their market.
He also has a consulting practice focused on working with high performing financial advisors through RC Whatley & Company. The firm consults on over $3 Billion in client assets. Jay leverages his 20 years of experience in the investment management industry working for industry leaders such as Morgan Stanley, Lehman Brothers and Charles Schwab to help his clients implement systems designed to improve business performance.
Jay also founded and built the non-profit organization ConquerWorry.org™. It has grown into a global platform with over 175,000 followers on social media, a popular blog that receives tens of thousands of monthly views and hosts guest posts from contributors from around the world. He also produced The ConquerWorry™ Podcast which has been downloaded in over 90 countries, featuring Olympians, NFL players, Hall of Fame college football and basketball coaches as well as players. Today the organization's non-profit initiatives and podcast are run by a team of volunteers from 5 different continents.
His previous responsibilities have included managing a $250,000,000 financial planning and investment advisory practice and a $500,000,000+ commodity portfolio. He also taught a course on Business Building Strategies for Financial Advisors available on Udemy.
Jay holds an M.B.A. from the Goizueta Business School at Emory University and a B.S. in Business Management from The University of Tennessee. Jay has earned the Certified Investment Management Analyst® and Certified Financial Planner® designations.
Tune in to hear:
– What are the 5 coaching dimensions that Jay uses to help advisors and how did he arrive at these?
– What is "the protocol system" and how has Jay utilized it to better his mental and physical wellbeing?
– What was it that allowed Jay to put himself back together after a bout of acute depression?
– What role should leadership and accountability play in a great advisory practice?
– What should client communication systems look like in an ideal setting?
– What should an ideal wealth management system look like? Why does Jay like to break this into 3 constituent parts and what are those?
– What business systems need to be in place to have an effective advisory practice and where has Jay noticed the most glaring deficiencies?
Compliance Code: 2174-OAS-8/8/2023
Ad Compliance Code: 2120-OPS-8/2/2023
---
ABOUT STANDARD DEVIATIONS PODCAST:
Educated at Brigham Young and Emory Universities, Dr. Daniel Crosby, the personality behind STANDARD DEVIATIONS podcast, is a psychologist and behavioral finance expert who helps organizations understand the intersection of mind and markets.
Dr. Crosby's first book, Personal Benchmark: Integrating Behavioral Finance and Investment Management, was a New York Times bestseller. His second book, The Laws of Wealth, was named the best investment book of 2017 by the Axiom Business Book Awards and has been translated into Japanese, Chinese, Vietnamese and German. His latest work, The Behavioral Investor, is an in-depth look at how sociology, psychology and neurology all impact investment decision-making.