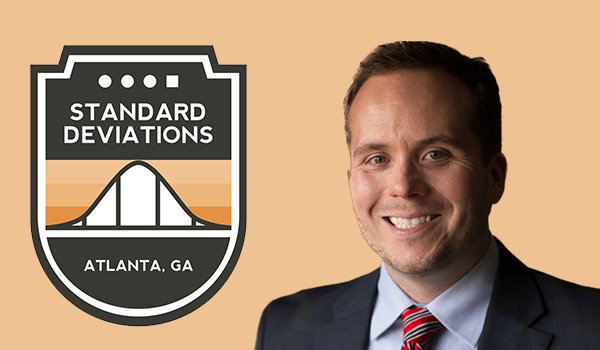 ---
This week on Standard Deviations with Dr. Daniel Crosby, Dr. Crosby is joined by Saundra Davis.
Saundra Davis, MCC, MSFP is a highly respected financial planner, educator, and coach who has dedicated her career to helping people achieve financial stability and prosperity. Her framework The Continuum of Financial Wellbeing is a model to ensure that all people, regardless of their income or wealth, have access to competent and ethical personal finance support.
Through her training programs and Financial Fitness Coach certification Saundra has trained more than 2,000 professionals and has helped countless people develop healthy financial habits, navigate complex financial decisions, and achieve their financial goals.
In addition to her work with Sage Financial Solutions, Saundra is a regular contributor to various media outlets, including CNBC, The Wall Street Journal, and NPR. She has also served as a featured speaker at conferences and events across the country, sharing her insights and expertise on a wide range of financial topics.
With over two decades of experience in financial planning, coaching and training, Saundra developed the Financial Fitness Coach® and Accredited Personal Finance Coach certification programs. The programs prepare trainees to become effective, innovative and transformational financial coaches and are designed to support financial professionals by challenging them to reach new heights in their communication with clients
Saundra is a staunch believer in the Continuum of Financial Wellbeing, a framework she developed that guides clients to the kind of support they need, while pinpointing possible pathways for financial professionals to make an impact.
A thought leader with a fierce compassion for the community and a commitment to excellence, she's regarded as the Financial Coach's Coach. She has focused the lionshare of her efforts to helping people live with their money in a way that honors their values and the vision they hold for their futures. Saundra is on a mission to democratize access to financial services, which she believes will create stronger individuals, families and communities.
Davis also holds a Master's degree in Financial Planning, is an Accredited Personal Finance Coach, an International Coach Federation Master Certified coach, a Financial Behavior Specialist, a certified mindfulness teacher, and a certified executive coach. Her specialties include: financial coaching, financial coach training, financial planning policies, financial education, financial literacy, teaching, coaching, mindfulness, and mentoring.
– Saundra really balances being warm and welcoming with a great deal of candor. How has this served her professionally over the years?
– How do people find the strength of will and confidence to call their clients out on behavior that is incongruent with their goals if their designations alone don't provide this confidence?
– Saundra has created two certificate programs – Financial Fitness Coach and Accredited Personal Finance Coach. What are the most unexpected parts of these programs and what is missing from most advisor education?
– Excavating your own skeletons can be so challenging. How does Saundra undertake this process with financial professionals in a way that is appropriately deep but also doesn't scare them off?
– In terms of building client rapport – what do financial professionals do well, where do they fall short and how can we improve as an industry?
– How can advisors start taking small steps to put themselves in a mindset that better prepares them to handle the emotional nuance required to effectively meet their clients where they are?
– What changes would Saundra hope to see in the coming decade in how financial professionals are educated and how they serve their clients?
Compliance Code: 2618-OAS-9/20/2023
---
ABOUT STANDARD DEVIATIONS PODCAST:
Educated at Brigham Young and Emory Universities, Dr. Daniel Crosby, the personality behind STANDARD DEVIATIONS podcast, is a psychologist and behavioral finance expert who helps organizations understand the intersection of mind and markets.
Dr. Crosby's first book, Personal Benchmark: Integrating Behavioral Finance and Investment Management, was a New York Times bestseller. His second book, The Laws of Wealth, was named the best investment book of 2017 by the Axiom Business Book Awards and has been translated into Japanese, Chinese, Vietnamese and German. His latest work, The Behavioral Investor, is an in-depth look at how sociology, psychology and neurology all impact investment decision-making.