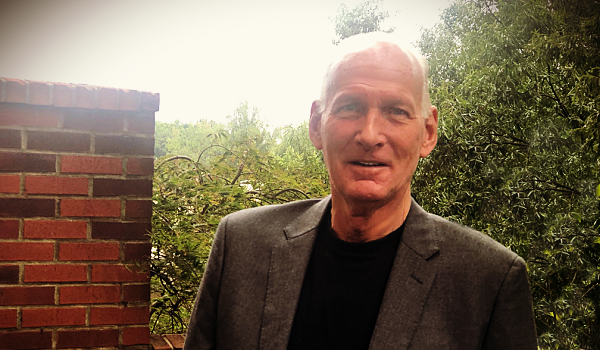 Simple Thoughts in Complex Markets
By Bill Taylor, Contributor/Entoro Wealth
---
The opinions expressed below are my own & do not necessarily represent those of Entoro Wealth or any of its affiliates
We compare the price of Bitcoin, Ethereum, Gold & the S&P500. We use the CME Bitcoin Indexes (BRR & BRTI) and the CME Ethereum Indexes (ETH_RR_USD) & (ETH_RTI_USD) for reference as well as the London Bullion Market afternoon price settlement on the digital assets & gold.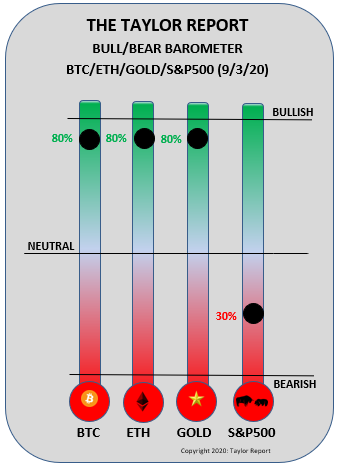 ---
9/22/20 Closing Prices:
Bitcoin: $10,483.31 (+$2.69)
Ether: $341.77 (+$2.33)
Gold: $1,896 (-$9.00)
S&P 500 3,315.57 (+34.51)
Trading Summary Notes for Tuesday, 9/22/20:
Great to be included as a regular contributor on the new Digital Wealth News digital platform. Like old FintekNews times. First day of Fall and it seems there is lots of uncertainty (aka chaos) in the markets. Gee, wonder why (sic).
---
Well, it is officially Fall today (22nd) and surprisingly the world is still here and functioning (kinda). Weird! Baseball just got started in the Fall, the NBA is playing pick up games in a bubble and the NFL is playing before almost empty stadiums and players are coming down with bruised knees. And, the markets are "plagued" with indecision. Throw in a U.S election and now a Supreme Court vacancy and…………well, you get it. It's 2020.
So now what?
After hitting that $12,000+ level a few weeks ago, BITCOIN has backed off (a fair amount) and retrenched in the low $10,000 area…..actually dipping below $10K for a few seconds just as we called for in a previous Taylor Report. Once again, congrats Bill (lol)
After holding above $10,000 BTC rallied up above $11,000 and is now "resting" back in the mid $10K area.
Since BTC did not break below $10,000 for any meaningful time, and now has spent some quality time in the lower $10K area, it looks like another run to $12,000+ will soon get under way.
Should, NO WHEN, the $12,500 mark is broken the next target is $15,000.
Reiterating, the acceptance of digital currencies (BTC, ETH) is constantly gathering steam. Now even central banks are clamoring to create digital currencies. Institutional interest is being bolstered by new regulations, regulated custodians and exchanges.
Indeed, MicroStrategy which allocated $250M to BITCOIN for cash reserves (dry powder) announced last week it is even increasing that allocation to $425M. Put your cash where it works.
NOTE:  It appears that over the past few months BITCOIN (a little ETH & Gold too) has traded in tandem with the equity markets. DO NOT BE FOOLED. There is no correlation. At some point (soon?) markets will continue down and BTC, ETH and GOLD will go UP. Store of value, hedge, flight to safety, etc.
Now, on to ETH. After a long time of being BTC's "little sister" ETH has begun a life of its own. Cheers.
ETH has rocketed ahead as more and more central banks have begun steps to create digital currencies mostly based on ETHEREUM blockchain.
Expect a little more solidifying in the $330-$370 area for a bit. WOW! Its still working. Nice job Bill (lol)
Can ETH keep it up? Yes, probably with the renewed BTC strength. Look for ETH to move to $550 if (when) BTC cracks above the $12,500 level.
As you know, we have been yelling buy GOLD  for going on four (yes 4) years. Indeed, over the past year and a half we have been yelling BUY, BUY and BUY. With the recent rise to over $2,000 (all time highs) what now?
Damn. BIG DAMN! I had called for GOLD to dip down to the $1,825-$1,850 area. Last week I said " Looks like the lower $1,900 area is super strong. Let's move our dip-buying area to $1,925-$1,950."
WELL! I may have been a bit too aggressive. Lets now say a good entry point around $1,850-$1,875. Stupid GOLD sellers. But hey, I got good calls on BTC & ETH. 2 out of three…..67%. Better than my college test scores.
Stay long. GOLD near upside target is $2,500……yup, $2,500. Longer term? $3,000-$3,500.
Ignore the rhetoric. Forward looking, after throwing money (and continuing to print $$$) to ensure a recovery, inflation may soon be on the rise and geopolitical/pandemic risks are only getting stronger. Positive for GOLD;
Now on to the equity market, or at least the S&P 500. The last few months have been insane. Nothing…..I repeat NOTHING……..goes up forever. FOMO (fear of missing our) has been in full force. Enough already.
At last we know what was behind the straight up rally. SOFTBANK. Or, better not what was behind the rally, but rather who. Seems "The Nasdaq Whale." which is the nickname for the person at SOFTBANK who bought $4 billion worth of options driving up tech stocks………….but hey, read the article in Digital Wealth News. Explains how market tops are formed.
So now we have had a rather "sporty" selloff in the S&P 500. Think it's over?
The recent "dip" in the S&P 500 is NOT a buying opportunity. Psychology, or Market Behavior Analysis, has changed. Keep putting some "gentle" shorts out on strength.    
S&P500 "dips" to 2,500-2,600?
Current trading positions: LONG BITCOIN, LONG ETH, LONG GOLD & SHORT S&P 500
---
Bill Taylor is Managing Director/CIO at Entoro Wealth & is widely published in financial industry media throughout the world