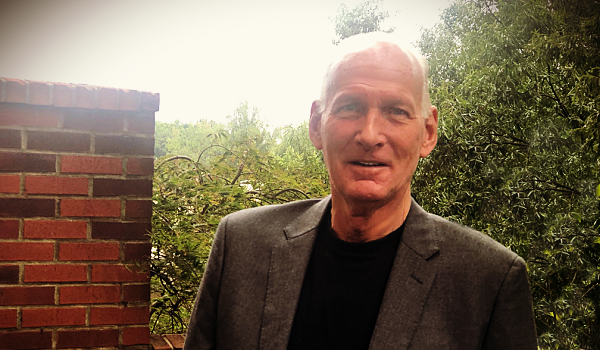 Simple Thoughts in Complex Markets
By Bill Taylor, Contributor/Entoro Wealth
---
The opinions expressed below are my own & do not necessarily represent those of Entoro Wealth or any of its affiliates
We compare the price of Bitcoin, Ethereum, Gold & the S&P500. We use the CME Bitcoin Indexes (BRR & BRTI) and the CME Ethereum Indexes (ETH_RR_USD) & (ETH_RTI_USD) for reference as well as the London Bullion Market afternoon price settlement on the digital assets & gold.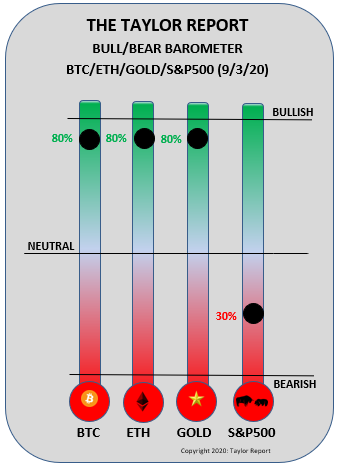 ---
10/6/20 Closing Prices:
Bitcoin: $10,683.96 (-$49.91)
Ether: $345.58 (-$7.24)
Gold: $1,881 (-$24.00)
S&P 500 3,360.97 (-47.66)
Trading Summary Notes for Tuesday, 10/6/20:
Great to be included as a regular contributor on the new Digital Wealth News platform. Thanks Publisher Cindy Taylor. Kicking off the 4th quarter of 2020, or "the last lap."
---
We are one week into the fourth quarter and the first comment I can come up with is THE EQUITY MARKETS ARE INSANE! One week! First debate (shout fest) is done, POTUS tests positive for Covid-19, goes to hospital, leaves hospital "cured," political polls confused, markets sell off, markets jump back up and ……well here we are. Only one (1) week from last week's Taylor Report.
What to do? (hiding is now allowed)
First off, since I stuck my neck out and made year end price predictions last week I will show them here again. Unlike others, I am not afraid of putting my thoughts in writing.
Year end BTC price? $17,500.
Year end ETH price? $500.
Year end GOLD price? $2,200.
BITCOIN is "nesting" in the mid-$10,000 area and trading interest is drying up. No movement, no trade. Remember, all is quiet before the storm.
It's like a volcano. All of a 'sudden' it erupts and that is what BTC will do. Do I hear rumbling?
Since BTC did not break below $10,000 for any meaningful time, and now has spent some quality time in the mid $10K area, it looks like another run to $12,000+ BUT when?
Should, NO WHEN, the $12,500 mark is broken the next target is $15,000.
Now, ETH. After a long time of being BTC's "little sister" ETH has begun a life of its own. Central banks have begun steps to create digital currencies (even the U.S….gasp) with most based on ETHEREUM blockchain.
Expect a little more solidifying in the $330-$370 area for a bit.
Look for ETH to move to $550 if (when) BTC cracks above the $12,500 level.
GOLD! Lets say a good entry point around $1,850-$1,875. AND, so far so good.
Stay long. GOLD near upside target is $2,500……yup, $2,500. Longer term? $3,000-$3,500.
Ignore the rhetoric. Forward looking, after throwing money (and continuing to print $$$) to ensure a recovery, inflation may soon be on the rise and geopolitical/pandemic risks are only getting stronger. Positive for GOLD.
Now on to the equity market (S&P500). Its all emotion. Valuations? HA! Earnings? HA HA! Economic predictions? HA HA HA!
So now we had a rather "sporty" selloff in the S&P 500 last month followed by a "re-sporty" rally. Again, its all emotion.
Psychology, or Market Behavior Analysis, has changed. Keep putting some "gentle" shorts out on strength.
S&P500 "dips" to 2,500-2,600?
Strap in – we are in the 4th quarter
Current trading positions: LONG BITCOIN, LONG ETH, LONG GOLD & SHORT S&P 500
---
Bill Taylor is Managing Director/CIO at Entoro Wealth & is widely published in financial industry media throughout the world