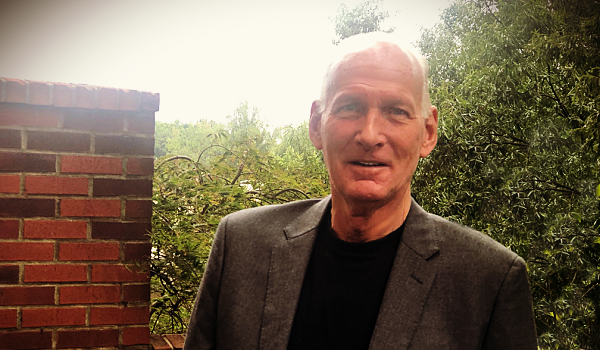 Simple Thoughts in Complex Markets
By Bill Taylor, Contributor/CIO-Entoro Wealth
---
The opinions expressed below are my own & do not necessarily represent those of Entoro Wealth or any of its affiliates
---
11/03/20 Closing Prices:
Bitcoin:  $13,757.74  (+$252.31)
Ether:   $383.18 (-$2.55)
Gold:    $1,898  (+$11.00)
S&P 500  3,369.16  (+58.92)
Trading Summary Notes for Tuesday, 11/03/20:
Ready For November? U.S. Elections are going on as I type. Don't know if I'm ready for that.
What's new? More Covid-19 cases are breaking out Europe locking down again. More stimulus coming? U.S. election uncertainty? Blah, blah blah. What's new is not much. Same old, same old.
What to do now? How about keep the same strategy. Stay long bitcoin, ethereum and gold. Keep putting out some shorts in the S&P 500 (yeah, really)
But first, I am going to keep posting my year end price predictions (below) since I am always transparent (right or wrong) and have total conviction. Bold huh?
Year end BTC price? $17,500.
Year end ETH price? $500.
Year end GOLD price? $2,200.
BITCOIN is working its way through the $13,000 area and is headed for our next target of $15,000.
If you are a touch nervous, might want to "lighten up" a little around $15,000. Safety first, ya know. Might pause for a bit around that level.
Recently a lot of fintech companies have been allocating BITCOIN to their cash reserves. Like Square, MicroStrategy, etc. to the tune of just shy of $1B. PayPal just announced they will accept crypto transactions. HUGE!
Several global central banks are moving toward launching digital currencies (CBDC) based on ETHEREUM blockchain. Also saw that some wrapped/tokenized BTC moved onto the ETH DeFi.
Currently ETH is still sort of, kind of, following BITCOIN. It will soon step out on its own.
Look for ETH to move to $550 if (when) BTC cracks above the $15,000 level.
GOLD broke down under $1,900 in the big market sell off last week. It's back above that level now (stupid sellers….lol) and is gaining solid strength above $1,900.
There seemed to be some re-positioning/re-balancing ………. selling GOLD (lightening up) and buying (adding) BITCOIN. Actually not a bad idea…..but keep both.
Stay long. GOLD near upside target is $2,500……yup, $2,500. Longer term? $3,000-$3,500.
Looking ahead, whatever happens after the U.S. elections the same geopolitical factors are with us and inflation is picking up. Positive for GOLD.
Now on to the equity market (S&P 500). IT'S INSANE. CRAZY.
So let me say the scariest word to all the equity market buyers that expect (and demand) the market go up "constantly;" GRAVITY. Enough said (warned).
Keep putting some "gentle" shorts out on strength.    
S&P 500 "dips" to 2,500-2,600?
Current trading positions: LONG BITCOIN, LONG ETH, LONG GOLD & SHORT S&P 500
---
The Taylor Report Bull/Bear Barometer remains the same on 11/4/20 as it was when last updated on 9/3/20. See below for a visual depiction of my long term recommendations.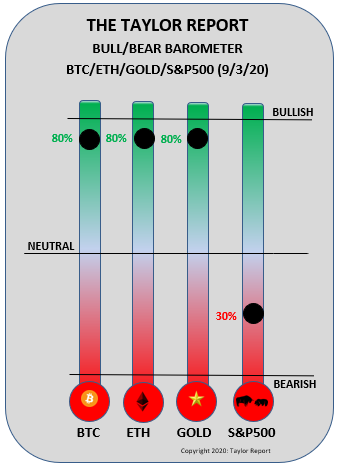 ---
We compare the price of Bitcoin, Ethereum, Gold & the S&P 500. We use the CME Bitcoin Indexes (BRR & BRTI) and the CME Ethereum Indexes (ETH_RR_USD) & (ETH_RTI_USD) for reference as well as the London Bullion Market afternoon price settlement on the digital assets & gold.
---
Bill Taylor is Managing Director/CIO at Entoro Wealth & is widely published in financial industry media throughout the world