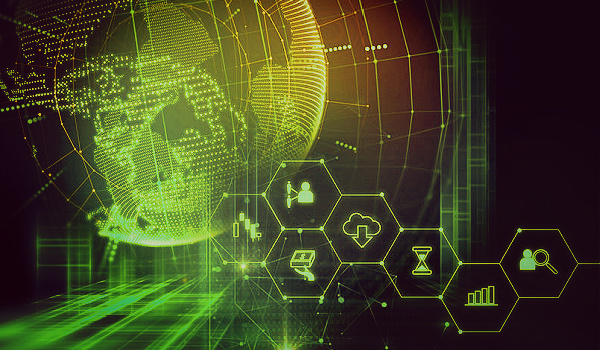 ---
In 2016, we launched FintekNews – a new industry news site and newsletter for the US fintech market. The initial newsletter – and the fintech market at the time – were both frankly all over the place, and my initial image was, well, REALLLY blue, as in below. Perhaps this reflected my mood at the time over not fully understanding fintech as well.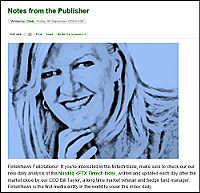 After seeing Paypal, Square and other "fintech" juggernauts launch, we were still struggling to get our heads around why "fintech" showed up under other publisher sites in the advisor, hedge fund, payments and crypto space.
Then the "aha" moment arrived. Fintech is all of them.
Many ascribe the modern fintech movement to the passage of the JOBS Act of 2012, and it was important because it opened the door for the P2P and crowdfunding industries to emerge and evolve.
But 2012 was certainly not the beginning of the fintech revolution.
Finance + Technology = FINTECH
While traveling last year on a roadshow with Chalice Network, my opening slide showed modern day fintech as evolving from ancient counting systems and abacuses. That was fintech.
Then there was the launch of trading exchanges and the modernization of those exchanges – which I believe were the "original" fintech – from the use of Quotrons in the 70's (which represented a huge technology leap for floor trading) to the launch of consumer-facing trading platforms like eTrade, Tradestation and more. And yes, I skipped a few millennia there, but hey – what's 2,000 or so years amongst friends?
And now we're here. The end of 2020 and the second month for our new media firm – Digital Wealth News – which we fondly call "FintekNews 2.0" and which is dedicated to covering "the present and future of finance".
Fintech has evolved into a expansive web of modern applications that range from the ultra-sophisticated quant modeling used by super-secretive hedge fund masters of the world to trading apps like Robinhood and challenger banks like Revolut.
It covers payments, crypto, digitization of assets, cybersecurity, AI, machine learning, investing platforms and so much more.
It has exponentially increased in usage since COVID19 came to town – we've all seen that and know it first hand. More online trading, more touchless payments at our coffee shops and elsewhere, more use of financial apps of all makes and sizes.
And just a year ago, I still didn't have ANY real consumer-facing fintech apps on my iPhone (I know, I know). Now I have Paypal, Zelle and Voyager, with more coming.
In the advisor world, fintech has also exploded with an ever-increasing array of wealthtech firms that transform the way advisors communicate to their clients, trade their portfolios and manage a myriad of potential risks and Orion Advisor Systems, one of our first sponsors, is at the leading edge of this revolution.
And in keeping with the increased use of fintech in the age of COVID, likewise the wealthtech industry has seen an exponential increase in adaptation by advisors – by necessity.
In fact, industry veteran Michael Kitces recently updated his annual map of wealthtech firms and there are now over 200 and counting.
SO – let's keep pursuing this idea of what fintech is for 2021 and beyond. I invite you to reach out to me with your thoughts and let's keep the dialogue rolling.
Yours in Fintech,
Cindy Taylor, Publisher | Digital Wealth News
Linkedin
---