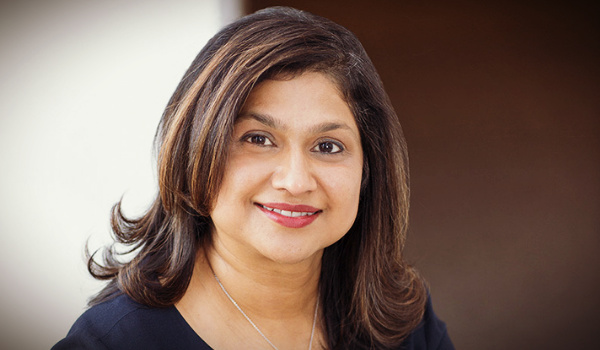 ---
Digital Wealth News is pleased to bring you our "Fintech Luminaries" series – featuring thought leaders within the digital wealth and blockchain ecosystems.  For the next feature in this series, we'd like you to meet Niharika Shah, CMO at THE TIFIN GROUP, which conceives and builds fintech marketplaces in the wealth and investment management sector.
NAME: Niharika Shah
TITLE: CMO
COMPANY: THE TIFIN GROUP
WEB ADDRESS: www.tifin.com
---
How did you personally become involved in fintech?
As a technology-led marketer in financial services, the significance of advancements in fintech and the need for more customer-centric solutions have influenced my strategic thinking as well career choices.  After a long tenure at a large financial services firm, I decided to join THE TIFIN GROUP on a mission to transform the investor experience with first in category fintech platforms.  
What does your firm do/offer within the fintech sector?
THE TIFIN GROUP conceives and builds fintech marketplaces in the wealth and investment management sector.  Since its launch in 2018, the firm has applied its unique innovation process to improve outcomes for investors while building an ecosystem of capital partners and senior executives from finance and technology.  THE TIFIN GROUP is currently comprised of nine transformative companies including 55ip, Magnifi, Clout, Positivly, and Louise.
What is your role within your firm and what do you do there on any given day?
In my role as the CMO of THE TIFIN GROUP, I lead a ninja marketing and communications team to launch and grow-at-value our Portfolio companies.  Growth-at-value is a term I use to describe our intention of demonstrating product/market fit with the deployment of the most effective and efficient strategies. 
What area/s of fintech do you believe will grow the most in the coming 5 years?
There are approximately 100MM self-directed and/or advised investing households in America. For too long, these households have been served by an industry that is too product and distribution focused resulting in a sub-optimal investor experience.  I believe the wealth and investment management industry is ripe for disruption by fintech companies rooted in data, investment intelligence and simplicity.
What do you believe the next major innovation in financial technology will be and why?
In data and the derivation of signals from the data to reduce waste and improve investor experiences with hyper-personalization at scale.  
What are the biggest problems facing the fintech industry in the future?
Twofold: 1) Demand-side: a) Adoption by the incumbent financial firms that can't get out of their own way and b) lack the digital IQ to fully leverage technology.  2) Supply-side: Too many point solutions trying to become platform solutions.
What has been the biggest success in your firm to date?
The creation of an ecosystem of leaders from the world of finance and technology that has led to a successful acquisition of one of our earliest fintech platforms,55ip by J.P.Morgan Asset Management, dedicated to the democratization of sophisticated tax management.  
What has been the biggest failure in your firm and how did you adapt?
We don't consider an unintended outcome a failure, but an opportunity to learn from.  At THE TIFIN GROUP, we operate with deliberate speed and intensity, and over time we have distilled values we seek in our Talent and Operations, which helps us stay ahead of the curve.
What fintech leader do you admire the most and why?
Anil Arora, a pioneer in personal finance platforms and data-driven intelligence. He currently serves as a board member at Envestnet which he joined after their acquisition of Yodlee, where he served as Chairman and CEO. Anil is singularly focused on making financial wellbeing accessible to more people which I am personally inspired by.
How do you feel consumers (or if more relevant for your firm – businesses) are adapting to the facet of fintech that your company operates within?
Investors of all stripes – Retail and Professional – and Asset Managers are drawn to the simplicity, elegance and quality of the experiences each one of our fintech companies provide. E.g. Magnifi with over 500,000 investment searches has transformed the way investors shop for investments and asset managers distribute their products, with its natural-language powered investment marketplace, Clout is helping advisors succeed in a digital-first environment and Positivly has modernized the investment process to truly reflect the intrinsic personality of investors.  All of these are positive indicators of the impact and potential of personalization at scale in combination with investment intelligence can have on this industry.  
If you were to personally invest in just one fintech firm (other than yours), which one would it be and why?
I would personally invest in a firm that is able to truly impact the financial IQ of young adults.  Haven't seen one yet.  
---
Niharika serves as a fractional Chief Marketing Officer across TIFIN's innovative fintech companies (including Magnifi, Clout, and Positivly) as they evolve and grow through their early-stage rounds and find their market fit. An entrepreneurial marketing leader, Niharika has spent 20+ years building brand and marketing organizations in financial services and high-growth consumer environments. Previously Chief Brand Officer for Prudential Financial Inc, Niharika had led several early-stage and incumbent companies through their digital commerce and multi-channel transformation journey.