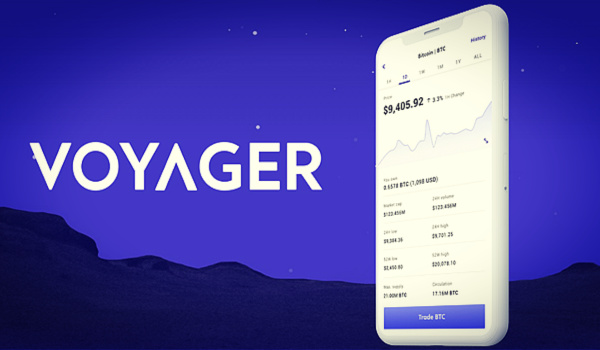 ---
On Monday (12/28), the digital currencies app Voyager Digital (OTC Stock Ticker: VYGVF) went offline and remained unavailable to customers for trades, etc. through Tuesday morning, when at 9:40 the firm reached out by email to apprise its customer base that the app was back online and trading would resume shortly.
The firm also issued a press release via PRNewswire at 9:30am ET on Tuesday to apprise clients that the system was back online noting their "internal process and procedures prevented (an) attempted threat to (the) system".
According to crypto industry analyst Bill Taylor of Entoro Wealth, the outage handn't seemed to have effected the stock price signficantly (as of 9:30am ET, 12/29).
Full disclosure – our household uses Voyager for our personal digital asset holdings. We first detected something was amiss when we went to check our BTC position around 1pm ET yesterday, just as bitcoin roared past $26,000 and received the following screenshot: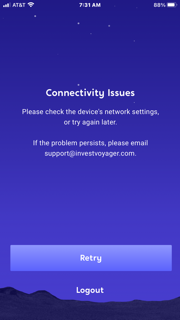 We reached out to Voyager CEO Steve Ehrlich to find out what had happened on Monday afternoon, but later saw that Voyager – and later Ehrlich himself – issued the following communications to their customer base via Twitter;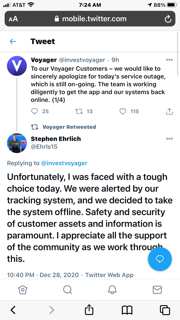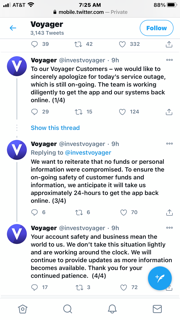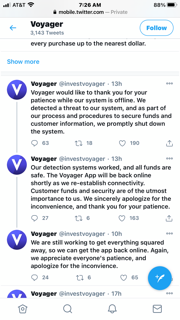 According to Voyager's tweets, the firm detected a threat and Ehrlich opted to shut off the app immediately. The tweets go on to reiterate that no assets were breached and the outage was anticipated to last up to 24 hours.
Ehrlich has previously stated that the firm holds client assets at multiple clearing firms as one of many protective measures they take to ensure customer assets are safe from breach.
Coincidentally, earlier in the day, Voyager had issued a statement that the firm has just achieved $200M in AUM on the platform.
Outages are not unfamiliar to the online trading sector. Robinhood has been beset with trading outages in the past year, but according to an inside source, they have only lasted 1-2 hours. By contrast, the Voyager app had been offline over 18 hours as of initial publication of this article.
Customer responses on their twitter feed varied from outrage for those planning to execute specific trades during an uptrend in crytpo pricing yesterday to gratitude for protecting client assets.
The email forwarded to Voyager customers Tuesday morning apprising that the app was back online was as follows:
"To Voyager Customers,
The Voyager App is back online and trading has resumed. You can now open and login to your app and continue using Voyager.
As a part of our safety procedures, all users have been logged out of the app and will be required to log back in to access their account. The vast majority of users will be able to access the app, a small subset of users may experience a slight delay in connecting as the system fully reboots. Trading will resume for all shortly.
Safety Precautions: The Voyager Team recommends you change your password as a safety precaution now and on a regular basis. We also recommend you utilize 2FA with an authenticator app for enhanced security.
Note: Any limit orders set previous to the system going offline have been canceled and need to be re-submitted in the system.
We would like to sincerely thank you for your patience and apologize for the service outage as we safely brought all of our systems back online after we responded to a DNS threat. The team acted swiftly, and our security systems worked successfully – no funds or personal information were compromised. 
You can now continue buying and trading on Voyager. We appreciate you and your business."
---
Digital Wealth News – filed at 7:48am ET, updated at 9:42am ET – 12/29/20