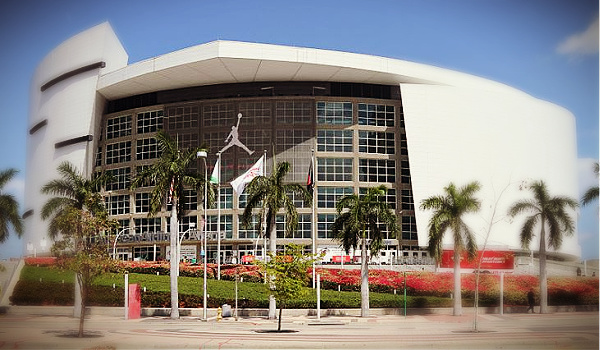 ---
FTX, a digital assets derivatives exchange, just became the first cryptocurrency exchange to sponsor a professional sports arena in the United States. FTX takes over the signage from American Airlines with a 19 year $135 million deal that ends the eraof three time NBA Championship-winning Miami Heat playing in the American Airlines Arena. I'm certain legendary coach Pat Riley was not part of the deal and he will NOT be renamed "FTX Riley."
There has been a long-established trend of traditional finance firms putting their names on sports venues but recently digital companies have begun getting into the stadium naming game. FTX will follow digital bank SoFi, which bought the naming rights to the spectacular new home of the Los Angeles Rams and the Los Angeles Chargers in 2019.
SoFi, known for big plays, paid a reported $400 million over 20 years, making it one of the largest-ever naming rights deals in history. Not to say the FTX deal is "small," but remember they only launched in May 2019, and have quickly grown into one of the top cryptocurrency derivatives exchanges.
And, FTX may just be the perfect fit for Miami. Miami Mayor Fancis Suarez, a staunch bitcoin bull, is on a mission to make Miami the next crypto hub. The Mayor also recently proposed to pay employees and invest city treasury funds in bitcoin. So replacing an airline's name with a crypto derivatives exchange's logo on the Heat's downtown waterfront arena is…….well, perfect.
So, if you have a successful fast growing digital asset company, or are just a bitcoin billionaire, and have always dreamed of having your name on a sports stadium, it must be mildly depressing to see what it costs. But don't give up. Digital Wealth News has come up with a few "substitutions" for you to consider. Probably a whole lot cheaper too should they be available.
Consider:
The Bon Secours Wellness Arena in Greenville, South Carolina……….home to the Greenville Swamp Rabbits;
Maybe Ogren Park at Allegiance Field in Missoula, Montana………home to the Missoula Paddle Heads;
Or, 121 Financial Ballpark, Jacksonville, Florida and the………….Jumbo Shrimp;
And Coolray Field, Lawrenceville, Georgia……….home to the Gwinnett Stripers And no, that's NOT a typo. Could have a great opportunity for a "name adjustment" too. Certain to boost attendance.
Not sure any of these would be available, but certainly wouldn't command the $135 million FTX paid for the Miami stadium. It's a start.
---