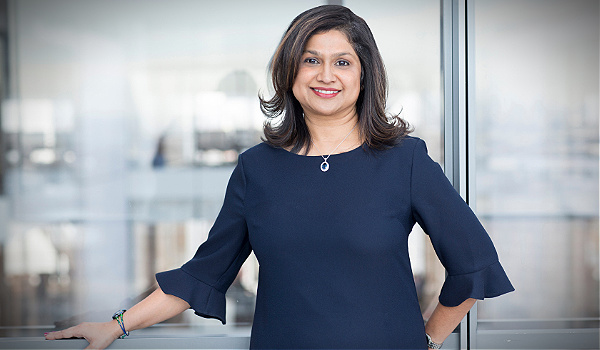 ---
Digital Wealth News is pleased to bring you our "Fintech Luminaries" series – featuring thought leaders within the digital wealth and blockchain ecosystems.  For the next feature in this series, we'd like you to meet Niharika Shah of Clout, a growth marketing fintech platform that leverages AI powered-content activated on digital and social media to enhance outcomes for investors, their advisors, and asset managers. Clout is an operating company within The TIFIN Group, a fintech platform that builds next-gen products by combining investment intelligence, data science, and technology to make investing a more powerful driver of financial wellbeing.
NAME: Niharika Shah
TITLE: CEO, Clout and Partner, The TIFIN Group
COMPANY: Clout, a TIFIN Group company
WEB ADDRESS: myclout.com
---
How did you personally become involved in fintech?
Did you know that 1 out 4 people in America are women over the age of 40? Women like me have been underserved as investors and underrepresented as talent within the industry. That said, I believe that fintech is the catalyst for a more inclusive financial services industry. Generally speaking, the idea that every investor has unique needs and needs to be serviced as such fueled a desire to seek out a fintech platform such as The TIFIN Group, where I could bring my passion and expertise to a purpose-led, innovative organization focused on shaping the future of investor experience.
What does your firm do/offer within the fintech sector?
Clout is a fintech growth marketing automation platform that enables financial firms to hyper-personalize their sales and marketing outreach. Powered by the idea that every investor – retail or professional – is unique, Clout creates relevance, consistency and agility in execution to fuel growth.
Clout is differentiated in its algorithmic capabilities powered by AI and machine learning. These algorithms are designed with deep financial and technical expertise to curate the "best match" content and the "next best" prospect and client.
For financial professionals at wealth firms, RIAs, insurance producers, tax/estate/trust firms, Clout is proving to be highly effective in driving organic growth.
For asset management firms, Clout provides a unique digital distribution platform to amplify their thought leadership to drive fund flows through their wholesaling team or by leveraging the power of the Clout network.
What is your role within your firm and what do you do there on any given day?
I am Clout's CEO responsible for all aspects of the firm. My experience prior to this role has allowed me to develop a deep understanding and appreciation of the sales, marketing and distribution challenges faced by financial firms seeking growth which makes me uniquely qualified to run Clout. In my role, both Clout and I greatly benefit from both the capital, financial expertise and strategic firepower within TIFIN's operating structure and investor network which includes J.P. Morgan, MorningStar and Broadridge. At Clout and TIFIN, I am surrounded by seasoned financial services leaders partnering with the most brilliant technologists to bring first-in-category fintech solutions to the marketplace.
What area/s of fintech do you believe will grow the most in the coming 5 years?
I think we will see growth in new forms of distribution and products. Personalization will power zero-waste distribution via digital marketplaces/platforms that will make available new kinds of (digital) financial products available to both retail and professional investors.
What do you believe the next major innovation in financial technology will be and why?
I believe we have only just begun to unlock the value of blockchain technology in a modern financial era. The possibilities are endless.
What are the biggest problems facing the fintech industry in the future?
Twofold: 1) Demand-side: a) Adoption by the incumbent financial firms that can't get out of their own way and b) lack of digital culture that impedes adoption within firms. 2) Supply-side: Too many point solutions trying to become platform solutions
What has been the biggest success in your firm to date?
In less than a year since its launch, Clout has achieved product market fit across firms of all sizes which is very encouraging and validates our strategy and mission. That said, what makes me get out of bed every morning is that Clout has powered growth for many small firms who were just starting out. We've grown together!
What has been the biggest failure in your firm and how did you adapt?
When we first launched the firm, we positioned the firm all around thought leadership amplification. While noble, Clout at that time was a rebel without a cause. We learned quickly and adapted the platform to utilize thought leadership to drive an end goal – better financial outcomes i.e. growth for both financial professionals and clients they serve.
How do you feel consumers (or if more relevant for your firm – businesses) are adapting to the facet of fintech that your company operates within?
As in many aspects of our lives, COVID 19 has defined a new model for advisor/client relationships. As such, digital marketing and client engagement automation is no longer a nice to have; it is now mission critical. Better still, in this new era, firms that have adapted quickly are realizing success which makes me confident that we will find an optimal digital/human balance.
---
Niharika Shah is Chief Executive Officer of Clout and a Partner at Clout's parent company The TIFIN Group. Niharika is an entrepreneurial marketing leader with experience leading several early-stage and incumbent companies through their digital commerce and multi-channel transformation journeys including most recently serving as Chief Brand Officer for Prudential Financial Inc.