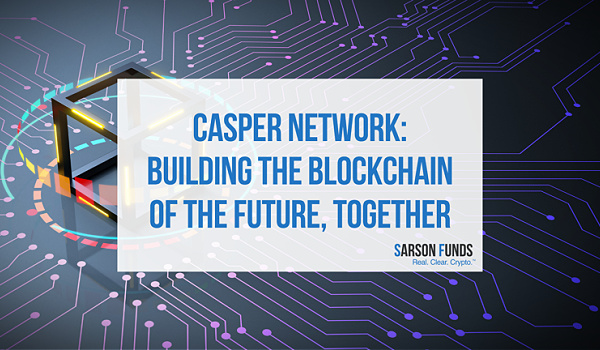 ---
By Liam McDonald
What is Casper Network?
The Casper Network's mission is to create a collaborative blockchain that supports a robust community of smart contract and decentralized application creators. CasperLabs aims to be a leading solution to the blockchain trilemma, a three-factor functionality problem in achieving a scalable, decentralized, and secure blockchain. Casper has brought together some of the smartest minds in crypto and tech to build the Casper Network, which is believed to be a solution to the blockchain trilemma.
Capser's native token, CSPR, is the utility token required to pay for transaction fees. These tokens can also be used to support the network via the Proof of Stake mechanism. By staking CSPR to support the network, CSPR owners can expect to be compensated via the network's system of inflation rewards.
What Differentiates Casper Network
The Proof of Stake (PoS) mechanism, as opposed to Proof of Work (PoW), allows the Casper Network to provide predictable transaction fees. Arguably the most notable downside of the Ethereum blockchain is the unpredictability of the network fees, which is because Ethereum still mainly exists on a PoW blockchain. Casper's verification process is designed to support cutting edge decentralized applications and smart contract execution. PoS works by allowing users to stake tokens as a means to validate transactions rather than the massive energy consumption used to mine blocks. The PoS integration is designed to deliver Casper Network as a leading solution in enterprise and developer blockchain adoption to help meet the evolving needs of people and the world.
For developers, the Casper Network is differentiated because of the upgradability of the blockchain. Casper Network's code has low barriers to entry as it seeks to unite the world of developers to come together and build the blockchain of the future.
Why Casper Network's Features Matter
CasperLabs takes the cutting edge elements of first generation blockchains and expands upon them. By stabilizing transaction costs, improving security features, and supporting enterprise use cases, the Casper Network creates the next step in real world blockchain applications. Simply put, CasperLabs stands to drive valuable opportunities for the developer ecosystem and their communities of users.
Who's Involved in Casper Network?
The management team has an extensive background ranging from consulting, venture capital, and industry defining technology companies. Led by Chief Executive Officer Mrinal Manohar, and an executive team of Chief Technology Officer Medha Parlikar, Chief Operations Officer Cliff Sarkin, and Chief Financial Officer Daniel Marfu, CasperLabs is led by tenured tech experts with leadership experience in Google, Microsoft and Adobe.
The Future of Casper
Casper's CSPR token is being listed on the Huobi, OKEx, MXC, and ZB exchanges Tuesday, May 11th at 7am EST (7pm in Beijing, China). For live updates on CSPR's performance, please follow Casper's page on CoinMarketCap, here.
With the utility and versatility of the Casper Network, Sarson Funds believes that CasperLabs has the potential to pioneer the future of blockchain, crypto, and decentralized finance. For more on CasperLabs, please visit casperlabs.io.
---
Please drop a like, follow, share, or reach out to us. Crypto is all about community.