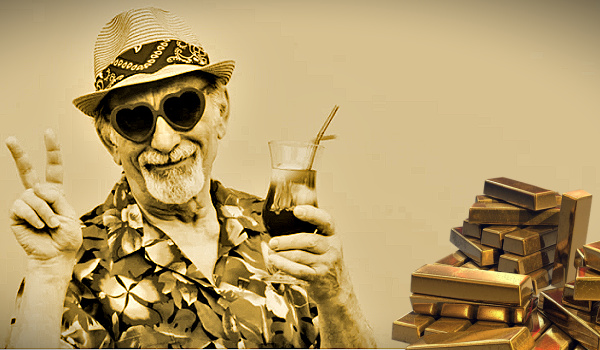 ---
Gold retires. Yes, it's true. After 5,000 years of impeccable service to global monetary development and stability, Gold announced its retirement. The world is grateful.
Speaking at a well deserved retirement party in front of governments, global central bankers, institutional investors and coin collectors, Gold spoke;
"Thank you all for your 5,000 years of support, but frankly I'm tired. I am proud to have been the original medium of exchange and instrumental in opening trade routes thousands of years ago. I was behind the rise (and fall) of the Roman Empire and countless others. That's really hard work for a young golden boy."
"Only a few centuries ago I helped Britain launch a monetary system by having their currency backed and convertible into ME…….Gold. I was responsible for the gold standard being introduced in the 1800's and honored to have world governments hold me in some very nice vaults. (Nice to have a place to live) I do have to admit I was a bit disappointed and hurt when I was declared illegal in the early 1900's. Its really hard to be a fugitive you know."
"I admit it's really hard on a guy my age to keep up being traded all day on global exchanges, moved around to various new vaults and even keeping up by always having to be shiny and pretty for jewelers. Takes a toll, ya know. But the "ah ha" moment for my decision to retire came when I read an article in Digital Wealth News (Aug 10th) a couple months ago declaring my death. It woke me up (not from my death bed, though)."
"Yes, I had seen the introduction of the Bitcoin thing back years ago but wasn't too worried. But now I am in awe of the development of digital assets. The young 'whippersnapper' Bitcoin can do so much more than I can. Some nice people said I can be digitized too but I just don't have that fire in me anymore. I mean I can't keep fighting inflation, holding off higher interest rates, geopolitical events, etc. forever. Let Bitcoin take the reins and revolutionize the next 5,000 years. My time has come.
"So, thank you all again for your love and support, but 5,000 years is a wrap. I look forward to spending more time with my wife (silver) and extended family (copper, platinum, diamonds)."
Thanks for the memories, Gold.
---