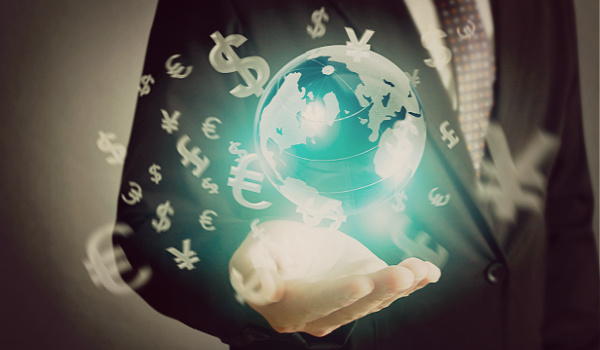 ---
By: Gerelyn Terzo 
While it's no secret that inflation has reared its head in the economy, one tech billionaire now warns that hyperinflation could be on the horizon. A legacy asset management firm that dates back to 1939 has collaborated with one of the cryptocurrency industry's most innovative wealth management platforms. Corporate America is making it easier for consumers to buy bitcoin and use it for payments. Facebook as the world knows it might be a thing of the past.
Tech Talk
Jack Dorsey, CEO of payments company Square, has issued a warning, not only saying that "hyperinflation is going to change everything" but that it's already happening. Dorsey, whose tweet received more than 17,000 retweets and nearly 73,000 "likes", went on to say hyperinflation will occur in the U.S. soon "and so the world." While many followers agreed with Dorsey, others complained that he should be careful what he wishes for, as hyperinflation "is the worst possible outcome for most." Dorsey was quick to quip that he doesn't wish for it, nor does he think it's positive. Square will be reporting its Q3 earnings in early November, during which time perhaps Dorsey will elaborate on his analysis.
PayPal has made it clear that it is not interested in scooping up e-commerce and pinboard site Pinterest after scuttlebutt flooded the market last week. The media reports were so pervasive that PayPal has since published an update on its website, calling any discussions mere "rumors" and clarifying that it is "not pursuing an acquisition of Pinterest at this time." The speculation suggested that PayPal was looking to acquire Pinterest for $70 per share, valuing the target company at approximately $39 billion, Bloomberg reported. Investors breathed a sigh of relief after PayPal set the record straight and sent shares of the digital payments company 6% higher in pre-market trading on Monday.
Corporate America
Walmart is helping bitcoin to reach wide-scale adoption. The big-box retailer has added bitcoin ATMs across some of its U.S. store locations. Customers will find 200 Coinstar ATMs sprinkled across Walmart stores in the country as part of a pilot program that extends to Coinstar and crypto wallet company CoinMe. Customers will be able to use cash to buy bitcoin at the machines. The bitcoin price has been trading above $60,000 and investors are showing signs of FOMO. Bitcoin ATMs at a major retailer like Walmart will make it easier for retail investors to catch bitcoin fever.
Mastercard is poised to announce greater support for cryptocurrencies through a partnership with Intercontinental Exchange spin-off Bakkt. According to a report on CNBC, the card giant plans to reveal that financial institutions and businesses in its network will be able to add cryptocurrency support in the near future. Consumers will be able to "buy, sell and hold digital assets through custodial wallets powered by the Bakkt platform and streamlined issuance of branded crypto debit and credit cards," according to the announcement. Users can also spend their crypto to make purchases. Bakkt will provide the custodial services. Given the billions of cards that Mastercard has issued, its crypto push could hasten bitcoin adoption in the U.S.
Source: Twitter
Hybrid Deals
Cryptocurrency wealth management platform BlockFi has partnered with legacy asset management firm Neuberger Berman to introduce a new product suite. As a result of the collaboration, which is taking the form of a new entity called BlockFi | NB, clients will be able to gain exposure to cryptocurrencies and take advantage of the expert advice offered by digital asset and wealth management experts. ETFs and other traditional investment vehicles will be included in the offering as well as "actively managed crypto strategies and BlockFi's retail and institutional crypto solutions," according to BlockFi cited by Blockworks.
Current, a fintech app on which users manage their money, is teaming with cryptocurrency infrastructure business Bison Trails, which is a division of crypto exchange Coinbase, to integrate DeFi capabilities. Current boasts 3 million users and announced its cryptocurrency plans over the spring in response to customer demand. Its collaboration with Bison Trails suggests that it is making progress. Bison Trails will help Current to become compatible with popular Polkadot parachains Karura and Acala. Current envisions a "hybrid finance (HyFi) future."
Payments Push
Fintech company Plaid is making a payments push by partnering with the likes of Square, Stripe and SoFi. Plaid launched a new solution that streamlines the process for consumers and merchants to access bank accounts for digital payments. The payments experts, like Square and Stripe, will offer users a "pay by bank" feature alongside options for credit and debit cards, for example. Bank payments are generally preferred for transactions such as remittance payments and invoices. In early 2021, regulators blocked Plaid from being acquired by card giant Visa in what would have been a blockbuster $3.5 billion deal.
Revolut, a British digital banking app, has announced commission-free cryptocurrency trading in the face of fierce competition. The new feature will let users trade up to $200,000 in cryptocurrencies with zero fees. Previously customers faced trading fees of between 1.5-2.5% for each transaction. Revolut has been operating in the U.S. since last year, where it is up against the likes of zero-fee online broker Robinhood. In addition, Revolut, which bills itself as an "app to manage all things money," is letting U.S. users access ATMs that are outside of its network and send nearly a dozen remittances each month for no charge.
Global payments and merchant card issuer Nium has introduced a Crypto-as-a-Service (CaaS) solution and expanded its Banking-as-a-Service (BaaS) solution to the U.S. Nium's Caas offering allows "institutions to add in-demand capabilities for cryptocurrency investment," according to the announcement. To start, the platform will support five cryptocurrencies in the U.S., including bitcoin, Ethereum and Litecoin, with plans to bolster the list to 20 coins across nearly three-dozen countries next year. Nium's "clients can embed capabilities to buy, sell, and hold crypto…with KYC, regulatory and compliance monitoring, brokerage, custody, and processing of the cryptocurrency" via an API linked to the fintech company's platform. Nium has more crypto plans in the pipeline.
Fun Facts
In case you don't recognize your Facebook wall, you might want to blame Mark Zuckerberg. The company is embarking on a rebranding campaign that will include a new name, one that is expected to be unveiled this week. Zuckerberg has previously said that he wants Facebook to be known more than just as a social media platform and is instead interested in becoming part of what's known as the metaverse.
---