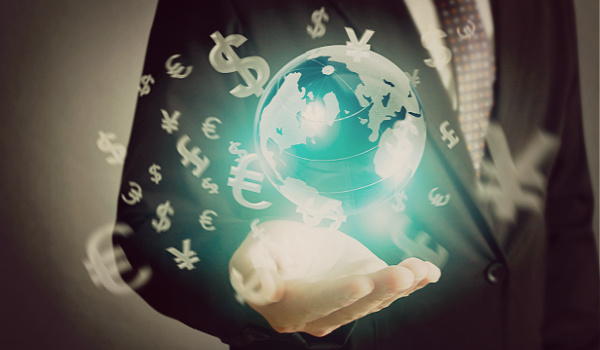 ---
By: Gerelyn Terzo
Billionaire hedge fund manager Ray Dalio has warned that sky-high inflation is eroding wealth and has offered some suggestions on how to fix it. Regulators have turned their backs on a bitcoin spot-market ETF yet again. Also, PayPal and Citigroup CEOs recently discussed "navigating the pandemic."
Deal Pipeline
Brazilian fintech Nubank has tipped its hand to further details about its upcoming IPO. Nubank parent company Nu Holdings will make its trading debut on the NYSE and Brazil's B3 exchange next month. More specifically, Nubank is targeting Dec. 9-10. Nubank has launched NuSócios, a program designed to allow users to own a little piece of the company before the IPO. Customers can gain access to a Brazilian Depositary Receipt (BDR) at zero cost via the Nubank mobile app, which Nubank estimates "will represent one-sixth of a class A common share of Nu Holdings," according to the announcement.
Electric vehicle (EV) maker Rivian, which now has a market cap of over $120 billion, has been one of the most high-profile IPOs of the year. And while Rivian may seem better suited for an update on Tesla's competitors, the deal had a fintech component to it. SoFi offered shares of the IPO to individual investors on its platform and was the sole company to do so. SoFi CEO Anthony Noto told Bloomberg "there was a lot of demand" from investors looking to gain exposure to innovation and EVs. He added that there was $300 million in demand from the company's investor base for the IPO and the deal was "well oversubscribed."
Money Morsels
Crowdfunding platform SMBX has amassed $11.5 million in a seed round to bolster its growth. Group 11 led the round, catapulting SMBX's total capital raised so far to $15 million. The company gives small businesses a way to raise capital via small business bonds that are sold to local customers as well as private investors. Returns can reportedly be up to 9%, and small businesses bypass the need to access bank financing. The bonds are open to both accredited and non-accredited investors.
One-Two Punch
With inflation currently hovering at 6%-plus, investors are stuck between a rock and a hard place, one in which billionaire Ray Dalio says their portfolios may be rising but their wealth is eroding. Dalio, who is the co-CIO of Bridgewater Associates, says people who have their wealth in cash are the most at risk. According to him, the United States is overspending, overprinting, and overcompensating. To get off the wrong path and get on the right one, he says Americans must bolster both production and cooperation.
While rising inflation is another reason for investors to flock to a sound money asset like bitcoin, regulators are not making it any easier. The U.S. SEC has rejected the latest application for a bitcoin spot-market ETF. VanEck's product would have given investors direct exposure to the leading cryptocurrency rather than providing exposure to bitcoin futures contracts, which is what the ProShares Bitcoin Strategy ETF (BITO) does. Regulators are afraid of market manipulation in the bitcoin spot market.
BNPL Latest
Card giant Mastercard has expanded its buy now pay later (BNPL) program. The company announced that Mastercard Installments, its BNPL initiative for consumers and merchants, has inked new partnerships from the likes of American Airlines, CSI, Fiserv and TSYS in the U.S. Down under, fintech Humm Group and payment platform Limepay have integrated Mastercard's model. Mastercard relies on what it calls an open loop model that offers the best of both worlds — access to installment payments with the security and protection of the Mastercard's payment rails.
Zilch, a London-based BNPL company, is targeting a U.S. expansion. The company made the announcement on the heels of a $110 million capital raise through which it achieved a $2 billion valuation. Zilch has already gained a footprint in Miami, Fla. and has hired nearly a dozen employees. Ventura Capital led the funding round.
Banking and Asset Management
PayPal chief Dan Schulman recently had a discussion with Citi CEO Jane Fraser about navigating the pandemic. Fraser doesn't see any "going back" to how things were before the pandemic reared its head and instead recognizes a "once-in-a-generation opportunity for companies to redefine their workplaces and how they operate." She points to "using digital as a way to take the chores out of processes," adding: "With new technologies we can do some leapfrogs here and move forward in a very positive way."
The traditional asset allocation models are evolving. Most recently, the 4% rule, which is what retirees live by for investment portfolio withdrawals, is becoming obsolete, according to Morningstar research. The 4% rule applies to the first year of retirement and reflects the amount investors should target for investment portfolio withdrawals in year one of living off retirement income. Given the changing market conditions, however, which could shift to lower stock and bond market returns soon, this model "may no longer be feasible," Morningstar states. Instead, they recommend sticking to a revised 3.3% rule to stretch the funds for longer.
The European Central Bank (ECB) has recruited ING alum Evelien Witlox to lead its digital euro program. The ECB is pursuing a two-year study on central bank digital currencies (CBDCs), and Witlox will take the helm of this program in early 2022. She previously spearheaded worldwide payment products and operations at ING.
Mambu, a SaaS cloud-banking platform, revealed in a new study that 75% of consumers around the world would be more prone to accessing digital banking soon vs. pre-pandemic times. The report, called, The Financial Tribes You Need to Know, reveals that more than 60% of consumers polled have turned to digital banking in the past year and a half, while 41% of consumers have done so for the first time due to COVID. Mambu identifies five consumer groups they label Techcelerators, Ethical Bankers, Convenience Cravers, Covidpreneurs, and Neo Asset Hoarders. The different consumer tribes reveal how "consumer behavior is adapting and what banks must do to stay ahead of the curve," stated Mambu CEO Eugene Danilkis.
Fun Fact
NFT artist Beeple has struck gold again. The creator has sold his Human One creation, which is an intersection of digital and physical art, in a $29 million transaction in a Christie's auction. He was featured in an interview with Jimmy Fallon on The Tonight Show to discuss the sculpture. Beeple thrust NFTs into the limelight with his $69 million sale of his previous masterpiece called Everydays, which he also sold via Christie's.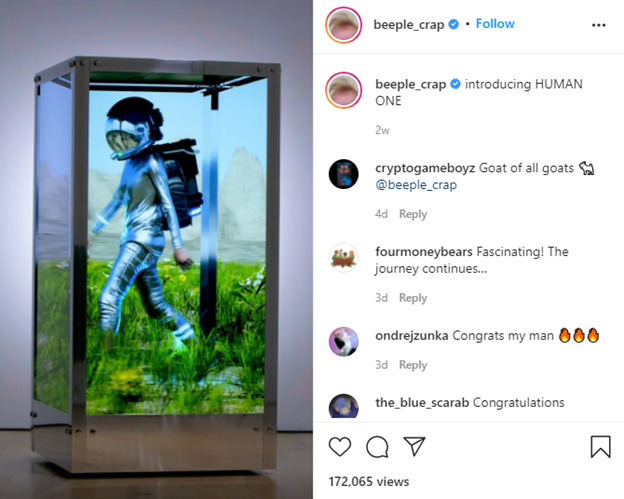 ---