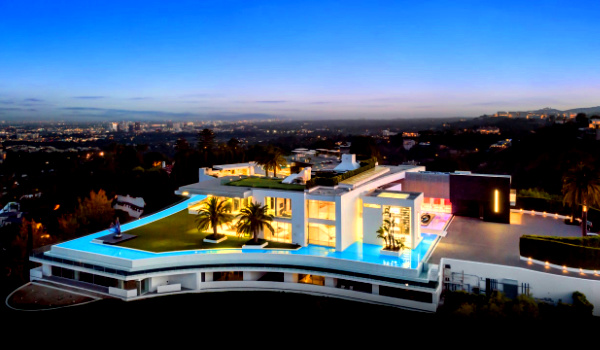 ---
Surely you have heard of "The One," right? Well if you are not up to date on glitzy Hollywood real estate chances are you just might have missed this. So, just what is "The One?" Lets see, how can this be briefly described?
First, "The One" is a massive 105,000-square-foot estate in the Los Angeles neighborhood of Bel Air. It claims to be the world's largest private residence
Second, it is America's most expensive home listed for sale at $295M
Third, the home was previously estimated to be worth $500M, so the current asking price seems like a bargain
Fourth, the owner/developer defaulted on over $165 million in loans and debt, placing it into receivership
So, interested? Here's a deeper detail dig. "The One" sits on 3.8 acres, its elevated position allows for 360-degree views of the Pacific Ocean, downtown Los Angeles, and the San Gabriel Mountains. The main home is surrounded on three sides by a moat (but no alligators) and spans 105,000 square feet—the master bedroom alone is 5,500 square feet and has a patio with a swimming pool and hot tub that overlook the city.
There's also a gargantuan nightclub; a souped-up beauty salon; a spa with multiple treatment rooms and two saunas; a 10,000-square-foot sky deck; a 400-foot outdoor running track with a glass-walled view of the city; and a Dolby Digital theater with more than 40 seats. Also, a four-lane bowling alley; a putting green, a state-of-the-art gym with Technogym equipment and a 64-foot indoor pool with juice bar; a tennis court; a 10,000-bottle wine cellar; and a 30-plus-car garage with two car-display turntables.
But wait, there's more. Got your check book or debit card? How about a two-story library with a balcony and water features on three windowed walls? A large swimming pool with an infinity edge on three sides and a huge deck; the yard, with 30-foot-high palms; ten bars, both indoors and out; a cigar lounge; and then a three-bedroom guest house with floor-to-ceiling windows, an Oto Murano chandelier by Vistosi, and parquet flooring. Enough?
"The One" was built by developer Nile Niami of Crestlloyd LLC over the last 10 years and only recently completed. It has never been lived in because there have been no buyers. None. Obviously a property like this requires a very "unique" buyer and it seems the usual suspects are missing………..or moved to Texas or Florida.
OK, your magnificent creation has no buyers, the project is in bankruptcy and its heading to auction. What to do? Tokenize? Nile Niami (the developer) now wants to tokenize the property. It makes sense. I mean if you can't afford to buy yourself a mega-mansion, how about buying coins that represent a portion of the mansion? It's been done before but never on this scale. So, would creating "The One Coin" make sense?
According to Niami,
"Once the tokens are created and traded, it would transfer the value of the house to the coin, making this the first-ever asset-backed coin by a one-of-a-kind piece of real estate and never again will this ever be able to be done."
"Unlike the Mona Lisa, you have hundreds of things you could do with "The One", from weddings to building businesses to unveiling new products, to world-changing pay-for-view events, to creating your own pay-for-view platform, to NFTs, and to never before done tokenizing a one-off real estate asset in a digital currency," he added.
So will "The One" be "saved" from the auction block next month? Will tokenization of the mega-mansion actually happen? Will someone step up and write a huge check for "The One?" Would there be a market for "The One Coin?" Stay tuned. Love big thinking.
---