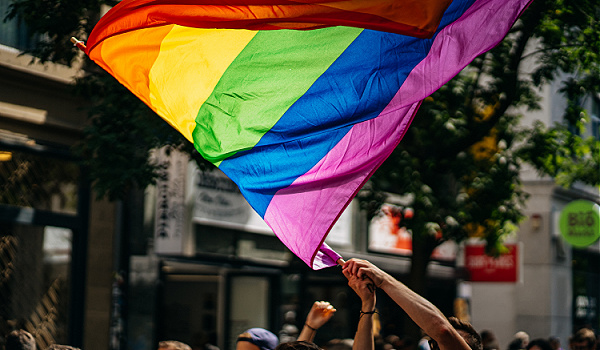 ---
From TIFIN Clout
As a financial advisor, you're well-versed in speaking to today's surging inflation, ongoing market volatility, and anticipated recession—it's a key part of the job.
However, as June's Pride Month arrives, it's important to recognize the potentially unique impact these market forces may have on a certain subset of your clients and prospects: the LGBTQ+ community.
Credit Suisse reports that LGBTQ+ consumer spending could be worth as much as $5.6 trillion. In fact, if the community were a national economy, it would be the third largest in the world—behind only the U.S. and China.
Despite their overwhelming spending power, the LGBTQ+ population still faces enormous barriers when it comes to establishing long-term financial wellness, with challenges ranging from the struggle to gain executive-level compensation in the job market to sometimes simply a higher cost of living.
It's essential to not only understand the unique challenges that the LGBTQ+ community faces, but also your role in helping these clients create, build and maintain wealth through an even more personalized approach to financial planning.
Why Financial Planning for the LGBTQ Community Is Different
When building a financial roadmap for LGBTQ clients, it's essential to remember some contrasts between their experiences and those of their cis-het counterparts. For example, Forbes has reported that those who identify as LGBTQ face significantly higher debt:
Mortgages: The average LGBTQ family has $198,498 in mortgage debt—5% higher than other families in the U.S. This may be attributed to more of the community residing within cities, where housing can be more expensive. This trend is likely to do with the fact that cities often provide greater safety and acceptance than rural areas. Cities also provide the opportunity to access communities of like-minded individuals and politics tend to be more favorable toward inclusivity. What's more, cultural diversity has been a cornerstone of the LGBTQ+ community for decades.
Student loans: Across the country, an average LGBTQ+ family owes over $70,000 in student loan debt, nearly 85% more than all American families. LGBTQ+ students are often hit hard by a combination of discriminatory obstacles that leave them saddled with significant student loan debt which weighs down their financial futures. Homophobic families may not financially support their students, leading LGBTQ+ students to turn to loans and greater self-reliance to finance their education. A 2019 survey conducted by Student Loan Hero found that LGBTQ borrowers had a higher debt burden on average, with $16,000 more than their cis-het peers.
Credit card debt: At $12,085 in credit card debt, LGBTQ+ families owe 16% more than the national average for credit card debt. This may stem from a reliance on credit for daily necessities because of lower incomes related to discriminatory practices in employment that often put people who identify with this community at a financial disadvantage.
As one LGBTQ+ financial planner shared with BDG Media's MIC, living within the community also comes with "a long list of extra costs" that the average investor may not consider. These expenses may include higher medical costs related to transgender health care or fertility treatment.
It's also important to note that financial planning doesn't necessarily become easier for older members of the LGBTQ community. One study by Prudential found that the LGBTQ community has saved less for retirement than the national average. This limited pool of resources is only further strained by the fact that some may have lost income due to periods of unemployment related to workplace discrimination, and others may not benefit from having a safety net in the form of family support.
When working with LGBTQ+ clients, it's essential to consider how these unique challenges may impact their daily life and long-term financial plans.
Financial Planning for the LGBTQ Community is a Growing Niche
As U.S. News explained, the 2015 Supreme Court decision allowing same-sex marriage nationwide made many long-term planning elements easier for LGBTQ couples. However, because much of the advancement of LGBTQ+ rights has occurred relatively recently, these individuals are still learning how to cope financially with the specific challenges that they face.
Following the ruling, married LGBTQ couples could immediately use Social Security claiming strategies that had been "off limits" days prior. Similarly, qualified retirement accounts could be passed onto surviving partners without the need to go through probate, and a widowed spouse would no longer need to pay estate tax on their deceased's assets. Although the 2015 ruling called for equal treatment under the law, there are still several reasons why advisors are carving out a niche serving LGBTQ clients—and why many are seeking out an advisor with an inclusive mindset and a keen understanding of their needs.
Working with clients within this niche requires an extra degree of understanding and care. In addition, financial planning for LGBTQ+ families has to consider factors such as income differentials, potential trans planning issues, and unique elder care and estate planning needs.
How Advisors Can Help LGBTQ Clients With Planning
Discussing your finances with anyone can often feel awkward regardless of the situation. However, layering on some of the complex considerations that the LGBTQ+ community faces can make the conversation more difficult at times.
As a financial advisor, you can help alleviate those nerves. You should:
Consider and Account for Differences
As you would with any investor, you'll need to consider each individual's unique financial positioning and day-to-day lifestyle. However, for advisors interested in offering consultancy to this community, it will be key to consider LGBTQ-specific challenges your clients may face.
To best understand each individual's situation and how it may be different from other clients you've worked with, it can be beneficial to seek out education on the LGBTQ+ experience. You can find webinars and helpful articles on sites including the XY Planning Network, the Financial Planning Association's Pride Planners, or the National Association of Personal Financial Advisor's (NAPFA) Diversity Committee.
Familiarize Yourself with the Nuances of Family Planning
Whether a couple decides to pursue adoption, fostering or surrogacy, the expenses—and the emotional labor—associated with each can put an enormous strain on their finances and long-term plans. Taking the time to familiarize yourself with every option as well as state-specific regulations on relevant tax credits can help assure your clients they're in the right hands.
It's equally important to never assume a couple wants to have children or get married. For the latter, that also means understanding the complexities of sharing bank accounts, splitting expenses and filing returns without the safeguards created by legal marriage. For example, domestic partnerships in community property states require multiple tax returns, and both individuals will need to establish clear estate plans in the event something unexpected happens.
Establish Spending Plans
For new clients, debt may have taken a back seat as a result of health care expenses, moving to a high-cost part of the country or even independently funding college. With these factors in mind, it will be essential to create a spending plan that not only aligns with clients' long-term goals, but also helps them manage any existing debt and expenses specific to their experiences as an LGBTQ+ individual.
Build an Inclusive Mindset Into Your Firm
Offering guidance to LGBTQ+ clients is only the first step in catering to this diverse community; it's equally as important to ensure existing and new LGBTQ+ clients are made to feel welcome by all members of your firm. Consider the following questions from Morningstar as you work to add inclusive aspects to your firm:
Do your marketing materials include diverse imagery inclusive of the LGBTQ+ community?
Does the language on your website include spouses or same-sex couples?
Are your LGBTQ-specific services easily identifiable? Do you have specific, relatable examples of these offerings?
Remember: inclusivity is a year-round effort. Although Pride Month serves as a celebration of the contributions and progress the LGBTQ+ community has made, there's still work to be done. As an advisor, taking the time to recognize the community's accomplishments and educating yourself on what makes their experiences unique can make all the difference when it comes to financially empowering both new and old clients.
References:
Auten, J. S. and D. (2021, January 8). The LGBT community faces these 5 financial challenges. Forbes. Retrieved May 25, 2022, from https://www.forbes.com/sites/debtfreeguys/2019/03/20/the-lgbt-community-faces-these-5-financial-challenges/?sh=6b1ab89d764c
Duncan, T. A. (2021, November 17). Financial planning is different for queer people. Mic. Retrieved May 25, 2022, from https://www.mic.com/identity/lgbtq-financial-planning
McMahon, K. (2021, June 30). The LGBTQ+ community faces a bifurcated experience when it comes to investing. experts explain where the investment industry is successfully breaking down barriers, and where it's still failing to create equity. Business Insider. Retrieved May 25, 2022, from https://www.businessinsider.com/inequity-investing-lgbtq-community-progress-costs-challenges-bifurcation-investment-profession-2021-6
Schmidt, J. (2021, May 18). LGBTQ retirement: Looking back to look forward. Forbes. Retrieved May 25, 2022, from https://www.forbes.com/advisor/retirement/lgbtq-retirement-data-history/
Stalter, K. (2020, October 5). Advisors see planning for LGBTQ community a growing niche. Retrieved May 25, 2022, from https://money.usnews.com/financial-advisors/articles/advisors-see-planning-for-lgbtq-community-a-growing-niche
Thompson, B. (2021, March 5). How advisors can help LGBTQ clients with planning. Morningstar, Inc. Retrieved May 25, 2022, from https://www.morningstar.com/articles/1027723/how-advisors-can-help-lgbtq-clients-with-planning
---