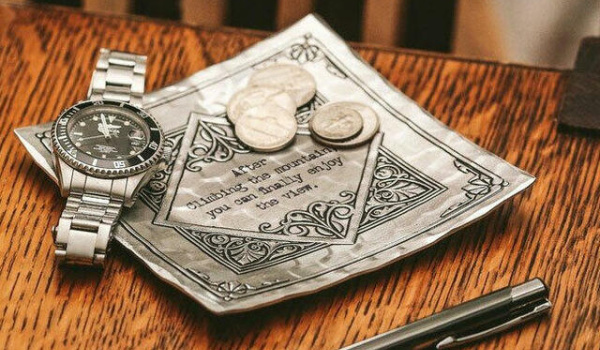 ---
Wendell August Forges doesn't seem like the kind of company that would have a link to digital assets.
Not only is it small, private and old, Wendell August prides itself on doing things in an old-fashioned, intentional, hands-on manner. The company is in the business of crafting metal gift ware and collectibles, according to Chairman and Chief Strategy Officer Will Knecht.
"We make everything from Christmas ornaments to serveware to awards in the corporate space," Knecht said. "When it's an important event and tradition, companies and families rely on us."
In the company's Mercer, Pa. workshop, the air is filled with the sounds of ball-peen hammers and anvils creating tangible mementos for its clients—but this year, it  is launching a new tradition and a new type of collectibles. Wendell August is joining the NFT world.
Wendell August NFTs are Knecht's brainchild.
"I've been investigating this universe and trying to get my 55-year-old mind around what an NFT is, and over the past eight or nine months I've done a lot of webinars and podcasts," said Knecht, but the turning point was the December 2021 Metaverse conference in Puerto Rico. "I'm watching artists and folks on the stage talking about the collectibles they're creating, and I saw the intersection for Wendell August on the digital and physical world.
"We've been making art and collectibles for 99 years, here's an opportunity to do the same thing in the digital space."
A Step Into the Phygital
On June 16, with assistance from Sarson Funds, Wendell August will launch its first set of NFTs. The first launch will represent the company's most popular product, it's annual Christmas ornament that it's been producing since 1980. Each year's ornament is designed uniquely for that year.
Interestingly enough, Knecht said that Wendell August is one of the first real-world collectible companies to move aggressively into NFTs.
"I haven't seen this type of thing hitting the NFT space.  I really feel like we are on the leading edge with this launch."
According to Knecht, thousands of people buy the Wendell August ornament each year, with some companies and families  making it a 40-year annual tradition.
"We've used artwork to launch physical Christmas ornaments and now an NFT," said Knecht. "Now, every one of our initial 5,000 NFT buyers will receive in addition to their ownership of the NFT a physical coin that we will mint in the physical world—on one side of the coin will be the artwork for the annual ornament, while on the other will be some kind of nod to the new digital world using digitally-inspired art."
Thus, the NFT becomes a true combination of the physical and digital worlds, or, as Knecht calls it, "phygital."
New Audiences
Another element of the NFT's world-bridging characteristics will be how consumers can pay for it—Wendell August will accept credit cards and Ethereum tokens.
While most NFTs can be acquired with Ethereum, relatively few can be bought with a credit card, said Knecht, potentially opening up digital assets to new collectors and audiences.
"That's trying to remove friction from people like me trying to buy NFTs, because, to be honest, creating a MetaMask wallet sounds like a lot of work to me," he said. "If I can buy an NFT with a credit card, it's a game changer."
While Knecht is enthusiastic about expanding the company into the digital world, don't expect Wendell August to transform into an NFT marketplace any time soon.
"We will value old-world craftsmanship and artistry here until I die, it's who we are, but as I sat there at that conference and watched all these younger people talking about collectibles and artwork and how passionate they were about these digital collectibles and art, I saw clearly that this was a next-generation move for Wendell August," he said. "This not only helps us tap further into our existing customer base, but also aligns us with the next iteration of collectibles and art, which is clearly the NFT."
As Knecht tells it, collectors should embrace physical-world incumbents entering the NFT space. Companies like Wendell August have had remarkable staying power in the often fickle art and collectible space.
NFT sponsors with staying power should be able to produce NFTs with staying power, Knecht said.
WATCH FOR PART 2 OF THIS SERIES NEXT WEEK ON DIGITAL WEALTH NEWS
---