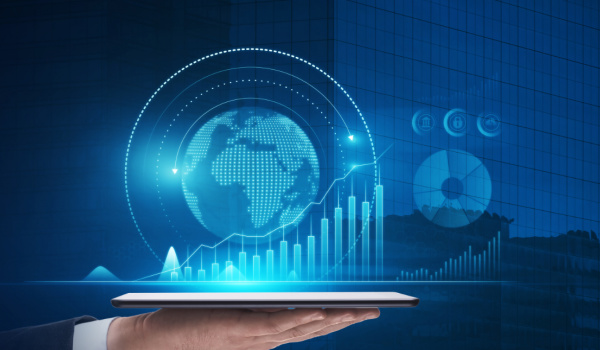 ---
By Christopher Robbins
Just as volatility, recession and inflation have become part of the financial community's daily lexicon in 2022, a whole host of solutions to help address these problems are being launched—from consumer-facing technology that helps find and lock-in the best rates for borrowing, to cryptocurrency and digital assets innovations offering new ways to access the asset classes to advisors and investors.
So while there are worries that more pain is in store for markets and a recession is imminent, if not incipient, fintech continues to find ways to grow and remain relevant in the lives of both consumers and financial professionals.
In fact, it may be that the potential market and economy tumult may create new green pastures for fintech innovation and development.
Let's look at a sampling of what's happening in digital wealth this week:
Crypto, Blockchain and Digital Assets
Abra — Abra announced the Abra Crypto Card, the first crypto rewards credit card on the American Express network that will transact in U.S. dollars and offer crypto back on any purchase category and amount.
Abra also announced a new, fully integrated feature to buy and sell NFTs with managed custody and full collection gallery in the Abra app.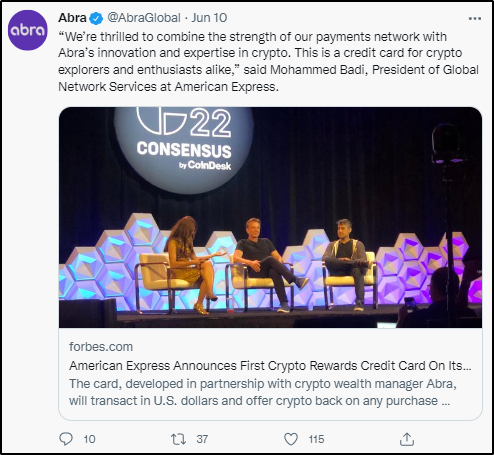 Appota — Appota Group announced the close of a financing round led by Mirae Asset Venture Investment with participation from other strategic partners. The investment is earmarked for developing the company's blockchain ecosystem based on its 10-year gaming publishing business.
The funds will support projects including ChainVerse, which helps gaming studios integrate blockchain digital assets into games, and AceStarter, a launchpad for bloclchain projects globally.
Lamina — Cryptocurrency pioneer Peter Vessenes and Snow Crash author Neal Stephenson are announcing Lamina1, a new Layer-1 blockchain technology designed for the Metaverse with Web3 principles in mind.
Ledgible — Ledgible, a professional-first crypto tax and accounting platform, today announced $20 million in funding for its Series A Round led by EJF Capital through its affiliate, the EJF Silvergate Ventures Fund.
Joining the round are JAM FINTOP, Thomson Reuters Ventures, TTV Capital, Fenbushi US, Commerce Ventures, Nathan McCauley, and Perkins Coie. Ledgible now stands at the forefront of the professional-focused crypto tax & accounting industry. This investment will be used to expand Ledgible's product offerings as well as significantly grow its teams to meet the growing demand for its offerings.
WealthTech
Envestnet — Envestnet announced organizational changes to accelerate the growth of the Envestnet financial wellness ecosystem by streamlining its business into three business lines: Envestnet Solutions, Envestnet Data and Analytics, and Envestnet WealthTech.
The firm also announced three Group Presidents for the new business lines. Dana D'Auria has been named Group President and Co-Chief Investment Officer, Envestnet Solutions; Farouk Ferchichi has been named Group President, Envestnet Data and Analytics; and Tony Leal has been named Group President, Envestnet WealthTech. Tom Sipp will serve as Envestnet's Executive Vice President, Business Lines, and provide leadership to bring the parts of the Envestnet organization together to meet the evolving needs of advisors, banks, FinTechs, and their clients through data and wealth solutions.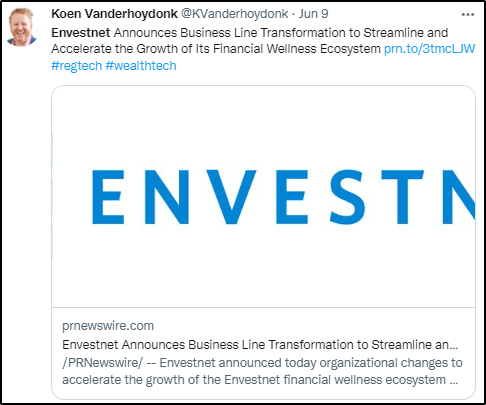 Personal Finance and Apps
StellarFi — StellarFi announced a partnership with the National Foundation for Credit Counseling (NFCC) in Washington, D.C., to connect members to free financial counseling. NFCC is the largest and longest-serving nonprofit financial counseling organization in the country. It boasts rigorous accreditation standards for its member agencies.
StellarFi, which plans to publicly launch later this month, is on a mission to disrupt the U.S. poverty cycle by opening access to credit to the 132 million Americans who currently have poor credit or no credit, improving financial literacy and empowering members to take control of their respective financial journeys and achieve their goals. The company enables members to dramatically increase their credit scores using their everyday bills and payments such as rent and utilities, which StellarFi reports directly to the three main credit bureaus—Experian, Equifax, and TransUnion—to help people build positive credit.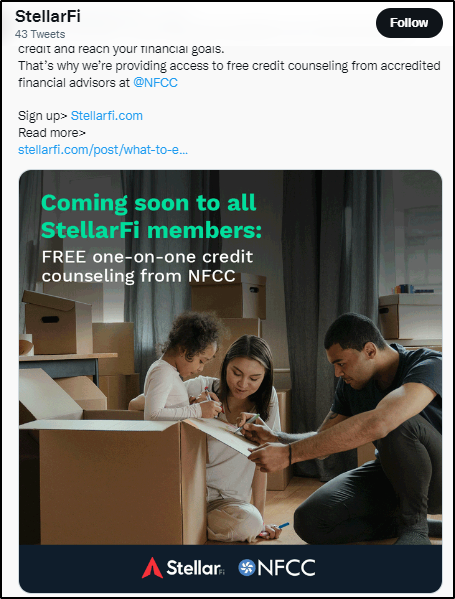 Guaranteed Rate — Guaranteed Rate significant investments to rapidly develop end-to-end digital solutions to serve customers across a diverse array of financial products beyond mortgages. End-to-end digital HELOCs are already available in 41 states and Washington, D.C., and end-to-end digital personal loans are currently being piloted in Illinois and soon to be rolled out nationally.
These new fintech solutions will be designed for rapid scaling nationwide and feature low-friction customer experiences that emphasize speed, flexibility and convenience. Alongside Guaranteed Rate's industry-leading digital mortgage customer experience, these new digital products will enable the company to develop broader, deeper, longer-lasting and higher value relationships with its customers.
Payments
Glow — Glow announccd the establishment of a new Board of Advisors comprising of seven former CEOs of telecoms companies, two financing experts and the CBI President. The role of the Board is to help the Company achieve its strategic growth objectives and market expansion. The establishment of the new Board follows Glow's new FinTech launch with a major global OEM in the UK and its expansion to the Netherlands, Germany, the Nordics and the USA.
Fiserv — Nekoosa Port Edwards State Bank today became the 1,000th financial institution to offer Zelle via Fiserv. Zelle allows consumers to send and receive money directly from one U.S. bank account to another, typically within minutes when both parties are already enrolled.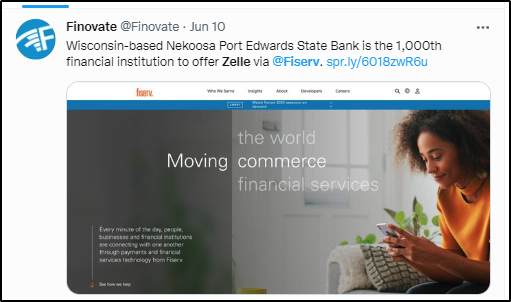 Banking, Investing and Infrastructure
ComplyAdvantage — ComplyAdvantage announced that Mark Watson has been named as the company's Chief Technology Officer and newest addition to the leadership team. In his role, Mark will lead all engineering and technical innovation efforts including the expansion of the company's proprietary knowledge graph called ComplyData.
YieldStreet — YieldStreet announced its new partnership with Luma Financial Technologies, a global multi-issuer technology platform for market-linked investments. Through this partnership, Yieldstreet will empower investors on its platform to more effectively and strategically invest in its Structured Notes Portfolios. They have the potential to allow investors to earn higher levels of income compared to traditional fixed income assets and can also allow investors to participate in potential public market upswings. The structure of the notes also provides investors with a degree of protection should public markets slide after their purchase.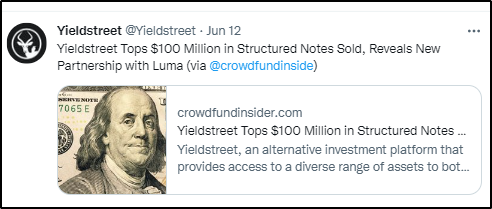 Proper Finance — Proper Finance, the integrated reconciliation and ledger data platform that enables financial technology companies to maintain complete financial accuracy, closed a $4.3M seed round led by Redpoint Ventures with participation from BoxGroup, Mischief, Y Combinator, and more.
Some of the tech industry's fastest-growing startups belong to the fintech ecosystem. Through new financial tools and services, these companies entirely reshaped how consumers and businesses interact with their finances, moving money around the world at unprecedented levels of speed and volume. Such rapid growth makes it nearly impossible for these fintechs to scale their reconciliation processes, making them vulnerable to financial data inaccuracies that can mount into larger financial problems that are sometimes impossible to solve.
---