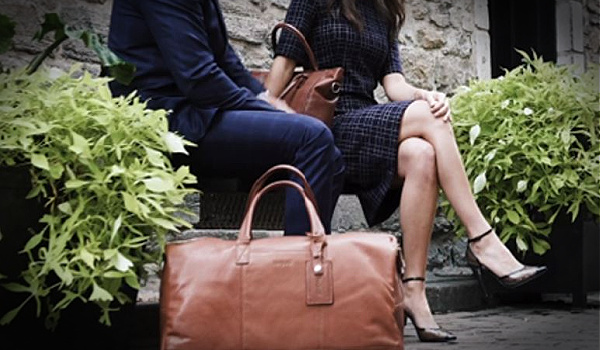 ---
The universe of luxury and the metaverse of non-fungible tokens (NFTs) may seem like strange bedfellows, but in reality, they were made for each other.
That's why The Bugatti Group, an 82-year-old Montreal-based owner of eight luxury brands focused primarily on bags and luggage, is preparing to enter the NFT space.
"It offers us a new channel to create a new collection, a new branch where we can enhance our creativity, our user experience and our connection with our users," said James Hattem, NFT director and business developer for Bugatti Group. "We get to create something that is way more immersive and fun."
Luxury brands are about more than the physical product—they create relationships with their consumers, who in turn are often interested in joining or participating in communities of like-minded consumers.
A luxury experience shouldn't end when a product is bought, said Hattem.
"Once you go to retail and purchase a bag, it seems like that is often the endgame, nothing more goes on," he said. "Creating the experience with an NFT approach offers a life to the item, there's something more that happens after the purchase."
NFTs, by their ability to be unique and exclusive but also portable and functional to create user experiences and communities, fit in perfect with Bugatti's long-term vision. Now, the relationship moves beyond retail and into the metaverse.
"Each product is now backed by code that authenticate that product," said Hattem. "It can't be replicated, duplicated or replaced, there's one and only one per product. From there you can offer more exclusivity."
Bugatti's launch follows that of Gucci, which premiered the world's first digital luxury sneaker. Brands like Adidas have also made their own forays into NFTs.
For the same reasons that fashion is popular and desirable in the real world, Hattem believes it will successfully penetrate the metaverse. People will look to visual cues to signal their individuality, their personal attributes, or their membership in groups.
"These are intended to be portable throughout the metaverse, you'll be able to use them, wear them, go through them," he said. "We want to make sure that its worth it for people to buy an NFT in the long run, and that every dollar spent towards us is rewarded. So these NFTs will be all about giving our consumers privileges."
NFTs give luxury brands the ability to enhance customer relationships, build communities and broaden the user experience.
Bugatti's NFTs will be personified digital representations of some of its products.
"We're creating characters using our physical goods, so the image of the NFT is in fact the physical good that you're going to receive, but we've added some fun attributes to it to make it more of a character so it can reside and be interacted with in the metaverse," said Hattem, who added that at launch there will be six different products attached to NFTs. "We're bringing to life these physical products with NFTs."
Its first NFT collection will attempt to bridge the gap between fashion and the next generation of digital consumer products—the NFTs blend Bugatti's real-world products with digital components, creating a "phygital" customer experience—conferring not just the ability to display or use the product in the metaverse, but the ability to interact with it as well.
Bugatti is also thinking multi-dimensionally about the utility of NFTs, said Hattem, and is working to bring in "collaborators," with some of it licensing partners getting involved in the launch. The firm's licensing partners include Celine Dion, the Rolling Stones and K-pop megagroup BlackPink.
Participation in the Bugatti NFTs will open up other exclusive opportunities, including access to ever-more exclusive products, said Hattem. Some projects may offer 10,000 to 20,000 units for purchase, others may be limited to 1,000 to 10,000.
"If we're coming out with a special release with a special brand, it's going to be very exclusive and hard to get," said Hattem. "Now it can be attached to another entire project—so if you hold an NFT, you can get access to other limited releases—or events with that artist, or a private showroom where we'll showcase our next release. There's so much more we can do, this is an entire new branch for brands to adapt to that creates an enhanced sense of community and a user-friendly experience."
Bugatti is thinking long-term about creating a "store in store" of unique collections that are all exclusive, collaborative and unique, as well as "fun," said Hattem. Towards that end, the firm is beginning to evolve its online store towards the metaverse.
In the future, the Bugatti Group's "virtual store" will have a runway to promote future NFT drops, where users can access all existing collections launched via NFTs.
"A lot of this is going to be very exclusive, we're collaborating closely with our community on how this is built," said Hattem. "So far our response is tremendously positive: people are excited."
Community members will also help set the future course of Bugatti NFTs, said Hattem.
According to Hattem, Bugatti Group's brands already pride themselves on reaching diverse audiences across the social, demographic and economic spectrum—"affordable luxury" is built into the Bugatti Group's identity. Still, the advent of Bugatti NFTs may help expose its brands to a new cohort of consumers.
"We always think there's a lot more we can do to bring people in, we've always sought to serve all sorts of people, there's a fit for everybody," said Hattem. "Even ages—our NFTs are for 60-year olds, 45, all the way down to 18."
---