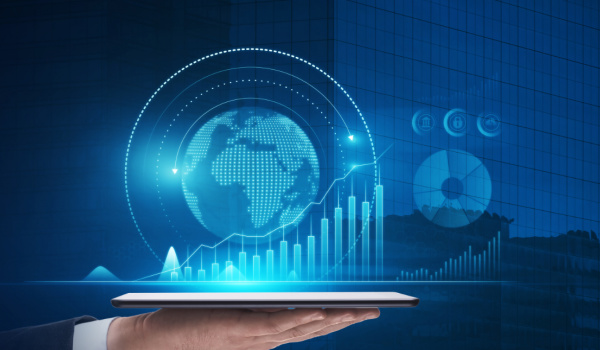 ---
By Christopher Robbins
This week in digital wealth, we have numerous announcements of new partnerships, headlined by a connection between Marstone and American Century to offer the latter's clients with Marstone's digital wealth management platform.
Elsewhere, we have impressive funding announcements from the likes of CAIS and Polysign.
In the consumer-facing fintech world, we have announcements two interesting applications featured, literally and figuratively. One, Circa, is focused on helping renters build their credit. Another, Future Family, is offering 0% financing to help fund fertility care for families.
All told, there are some truly exciting and innovative developments in the world of financial technology, especially when one takes the time to venture away from the well-trod realms of roboadvisors and asset management platforms.
---
Wealthtech and Investments
CAIS — CAIS announced a strategic investment from Hamilton Lane, a private markets investment management firm with more than $901 billion in assets under management and supervision. Hamilton Lane is the latest in a series of CAIS investors that have participated in the most recent financing, including Apollo, Motive Partners, Franklin Templeton, Reverence Capital Partners and Stone Point Ventures, which has resulted in the Company's enterprise valuation exceeding $1.1 billion. Terms of the investment were not disclosed.
Marstone — Marstone announced a commercial relationship with American Century Investments, the $230 billion* global asset manager, providing clients with Marstone's digital wealth management platform. This relationship marks the start of a new, digital-first business line for American Century, opening up its portfolios to a broader client base due to lower initial investment amounts, and providing Marstone's digital advice services via its trusted client portal. As end clients' investment needs change and new clients seek out advanced digital wealth solutions from their chosen financial partners, Marstone provides a modern, unified customer experience that enables clients to open and manage their unique digital advice accounts. Together, Marstone and American Century are striving to provide a futureproof investment platform for the next generation of investors.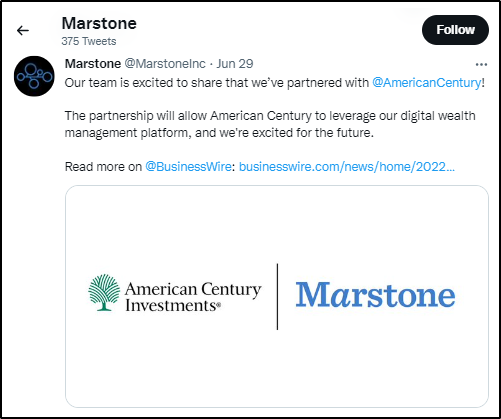 Elevate Money — Elevate Money announced the debut of its iOS app on the Apple App Store, bringing its fractional real estate investing platform to both desktop and mobile. The new app was conceived by co-founder Alex Cruttenden, former product designer for the popular investment app Acorns. The app's design features a modern user experience, simple typography, dark mode, snackable infographics and gamification. The result is an easy-to-use, sleek, Venmo-like interface that aims to appeal to millennials and Gen Z, who are projected to overtake baby boomers and control a majority of U.S. wealth by 2030.
Payments, Banking and Infrastructure
Payrailz — Payrailz a digital payments company offering engaging payment experiences to banks and credit unions across the United States, announced a strategic reseller partnership with Michigan-based CU*Answers, a leading service provider for credit unions throughout the United States, where they will resell Payrailz' Bill Pay, P2P, A2A and Pay A Loan services to their credit union clients.
Tassat Group — Tassat Group announced that Orlando, Florida-headquartered Cogent Bank has launched a fully-integrated digital banking platform powered by Tassat. The private permissioned blockchain-based payments platform, now available to Cogent Bank's business-to-business clients, clients, is the latest adoption of TassatPay by a bank for use in its clients' transactions.
Galileo Financial Technologies — Galileo Financial Technologies, a financial technology company owned and operated independently by SoFi Technologies, announced that its API-enabled financial technology powers Flyp. Flyp is a banking app and digital wallet, with gamified rewards, challenges, and quests to attract, engage and retain customers. Through its direct integration, Galileo's underlying solution — complete with fraud indicators, analytics dashboards, and more — will serve as the backbone of Flyp's growing gamified banking-as-a-service (BaaS) platform. Flyp's approach is resonating with consumers because every penny counts right now, and many are looking to solutions that pair no- or low-fee options with the seamless user experience they have grown accustomed to in their digital-first lives.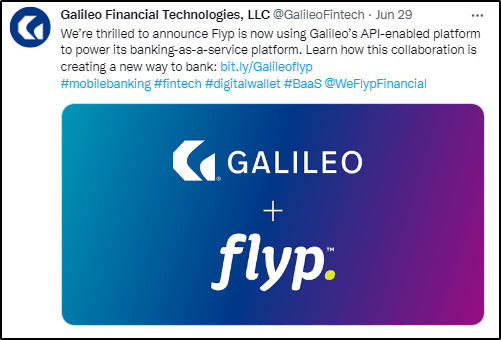 Crypto, Blockchain and Digital Assets
FusionIQ — Fusion IQ expanded its fully-digital, single-sign-on investment platform with a cryptocurrency asset class. This expansion comes via a partnership with Equity Trust Company (Equity Trust), one of the largest, most trusted and highest-rated custodians specializing in digital currencies and other alternative assets.
FusionIQ and Equity Trust are offering access to 18 leading cryptocurrencies and allowing investors to hold crypto within their IRA or non-retirement accounts. This affords investors an alternative to third-party crypto platforms through integration with digital account opening capabilities and a user-friendly experience, all within a firm's white-labeled platform.
Crescent — Crescent has launched a cash management platform that aggregates top business-friendly yields and helps companies deploy idle capital easily through automation and cash flow insights. Current yields include a 4% APY USDC-backed yield and 1% APY FDIC insured yield option.
WireX — Wirex, a payments platform, has launched Wirex Credit, offering highly competitive interest rates and no origination fee for crypto-backed loans. Users can easily borrow up to $100,000 in stablecoins, with a loan to value (LTV) of up to 80% within the Wirex app. The product enables users to gain access to credit regardless of market conditions, whether that earning funds from investing into DeFi protocols or purchasing a getaway using the Wirex card.
PolySign — PolySign , a financial technology company providing blockchain-enabled digital asset infrastructure for institutional investors, announced the close of its $53M Series C funding round with participation by Cowen Digital, Brevan Howard, GSR and more. Beyond the funding, PolySign also secured a $25M credit facility with Boathouse Capital.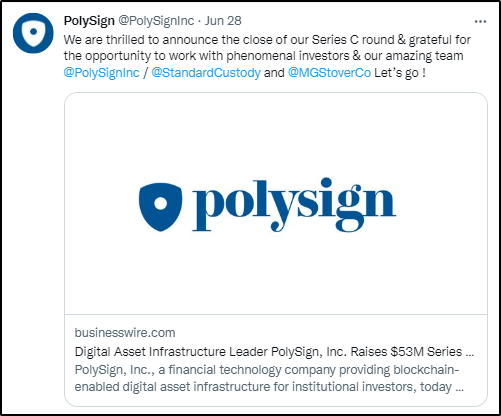 Standard Custody & Trust Company – Standard Custody & Trust Company, a next-generation NYDFS regulated custodian and subsidiary of PolySign, offers a security program that combines proprietary blockchain technology, end-to-end encryption, and distributed trust protocols to protect private keys. The platform's integrated escrow solution enables investors to buy and sell digital assets directly from custody, reducing the risk of external transfers and inefficient transactions between multiple accounts and different providers.
Bitcoin Depot — Bitcoin Depot announced the launch of BDCheckout, enabling customers to load cash to their Bitcoin Depot digital wallet, where they can then purchase Bitcoin. BDCheckout will expand Bitcoin Depot's crypto access points to thousands of new locations. BDCheckout is an in-app experience that will make it more convenient for customers across North America to load cash to their Bitcoin Depot digital wallets—right at the cash register. Bitcoin Depot continues to grow as the largest cryptocurrency ATM operator after increasing crypto access points for customers with this new service.
Fintech and Personal Finance
Circa — Circa, a payments technology company, has added positive credit reporting through TransUnion to its rent payment solution. The addition of credit reporting to Circa's existing offering of flexible payments and integrated communications enables residents to build positive credit history from on-time rent payments.
Future Family — Future Family, a fertility finance platform pairing a modern fintech experience with client care and wellness support, announced that it will add a 0% interest rate fertility financing program to its offerings. This first-of-its-kind plan enables prospective parents to pay for high-cost fertility treatments with no additional interest for up to 12 months. This is a game-changing alternative to large upfront payments or high-interest rate credit cards. Future Family is kicking off the program in partnership with CCRM Fertility, the global pioneer in fertility science, research, and treatment.
---