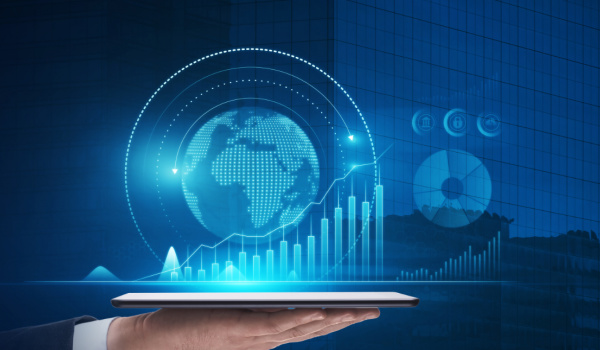 ---
By Christopher Robbins
Though we have no new financially related SpongeBob SquarePants news, this week in digital wealth we have a number of interesting announcements, perhaps the most unusual is the announcement of a new NFT-membership-only "cannabis consumption lounge" in Brooklyn.
In the world of banking and payments we have a new cross-border solution from American Express specifically designed for small businesses. In the world of wealthtech, a new educational partnership for Kitces.com, home to Michael Kitces' "Nerd's Eye View" blog.
Aside from the cannabis consumption lounge, we have the jaw-dropping news from MicrosSrategy as the biggest story in crypto in this week's newsletter, and in the world of personal finance and apps, a new affordability capability from Realtor.com makes the cut.
We should note that a number of property-tech and real estate tech announcements just missed the cut this week, it's been a very active space through the first seven months of 2022.
---
Banking, Payments and Infrastructure
American Express — American Express announced American Express Global Pay – a digital solution that enables U.S. businesses to securely make domestic and international business-to-business payments. Through this new digital solution, business customers can send payments funded from their business bank account to their suppliers in more than 40 countries, across a range of currencies, using a simple, mobile-friendly platform. American Express Global Pay is currently available to eligible U.S. American Express Small Business Card Members.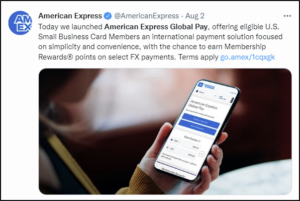 Transact — Transact announced an enhanced partnership with GradGuard, the leading provider of college renters and tuition insurance. The partnership will provide families and students with peace of mind that their investment can be protected should they be faced with unexpected events impacting their college plans. GradGuard insurance will be fully integrated into Transact's financial payment systems, simplifying the financial steps should a student need to withdraw from college before the end of an academic term due to an unforeseen covered accident, injury, or other medical situation.
Open Payment Network — Open Payment Network and North American Banking Company announced the capability to deliver instant payments to and from any financial institution on The Clearing House's Real Time Payment (TCH-RTP) network through NABC's ExcheQ application. By leveraging OPN's certified interoperability with TCH-RTP, NABC can offer customers more payment options along with the payment speed for which ExcheQ is known.
WealthTech and Investing
CAIS — CAIS and Hilltop Securities announced a strategic partnership that connects HilltopSecurities' financial advisor network with quality alternative investment products spanning hedge funds, private equity and debt, and real estate. HilltopSecurities' network of nearly 275 advisors across the firm and its affiliate broker-dealer, Momentum Independent Network, will receive access to a curated menu of funds based on the unique needs of advisors and their clients. The CAIS platform also offers independent due diligence for quality assurance, as well as end-to-end transaction processing and automated reporting integrations.
Smartria — Smartria, a powerful, easy-to-use cloud-based software solution designed to meet the specialized compliance management needs of investment advisors, compliance teams, operations teams, consultants, and attorneys, has announced a partnership with Kitces.com to provide online education content for CE credits through the Smartria platform to address the North American Securities Administrators Association's (NASAA) Investment Adviser Representative Continuing Education (IAR CE) Model Rule. Kitces.com is home to the Nerd's Eye View financial planning industry blog published by Michael Kitces, and a leading provider of advanced education for financial advisors.
Crypto, Blockchain and Digital Assets
InvestDEFY — InvestDEFY announced the launch of STACC, a dynamic weekly yield enhancement program for BTC and ETH. Without employing leverage, STACC enables the growth of an investor's stack of BTC and/or ETH, boasting greater annual percentage yields (APYs) than traditional call and put writing strategies. Driven by InvestDEFY's Digital Asset Trading Automation (D.A.T.A.) platform and guided by its DORA Predictive Explorer analytics platform, the STACC program is optimized to generate attractive APYs each week while allowing for upside participation on the underlying asset.
MicroStrategy — MicroStrategy announced that, as of August 8, 2022, Michael Saylor will assume the new role of Executive Chairman and Phong Le, the Company's President, will also serve as the Company's new Chief Executive Officer and as a member of the Board of Directors. Mr. Saylor will remain the Chairman of the Board of Directors and an executive officer of the Company.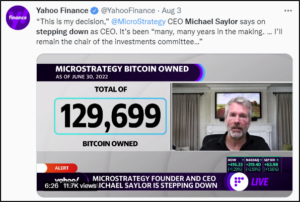 Binance — Binance announced the appointment of its Co-Founder Yi He as the new head of its venture capital (VC) arm and incubator, Binance Labs. Binance Labs is the largest crypto VC in the industry by Asset Under Management. Yi will lead global strategy and the day-to-day operations at Binance Labs. Part of her focus will be on significantly supporting infrastructure projects and improving utility in innovative crypto and blockchain projects.
BankProv — BankProv announced today a new Banking-as-a-Service (BaaS) partnership with Fortress Trust, a Web3 infrastructure company, and Treasury Prime, a leading BaaS technology provider. Through this partnership, Fortress will launch its advanced NFT, crypto, fiat, and alt-asset infrastructure and custody services, with fiat services provided by BankProv.
Fortress Trust — Fortress Trust Company, a wholly-owned subsidiary of Fortress Blockchain Technologies, welcomes Joe Mulberry to its executive team as EVP of Regulatory Licensing.
Joe joins Fortress after 30 years of government service at the Wyoming Banking Division where he served as Deputy Commissioner and most recently as Interim-Banking Commissioner. While at the Banking Division, Joe's primary duties were to supervise all money transmitters and non-bank consumer lenders.
droppLabs — Trufflez, a vertically integrated premium cannabis company and droppLabs, a subsidiary of Dropp Group ("Dropp"), the future-forward web3 enabler, today announce the world's first NFT membership cannabis consumption lounge in New York. The companies partnered in March this year to launch TrufflezNFT, an innovative NFT project that democratizes ownership of cannabis-related IP while providing a strong community focus on cannabis industry education. As an expansion of the project, TrufflezNFT project is announcing the launch of the world's first NFT membership cannabis lounge in partnership with New York-based Elite/AB Hospitality Group. The Trufflez Lounge will open in Williamsburg in November, 2022 and will be accessible only to TrufflezNFT members.
Fintech, Apps and Personal Finance
Realtor.com — Realtor.com has introduced a new buying power tool to help home shoppers see whether a specific home is "affordable," "a stretch," "difficult" or "out of reach." It uses a home a shopper's specific financial details, current mortgage rates, taxes, insurance and HOA fees to determine if the monthly payments will be comfortable.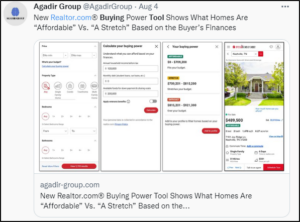 ---